---
This is an inspiring story of a father's single-minded devotion to raise a world-class tennis player in Nepal.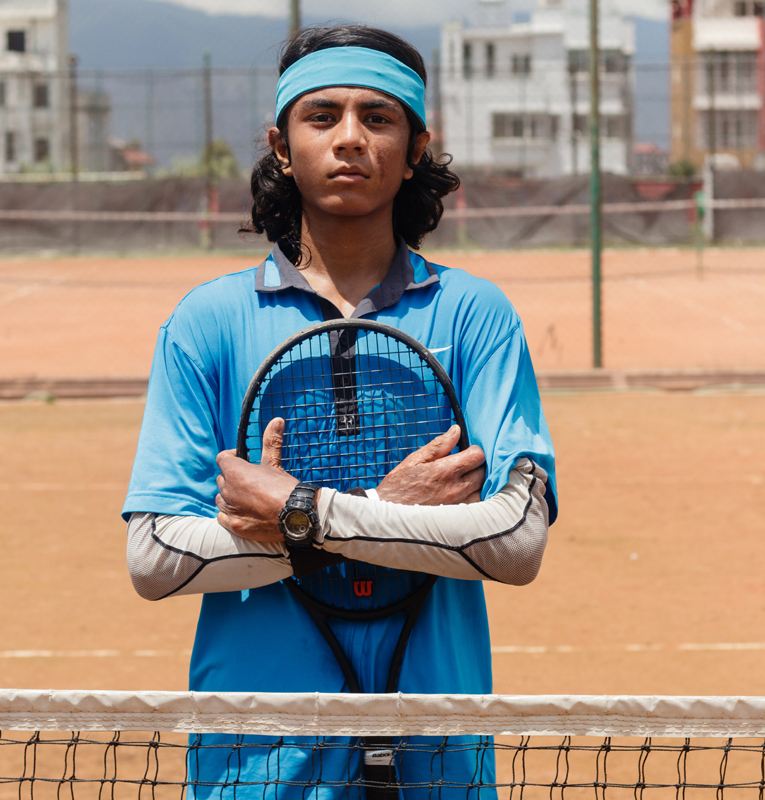 What does it take to raise a world class champion athlete? Why aren't passionate Nepali parents doing it already? Surely many of us would want to see our children shine at the international arena. If you want answers to all these and more, you've got to meet Sunit Giri.

Sunit Giri is not your average father. And he says one cannot be to walk the path he is walking for his son, for himself, and for his family. It takes iron will and Herculean effort. This is the story of how a carefree, moneyed businessperson turned into a fanatically devoted father.
Currently he is on a seemingly impossible mission – to make his son Aryan a world class tennis player. But he wasn't always like this, and he attributes the complete shift in perspective to a heart-wrenching accident.
The accident and the aftermath
In May 2008 Aryan suffered a life-threatening burn accident. Traumatized the family fought for Aryan's life by putting the then 3-year old child through months of intensive care in New Delhi. Almost a year later, the doctors declared him safe, after which he was to the United States for skin graft surgery. While Aryan was slowly recovering, the incident and the aftermath brought the entire family together like never before. This was 2011. Sunit had always been crazy about tennis but his children weren't that interested until they met Dr. Mathema's daughters Anne and Cathy who were then playing tennis at Satdobato. This sparked off initial interest. Sunit capitalized on this by immediately contacting Nepal's national coach Surya Bhushan Bajracharya and kick-starting Aryan's and Medhavis's journey into tennis. Expert guidance and learning slowly got Aryan hooked. "For my son I think it was also an escape from his inferiority complex that he hid inside after the accident. I could see the change in him as he became more confident," shares Sunit. Although most parents would have been happy with the recovery of their child, Sunit had other plans. Observing his son's interest, he began to prod further to explore if Aryan would want to take up the sport more seriously. Although both his children, Aryan, and the elder sibling daughter Medhavi, were playing then, Sunit knew in his mind that he had to focus on one if he wanted an ace player to be born. The regimens at home and at the court grew stricter. After a couple of years his daughter gave up, afraid to sacrifice the normal growing years to the strict rigor of a player's life. Sunit however, remains ever supportive of his daughter's interests. "She is an adult now and is free to pursue her passion," he says.
The harsh realities
"Although there is potential among Nepali youth, it takes a lot of sacrifice to get to the levels that we see on television. The professional athletes and their families live with an uncompromising focus on success. They are willing to sacrifice the normal way of living, and solely focus on discipline. But one cannot move further if not for financial muscle. It takes a lot of money to develop a champion player. The trainers are expensive. In addition, the amount of travel the player (and sometimes the family) has to undertake to play at competitions and to train can wreak havoc on finances. I was lucky to be financially sound. But, the passion part I developed myself," Sunit says. And passionate he is. He has single-handedly brought his son to where he is today, playing the roles of father, coach, and mentor. "I devote crazy hours to tennis - watching matches, reading extensively, watching and learning about new developments across the world, researching events that Aryan can play at to gain confidence, and then finding out trainers that can spur his growth. You will not believe the amount of time and effort I put in," he tells me. "One can either endlessly complain and rue the fact that Nepal hardly has any infrastructure or human capital that can build world class tennis players or take the onus upon oneself to do the best they can do develop their children. I am doing so, and will do whatever it takes, however much it takes, to push Aryan up the ranks. But he has got to believe in this dream too. I cannot do it without his two hundred percent effort."
Sunit tells me about a remark that an International Tennis Foundation (ITF) official made when he visited Nepal a few years ago. He felt Sunit's burning desire and said, "If you stay in Nepal, you will not be able to make your son go close to your dreams. The country doesn't have the necessary infrastructure or facilities, or coaches to groom champions. If you want to see him play professionally, you need to rethink where you are staying." Sunit says that he knows that the official was being brutally honest, and saying an absolute truth. He understands that his son may not be able to become a world class player by being in the country. To divest time to his passion, Sunit is now consolidating his many business interests and making time only for tennis and Aryan. "Of course my family is dear to me but I can do only so much as a man. I think my wife and daughter understand that now. I feel their pain. But I am like a hermit now – I live, eat, breathe, and dream tennis. I want to see this through to the end. And God willing, we will succeed," he says.
Believing in the dream everyday
"Play-Rest-Recovery-Injury prevention-Diet-Theory-Play"‑‑ this is the mantra that the father-son duo live by every single day. Sunit says that he made sure his son was okay with this punishing schedule for the rest of his teenage and adult life. "Just like me he has had to make many sacrifices. His life isn't that of a normal teenager, although I try to give him his 'cheat days'. But if he has to succeed he has to give more than a hundred percent." Sunit is especially focused on Aryan's strength and stamina training, besides diet. "I am an addict when it comes to watching tennis on the internet and reading all that I can on the sport. I read late into the night and do not remember the hours – I read and watch till I cannot and then manage a few hours of sleep. The next day is again the same from early morning onward.
Sunit gets up at 4:30 a.m. every day and after freshening up, gets Aryan up from bed to get him ready for early morning practice. The courts at Satdobato see the father and son duo arrive around 6. A two-hour training session later, Aryan needs to get ready for school. He reaches Ullens School around 9. After a day of study, he hits the courts again around 5 and practices until dusk. He regularly trains under the watchful eyes of ITF level II coach Krishna Raj Ghalay, one of the most senior and experienced coaches in Nepal. Sunit proudly shares, " Coach Krishna believes that Aryan can go the distance as he shows very high level of dedication, discipline, and hard work." In the absence of floodlights there is no night practice. This is routine except when they are traveling for tournaments outside the country. Sunit knows that Aryan is enjoying the sport despite the rigor. "He gets tired physically but he is never mentally exhausted. That is the sign of a champion already and fills me with hope."

The journey so far
All this hard work and commitment have to pay off somehow. And it has, for young Aryan. Still in his formative teenage years he has accomplished feats that a boy of his age can only dream of. Currently ranked Number 1 in Nepal in the Under 14 category, he is also ranked No. 29 in Asia. This has taken a lot of effort. He has had continuous periods of training, starting in January 2013, in Kolkata, then in Bangkok, and then at the NVK Academy in Hyderabad under Naredranath Sunalt, the University of North Texas under the watchful eyes of Raj and Sujay Lama, the IF and ITF/ATF JTI Under 14 Camp in Bangkok, and the Preparatory Tennis Camp for the Under 12 Asian Team Championship. Aryan has come a long way. His impressive national and international winnings including winning the national level U12 tournament in Bangkok in 2015, the DPTA Junior circuit Hiffhines and Dallas Spring Open U12 in 2016, reaching the quarter finals of the U12 Ten-Pro Global Junior Tour at the Rafael Nadal Academy in Spain in 2016, to winning all four U12 Superchamp Level Tournament in Dallas, Texas, and his participating in five ATF U14 tournaments in India, and Qatar have made him leapfrog his progress curve. Recently he has been invited to High Performance Tennis Camp at Bangkok. This ITF/ATF camp is strictly by invite and open to twenty of Asia's most promising boys and girls in the U13 category. He has already been selected to represent Nepal in the U12 Asian Team championship, and the U14 World Junior Team Championship Division II and Division I. This year Aryan will be starting his ITF Junior tournaments from August, traveling across the world and collecting points by playingvarious tournaments with the objective of qualifying for the Junior Grand Slam.
The tough road that has been and ahead
"Traveling to the US has been extremely challenging for Aryan and me," says Sunit. "People often think that money is no object and we travel in luxury and have fun. Little do they know that we operate on a shoe-string budget, minimizing expense as much as we can to cover our travel. We share apartments with multiple people, sleep on mattresses on the floor, and most of our time is spent in training, playing, and staying back inside the apartment. "I took Aryan to the US Open for him to have a feel of what a Grand Slam looks and feels like up close. If only we had corporations supporting our players during the developmental stages, our children could have achieved so much more. Financial help will only come if we can show results. No one realizes however that the path to a successful result is fraught with multiple challenges. Recently, Jayjeev Hada, Ritima Hada, Sandeep Puri, Santosh Giri, Paresh Giri, Pratiksha Giri, and I have started a GoFundMe campaign and raised $11,000, and trained Aryan and Aarav Hada at the University of North Texas for two months with coaches Sujay Lama and Raj Lama. The help that I received from my brother, sisters, friends, and well-wishers was overwhelming. It is at times like these that I start believing strongly in the work that I am doing. I am hopeful that Aryan will go on to becoming the first Nepali tennis player to play at a professional level and the Grand Slams." Sunit passionately believes that such responses from family and the Nepali diaspora will greatly inspire and motivate the rising generation and their parents. "Parents will have a renewed sense of belief in the abilities of their children. Hopefully our example will prompt others to invest in the dreams of their children and make them go the distance," he shares.
The clock is ticking
Sunit is aware that his son only has a few years to carve his niche in the junior professional circuit. "He can play till 18 in the ITF Juniors and collect as many points as he can to compete at the Junior Grand Slam. To achieve this we have to travel to competitions around the world and play a mind-numbing number of games. Losses will pile up. Aryan will need tremendous mental fortitude to stay strong, brush off his failures, not get intimidated and carry around the circuit. He only has a few more years ahead of him to make the cut. The next three years will be the most crucial period of his life – it can either make him stagnant at the level he is at, or spur him to play professional tennis after 18. And to achieve that only training is not enough. He needs to compete with elite players around the world."

This would mean that Aryan will be far away from home most of the year. School will be missed and he would have to make up for lost schooling, months and years later. Sunit is very clear on Aryan's education. Elite players around the world are either homeschooled or take special classes to pass grades at school or college. One cannot be burdened with school and examinations if they are to succeed professionally at sports. The big question now facing Sunit is where to set up a base so that Aryan has access to top quality coaches and training infrastructure.
Family support is crucial
All this requires immense moral support and sacrifice from the family. Sunit considers it lucky that his wife Pratiksha believes in Aryan and Sunit, and is supporting their journey whole-heartedly. Aryan's school has also been ultra-supportive and has agreed to help Aryan with his school work during his travels. "I am glad that the school management at Ullens understands that it is going to be impossible for Aryan to pursue his dreams and continue full time school. Such support systems are critical in this journey of ours," Sunit says.
Sunit considers Pratima Giri, his mother and Aryan's grandmother, as the single biggest motivator and supporter in Sunit and Aryan's tennis journey. "She has done and is still continuing to do all she can to fulfill her grandson's dreams. It does not matter to her if Aryan succeeds or not. She is happy to see him walk this difficult journey with me and support us. I sincerely wish there were more parents like her in Nepal," Sunit shares wistfully. He recalls an incidence from his childhood where despite Sunit's passion and interest in tennis, his father had remarked once, "Do you understand that your passion will not even make you able to afford a pair of tennis shoes?" Sunit feels his mother still vividly remembers that day and is doing all that she can to support Aryan, because she could not do much for him, then.
The big life shift
Life for the Giris is going to undergo another major shift. How they come together and continue this mission of seeing Aryan succeed as a tennis professional is sure to leave a mark in our hearts. Sunit's 'never say never' attitude is a perfect example of the length a devoted father can go to build a great future for a son.
In conclusion: wisdom from a father and a dreamer
According to Sunit, "Recently Machhapuchhre Bank Limited approached Aryan to be one of the brand ambassadors for the bank. This is a big milestone for us father and son. Such initiatives by other corporate houses in Nepal will definitely inspire other athletes and will be a ray of hope for every parent and child. If we come together as a society and nation, we can definitely dream big and make Nepal's presence felt at the highest level of sports in the region and worldwide. But the biggest support for any athlete will always be the parents. Parents have to start thinking out of the box and not be overwhelmed with the present scenario of the country. They will have to push their imagination and belief beyond the few 'chosen and seemingly lucrative' professions and start exploring their children's interests. Our young generation will have renewed faith in their dreams if they see their parents having faith in them and helping them go further. Let this become a nationwide phenomenon so that we can develop outstanding youths in different fields and in sports. I sincerely hope our story helps in inspiring lots of parents and children in Nepal and around the world. We hope to make our nation very proud of us."
If anyone wants to support Aryan Giri and his father in pursuing this dream, please get in touch with the duo at sgncpw@gmail.com or giriaryan097@gmail.com