---
Come and experience the taste of Russia!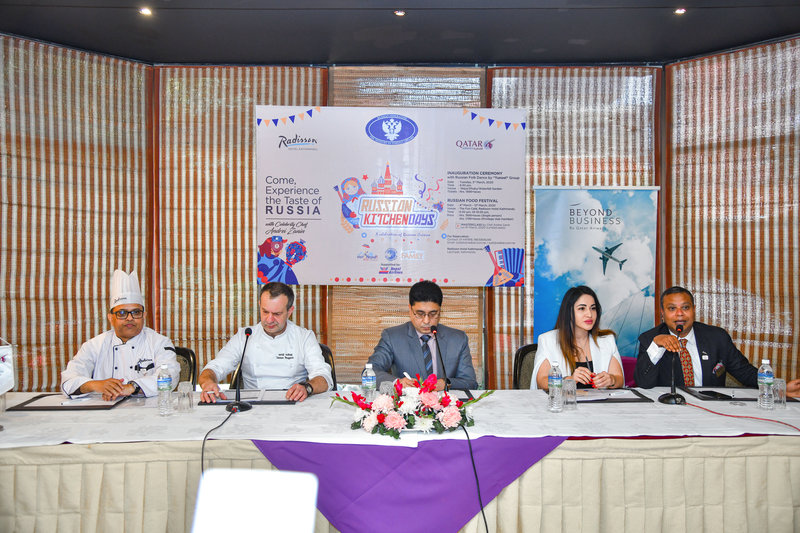 In light of the upcoming "Russian Kitchen Days", a press conference was organized at Hotel Radisson to inform all delegates of the media about the upcoming event. Hosted at the Olive Garden, the event was chaired by the team of Hotel Radisson, representatives from Russian Centre of Science and Culture and Embassy of Russian Federation in Nepal.
Russian Kitchen Days 2020 is a celebration of Russian Cuisine, which shall be presented from the 4th- 12th of March 2020 at The Fun Cafe from 6:30 Pm - 10:30 PM. For this edition Celebrity Chef, Mr Andrei Zanin along with his assistant Mr Maksim Vovna and the team of Chef's at Hotel Radisson shall bring to the table a symphony of dishes representing traditional Russian Cuisine.
During the press conference Chef, Andrei informed, " We plan to palace an all-round spread of Russian cuisine highlights all its regions and ethnicities for the Nepalese audience to experience." Russia boasts a demographic of more than 50 nationalities and 100 ethnicities spread throughout the nation. " The geography and regional availability play a huge role in native cuisine," added Chef Andrei.
The event shall feature 20 of the professional Russian Dancers performing Russian Traditional folk dance for the event.
The event shall also feature an interactive set of Master Classes, one shall be for various Nepalese Chefs and the other for individuals who share a passion for the culinary arts.
"This event is a great platform not just to experience authentic Russian cuisine but also to indulge in the unique Russian culture." said a representative of the Russian Centre of Science and Culture in Nepal.
Inauguration Ceremony
Date: 3rd March 2020; 6:30 PM
Venue: Nepa Dhuku Hall and Waterfall Garden
Russian Food Festival
Date: 4th-12th March 2020, 6:30 PM - 10:30 PM
Venue: The Fun Cafe
Tickets: NPR 1999 plus taxes per person, NRS 1799 plus taxes ( Privilege Club Members)
For Details: +977-1-4411818, 9805906248