Lumu Hoodies
Style
|
Feb 01, 2019
|
by Abhinav Amatya
---
Custom Are Us' Lumu collection is a new addition to its line of products that are customizable, affordable and quality-made.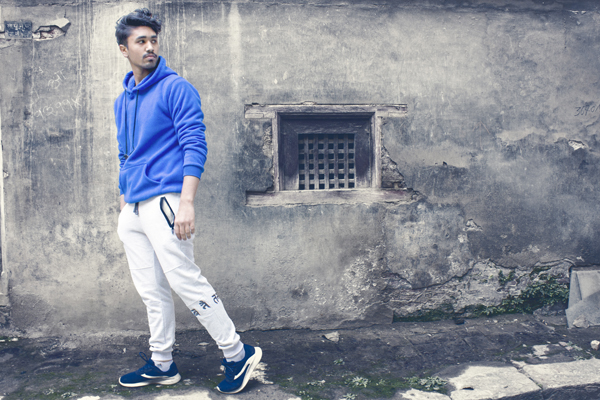 If you go around Kathmandu looking for an outlet that will take your requests for specially designed clothing, chances are that you will only end up circling the city at least a few times. Currently, the market is dominated by stores that sell readymade apparel and offer very few customizable options. And why would it not be so? After all, readymade clothing is the easiest and the most cost-effective option for store owners, who would only have to deal with shipping and delivery of the products.
Custom Are Us is one of those few clothing brands in Kathmandu that is willing to go the extra mile, and offer apparels that are designed to meet the customers' desires. And this season, they have come up with the Lumu collection, their latest range of affordable winter clothing that is designed to keep you warm even in the chilliest of days.
Established in 2015, Custom Are Us is a customizing company that focuses solely on offering customizable, highquality apparels and merchandise to its customers. From hoodies to helmets, most of its products have the option of featuring designs that have been provided by customers. Additionally, the company also takes design ideas from various designers, who earn a portion of the revenue made from those designs. The company's assurance of quality means that these designs will remain on the clothing for a long time and not wash away after a few rinses. It is this combination of product quality and customer satisfaction that has enabled the company to grow and become what it is today.
The Lumu collection is the most recent line of winter clothing that Custom Are Us has launched. It comprises sweatshirts, hoodies, joggers, and jackets that are all available in a variety of materials including fleece, cotton, and fur. "The word 'lumu' literally means warm in Newari, which was why we decided to name this series of clothing as such," says Rojeet Kayastha. And despite being a winter edition, the Lumu collection is not limited to a specific season. The joggers that are available in the collection are made from cotton and are therefore, suitable for the hot summer season as well.
At first glance, the Lumu collection might seem like another regular clothing series that is easily available in the market. However, there is an element that separates this collection from the the rest. "We have incorporated bone beads into our designs for hoodies. These beads can be easily found in the Nepali market," the owner explained and added, "We have also incorporated Newari Dhaka into some of our other designs.
The Lumu collection is meant to be a viable economic choice for its customers. In a time when winter wear tends to be among some of the most expensive apparels for shoppers, Custom Are Us has focused on affordability and durability. The starting price for the jackets in this collection is Rs 1,450 while for hoodies, it is Rs. 1,650. Meanwhile, the Dhaka special edition goes above Rs. 1,850.
Like every other apparel that Custom Are Us offers, the Lumu collection also features customizable designs that can be incorporated according to customers' preferences. While the option to customize physical elements, like cutting and stitching, may not be available, customers can still choose from various available printed designs. If customers opt to personalize the designs on Lumu collection's jackets and hoodies, they need to provide those designs to Custom Are Us. Most of the times, the customers wish to print either a few quotes or a specific image on the clothing. If the customers have specific images for their designs, they need to provide the designs in high resolution, photoshop formats for faster and easier processing. The customers can still provide design in other image formats but that would generally require longer processing time.
Over the years, Custom Are Us has built a reputation for itself for being one of the few Nepali companies that take customers' needs and preferences into account while maintaining and improving its product quality. Its products have certainly proven to be a hit among the younger demographic section of the Nepali population and foreigners. The Lumu collection is just another step the company has taken to ensure that it continues to improve, and provide its customers a new range of weather appropriate yet customizable clothing.
The Lumu collection is already available at all Custom Are Us outlets of in the Kathmandu Valley.