Brother and Sister: Beyond Distance
---
Siblings that have love and affection for each other are sources of inspiration for all. We recently met Miss Nepal 2017 Nikita Chandak, her brother and their mother Sushma to witness the beauty of a sibling relationship that has transcended time and dist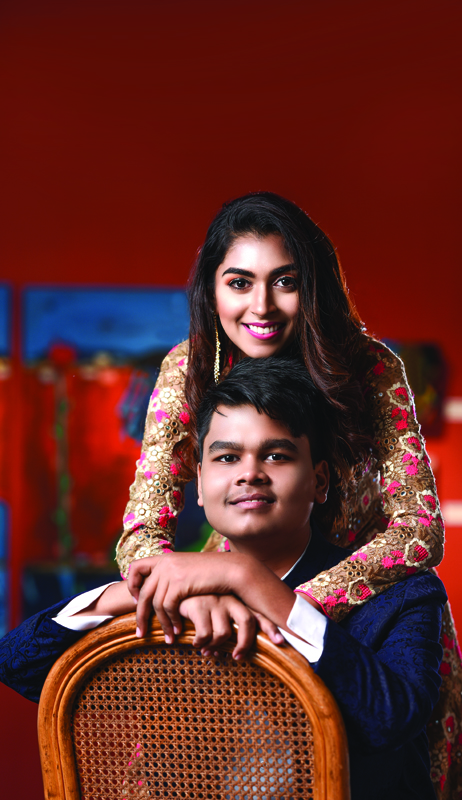 A relationship that you share with a sibling is perhaps one of the strongest bonds ever. A sibling can hold the power to make you feel the loneliest with his or her incessant "I was here first," "I am the favorite one!," and "You're adopted! It's so obvious." But all of the teasing and games often end up being the best of childhood memories and the foundation for a wonderful friendship and support system that will last a lifetime. For this piece, the team met with Nikita Chandak, the woman who won the country's heart with her talent and beauty in 2017 and who has no intention to ever give it back. We also met with her younger brother Sanju who is probably the only one in the country to view Nikita as an annoyingly loving sister.
Despite almost seven years between them, their mother recalled that the two fought with each other mischievously throughout their childhood. Sanju is currently studying in Siligudi, India, while Nikita is busy with her heart-winning services in Nepal. The distance has brought them closer in ways that only distance can, and despite my great efforts the only beans they spilled were rosy in nature. For all the nice things they had to say for each other, their mother, Sushma Chandak, helped me get a clearer picture of their childhood and the nature of their relationship as only mothers can!
What was your childhood like?
Sanju: It was very nice. When I was in nursery, she was studying in class 4. The two of us used to be a lot closer than our eldest sister Neha because we were in the same school. But a year later, she went to a different school for Grade 5. We started to spend less time together. But we were always a bundle of joy when we meet.
Nikita: I think we used to quarrel a lot. He is six and a half years younger than me so I guess it's normal that we used to quarrel a lot. He and my eldest sister would team up against me and I would end up crying. I remember Sanju being very stubborn! Whenever we fought, he'd try to get away with hitting me but I never let that happen.
One time, he fractured his hand and had to get surgery. He had to be given anesthesia for the surgery and after hearing that, I started crying and I felt so guilty. Even though I didn't cause the injury, I prayed, "God, I won't ever beat him, and I won't fight with him ever. Please cure him as soon as possible."
If you have to describe each other in a few words how would you do it?
Sanju: She's always honest. She's kind hearted to everyone, not only to our family but to everyone. She's the kindest among all of our family. So the three words would be honesty, caring, loving.
Nikita: I think he's very generous, loving. Loving, not only to his family but just in general. Even if he sees any poor people, he's into that. Compassionate. So, loving, generous and compassionate. And also, he's obviously tall, dark and handsome.
If you have to name something about each other that annoys you the most?
Sanju: It might sound strange but she's just really funny sometimes. Even so in not so appropriate situations. Me and Neha often call her Mr. Bean. She keeps teasing us with her weird funny expressions at odd times.
Nikita: I think the way he sits. I keep nagging him about his posture. I keep telling him to sit straight.
What is one of your most memorable memories with her growing up?
Sanju: We often used to fight in the TV room for the remote. She used to annoy me by changing the channels. She also used to pull my cheeks a lot and that used to annoy me and then I'd try to slap her (laughs).
Nikita: He used to be a chubby child, and you know how kissable chubby cheeks are (laughs). But he didn't like it. And I think I used to do it just to annoy him. As a child, he was very naughty. If you did something to him that he didn't like, even if you're a stranger, he would hit you. So, whenever he used to sleep, I would kiss his cheeks. He used to hate it so much that he even slapped me in his sleep! I'll never forget getting woken up by a slap from my own brother.
One instance that you can remember where she has made you laugh or cry, whichever comes first?
Sanju: The day she became Miss Nepal, I cried happy tears. It was such a proud moment and I am kind of sensitive that way. It was very emotional. I am very proud of her.
Mom: During Miss Nepal, he cried from the beginning till the end. He also cried during Miss Universe.
What is the best gift that you guys have exchanged?
Sanju: On last Rakchyabandan she gave me this watch I'm wearing. She brought it from Australia. It is the first gift from her own salary so I hold this watch really special.
Nikita: In our house, we don't have gifting system. So, it's basically like, if I'm going somewhere and l like something for them, I get that. That is it and he usually asks dad for money and gives me whatever he wants to give me.
She might be very busy these days with her public life. How do you balance the relationship? How do you spend time with each other?
Sanju: Because we have been living separately for quite some time, we're just used to not being together a lot. But when we do get together, we just like to spend time with each other. We enjoy watching TV together, watching comedy circus, Mr. Bean and such programs. It's just normal things like those. Plus I'm not here most of the time. So when I am here she makes time for me.
Nikita: I think only few people have seen what I am like when I am home. I can act myself stupidest in front of my family. When I'm with them inside my home, I'm just the craziest person alive. And my mom would be like, "Do people even think that Miss Nepal does these things at home?" That is just my craziness. In my comfort zone, I am the stupidest, you can't even imagine and that's how I make them laugh.
Is there something that the world wouldn't know about your sibling?
Sanju: Since her childhood, she focuses only on her studies a lot. My eldest sister is like all-rounder but she (Nikita) was always devoted to her studies. She was always the topper. She is the most padhaku in our family.
Mom: When he was in nursery, he failed in the first term but he was very happy as he thought failing in exam was a good thing. And even now, when I think of it, I laugh by myself.
Nikita: He is also very passionate about pageantries. I guess people would think I'd be the most passionate about such things in the family but you have no idea! He has watched almost all the beauty pageants. During the Miss Nepal competition, before finale, he used to watch Miss World & Miss Universe to give me questions to prepare me for the competition. And also when I participated in Miss World, he was sending me all the questions and right now he is the biggest fan of Catriona Gray, Miss Philippines. I feel like one of these days he's going to end up organizing a pageant or even participate in a beauty pageant and win.
What is the biggest lesson you have learned from your sister?
Sanju: I think that you should never be afraid to pursue your passion, and the hard work she has done from childhood. I have always looked up to her. I think the title of Miss Nepal and everything that came after were not an easy ride to take. My sister was criticized by some groups of people and I personally hated that. I was actually scared for her but she took it like a pro.
Nikita: I admire how supportive he is from such a young age. He is dedicated toward his studies and never hesitates to share if he's having any troubles. It takes a certain kind of courage to do that I think. He still needs to learn to work on his posture.
Nikita, a year after winning the pageantry, is going to celebrate this year's Tihar with her family. Sanju is back home for the festivities and though they do not celebrate Bhai Tika, the two are sure to have a quality sibling time. The two are looking forward to watching movies together and for a brief while forgetting the world outside.