Committing to Cricket and Family
---
Life in Nepal as a sports person comes with a lot of attention and scrutiny. Despite the attention people give, the normal lives and families of sportsmen – as well elucidated here by famous Nepali cricketer Gyanendra Malla and his wife Sangita Malla ‑‑ a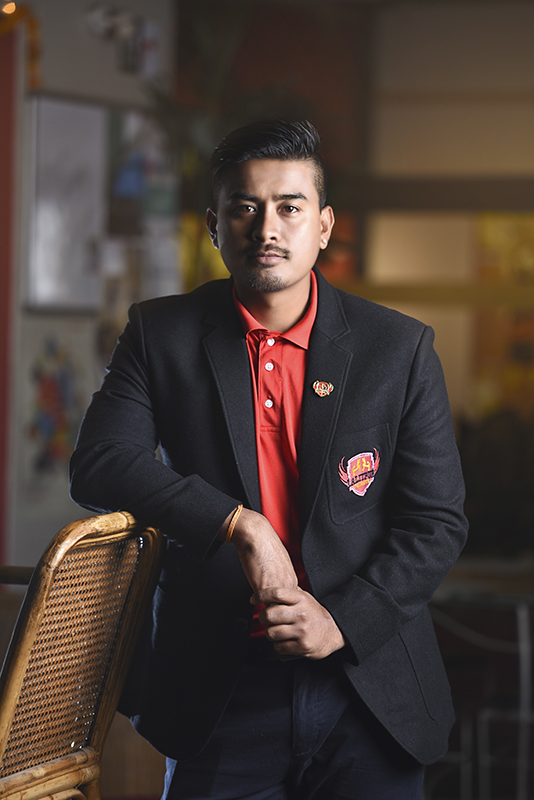 We had a wonderful conversation with Mr and Mrs Gyanendra Malla, to learn about life as a sportsman and a family man, and what it is like to live with a sportsman under a constant spotlight.
How would you define yourself in your own words?
Sangita Maharjan: We've been married for 7 years now. I'm currently teaching at DAV. I'm not so keen about being in the limelight.
GM: How do I define myself? I don't know *laughs* The two of us prefer being rather behind-the-scenes! We've been married for 7 years but we've actually known each other for 13 years. I've known her since the beginning of my career in 2005. So the credit of my rise goes much in part to her as well. Adding to how she defined herself, I'd say that she has always made me feel secure.
What was your first impression of each other?
GM: Back then she used to wear spectacles! During a break I saw her in a shop for the first time -- curly hair and spectacles! The thing I noticed was the beauty mark on her nose, which I thought was a nose-ring, and even through the years I haven't forgotten it. I still remember her in her black and red striped sweater!
SM: I hadn't noticed him as such in the beginning. I had thought that he was an Indian! But got to know him later on!
GM: I don't look like an Indian hai! *both laugh*
With your first impressions of each other, how did your relationship take stride?
GM: I didn't use to talk to people a lot. On top of that, I found it really hard to talk to girls, even in school. I used to see her every now and then, and when she was with us once, I was able to talk to her. By talking I mean I asked for her email address, and from there online conversations took off and that was how the relationship actually took off.
With cricket such a big part of your lives, are both you on the same terms with cricket?
GM: I guess I have to say no! SM: *chuckles* I didn't even understand the game in the beginning. I've slowly learned about it watching him play, but still there's nothing but cricket or football on television even at home! That's my complain but I quite enjoy going to watch the matches. Now the entire family knows and understands cricket!
GM: In the beginning she didn't understand cricket. There wasn't much sports background in the family, given that most people still don't understand the sport. The interest piqued later on in our case.
How do you balance training, traveling and family commitments?
GM: Thankfully life's been made easier through the internet and the various apps that we can use. Even though we are connected online easily, physical presence is an entire different thing. (SM: He usually manages his time to be with the family even though his teammates complain *chuckles*). So I try to be there as much as I can even with all the training and even though my teammates complain. I am a family person and I love gatherings like nakhtyas, and even though it might seem dull, I prefer spending time with my family.
Has your commitment to cricket affected your family relationships in any way through the years?
GM: Overall I'd say there's been a positive impact, but of course, back when I first started there was doubt about my future in cricket. My family was skeptic about making it my career path, and whether or not it would be enough to support the family. During that time, cricket hadn't reached the peaks that it has now, and with all the doubts cumulating we had already begun to see each other. Looking back now, I would say that there has been a positive effect and my family feels proud of it now. I see their happiness in my doing well in this field that I believed in.
Has there been any impact of the stature as a sportsperson and the regimen that needs to be followed? Any difficulties or irritations?
SM: (About diet plans, training and health) He has quit his sugar intake. Apart from that we all have healthy food, and pay attention to our health together. There isn't a specific diet plan that we have implemented for him.
With your responsibilities with the national team and the EPL team, how do you manage time to go out and spend time together?
GM: I try to pick up and drop her off at work as much as possible, to give us that little more time together. She does come watch matches and has always been there, but she has never complained about my devotion to cricket and that makes me feel secure. After cricket, she does ask me to spend time with her and be there with her which has made it easy for to me focus on cricket and my family in their own specific times.
Which part of your life do you find more challenging? Life as a cricketer, or life as a family man?
GM: I think both of them are challenging. In cricket, there are many instances where things won't be within my control while in a family, there are instances where we need everyone's support. Being a part of a team, it feels like a family on its own where everyone has been there for quite some time. In terms of cricket, we look to increase our own levels constantly but there is a feeling of having settled down at home. Because of the continuous development in cricket, there is a bigger challenge in sports.
How influential has your family been throughout your cricket career?
GM: They used to be concerned but they weren't barring. Coming from a middle class family, a career in sports in Nepal always had a question mark attached to it. It was always quite concerning. My brothers were quite supportive, but my sister and brother-in-law were most supportive of me. From the start of my career, in selections and travels, they used to look after any needs that I might have. Even in the society that we lived in, people supported me and pushed me toward my dream. It's not just my family; the team, the club family, the people from the community that supported me have all been influential in my career.
How do you support him during matches and during times when you can't attend the matches yourself?
SM: When I can't make it to the grounds to watch a match, I text him beforehand but I do keep track of the game through online portals.
GM: Sometimes she tells me that the game might not be well if she's there but will watch it online!
How well does he support your career?
SM: He has been supportive but maybe I should give up teaching *laughs* But he has always supported me in anything that I might want to pursue. He urges me to look at things from different angles and perspectives as well.
GM: What I usually tell her is that she shouldn't be tied down to just one thing. There should be other things that she should indulge herself in. I suggest her to try new things, away from the comfort that she feels in teaching. But I have never dictated what-to-do and what-not-to-do!
Has there been any changes in him from the beginning of his career to the current point of cricket stardom?
SM: Changes…*chuckles* There've been positive changes! He used to be a reserved person, now he talks and socializes. That's a plus point! He's down-to-earth, and his sense of humor is still fun.
GM: People don't see my sense of humor because I've usually been quite reserved. They usually think I'm strict until they get to know me, then my sense of humor kicks in! A lot of people don't understand sarcasm, so they tend to think otherwise.
Have you ever seen him from a perspective where he isn't a cricket player? How it would've been had he not been the renown sportsman that he is?
SM: As his childhood dream was to join the army, I think he would've been in the army. Even if that wasn't the case, he would still be a disciplined person. Was there any other career?
GM: There wasn't even another career path *coughs* All play and no work!
SM: Only playing around, and doing just that? He'd probably still be a sportsman! Maybe a footballer? *both laugh*
What was your initial reaction to being made the captain of Lalitpur Patriots in the EPL?
GM: I admire Kishor Jee, from his background and achievements in banking, to his love fro sports. When he got the team and I received his call, I was excited. The name 'Lalitpur' added to the excitement because it made me feel like I was representing the locale that I had always been in. All of them in the EPL have been working very hard and pushing us to work harder, to make most of the opportunities despite the minimum resources that we have here. As a team, since everyone is involved excitedly in promoting the brand as well as promoting cricket, it makes me more excited.
Cricket in Nepal has developed quite a lot over the past couple of years. It is seen today as not only a sport but a career option as well. What message would you convey to the aspiring cricketers from your experience as one of the leading sportspersons in the country?
GM: A player's journey isn't limited to a year or two. The 14 years I spent in the national team, and the initial period of 5 or 6 years when I began, makes this a journey of about 20 years. Things won't come to fruition instantly! You can't expect things to happen at a rapid pace, so you need to maintain the dedication, discipline and passion as a player. You might get results today or tomorrow but you shouldn't compromise on the effort and hardwork that you have to put in! Compared to then and now, more people follow cricket these days. From national, local support to corporate support, people are invested in the sport and it makes sports a career option. Be patient with things. Give importance to your education, since I didn't choose that path! *laughs* Choosing sports as your prime focus involves a lot of risks and you can only give your best in the prime of your skills. After that there might not be anything to lean on, so keep working hard, study well and be patient!
You've been with him from the very beginning of his career. What message would you give to the better halves of future cricket players?
SM: Even after selection, it takes a lot of time. It is important that you stay patient and supportive.
What is your personal mantra?
GM: I believe that whatever happens, happens for good! So don't worry about things too much. You should ease into things because life gets a lot easier when you're not rushing into things. It's always best to break things into simpler perspectives and take things slow. Try not to complicate things for yourself by reading too much into situations. Let things take their time.