Defying Gravity - A Story of Manita Devkota
Cover Story
|
Jan 01, 2019
|
by Shreyashka Vikram Raj Maharjan
---
Everyone in Nepal today knows who Manita Devkota is, and what she has achieved. Being in the public eye, as Miss Nepal Universe 2018, Berger Miss Glamor and placing within the Top 10 in the Miss Universe pageant, everyone wants to know more .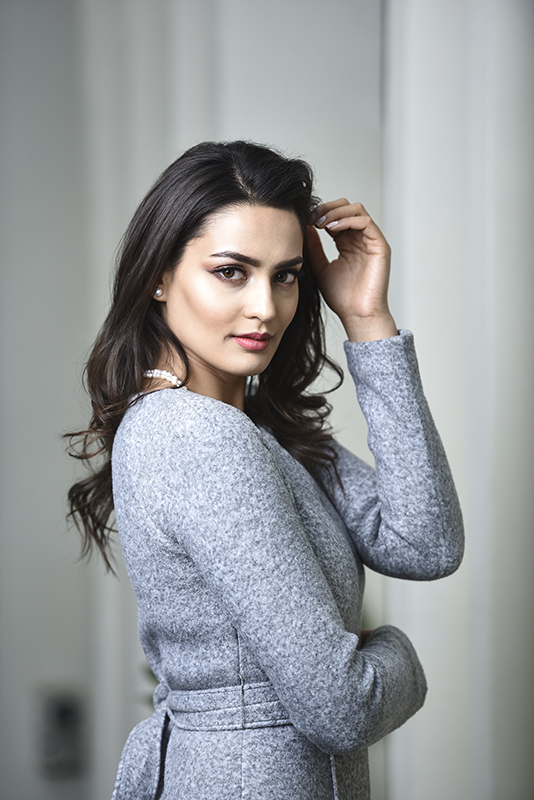 Let's start from the beginning shall we?
The earliest memory I can recall is of being in Pakhribas, surrounded by the mesmerizing mountains and the surreal view. I grew up being able to travel around as my father's job at the British Agricultural Company required him to constantly move around different regions of Nepal, to meet and teach the farmers but he lost the job during the Maoist insurgency.
After dad lost his job, we went and lived with my paternal grandparents in Gorkha. I attended Shree Amar Jyoti Janata High School up until the third grade in Luitel, Gorkha; after which we left for the United States. The move was quite difficult--my parents did not have a four year college degree, and their Associates Degree wasn't valued there. It basically meant that they didn't have the opportunity to apply to any white collar jobs. Despite the difficulties, they worked blue collar jobs to raise me and my two sisters, and we all persevered.
Right after I got my driver's license at 16, I started working to start saving money for college. I worked part-time as a barista, a simple and common job for a highschool student. I worked in restaurants and call centers until I had saved up enough to go to college. During college, I was a work-study student at my university's library, Joyner. I was a Student Librarian, which basically meant I had fewer job responsibilities and flexible hours.
During my college career, not only was I a work-study student, I was also involved with multiple organizations: She's the First, Days for Girls, Pre-Law Society, and Eco-Pirates. Fun fact: During my four year involvement with 'She's the First', my university chapter was able to sponsor the four Nepali girls on their education through fundraisers, bake sales, and profit nights with restaurants. There Nepalese girls: Samjana, Roshni, Shruti, and Sarita, are the first in their family to go to school. They attended Kopila Valley School in Surkhet, Nepal. Concurrently, I was also volunteering for Days for Girls (DfG), where we helped women who deal with menstrual health challenges buy providing them health education and sustainable menstrual solutions. Now I work closely with Days for Girls Nepal, together we go to schools and community centers to teach girls and women about menstrual health, reproductive health, sexual health, sanitation as well as about human trafficking, basic self-defence, and about DfG menstrual kits. For women who don't have the financial means to purchase menstrual pads, we provided an affordable and sustainable alternative, as it is reusable for 3 years if taken care of. Let me get into my return to Nepal! Honestly, I was unhappy and wanted a break! I was working as an administrative assistant and studying for my LSATs; I needed to save money for grad school and have something to do in the meantime.
I do not like my routine! I'm glad I realized that early on. I really needed a break when my friend suggested a trip to India in January, and I was supposed to stay there till March. During that time, my grandmother-my maternal grandmother--was battling cancer and it had gotten more severe. So, I came to Nepal sooner than I was supposed to, and spent time with her. My grandparents have come of age, they love living here, and we couldn't take my grandmother to the States as she wouldn't have health insurance. So while I was already here in Nepal, I wanted to spend some time with her before I had to head back to the States.
Going in to Miss Nepal!!
The world knows me through what has been projected as me, through social media or interviews or through assumptions, but if I had to define myself; I am a simple, honest, dedicated, hard working, independent woman. I'm adventurous, loyal to my loved ones, courageous...ummm... loving~~, oh and foodie!
I didn't know what image of me would be projected out in society before I took part in Miss Nepal. My friends kept telling me to "go for it!" It was a tough decision for me because I'm not a model but I said like "Okay!". I don't like to dress up or put makeup on all the time, and I hate superficiality, but I overlooked it just for this one year! As a public figure you have to always look good but I'm like...very minimal, so I couldn't wait to go back and be normal and be minimal, and that's what always makes me happy.
The beauty pageant world was hard for me as I didn't come from an entertainment and beauty industry. Other than that, the speaking part, I like...meeting new people, I like...talking about my opinions... hmmm..."what else does Miss Nepal consist of?"...I mean it's nice to make friends, you get to glam up but you don't really want to glam up EVERY SINGLE day!
Now that Miss Nepal was actually at the door, I still didn't know I was going to be selected. I'd gone to India and gained a lot of weight....well that's another journey of mine this year--I lost a lot weight as I wanted to do well in the pageants.. Of course, I had no idea I would win! Not when everyone was criticizing me for my lack of knowledge about Nepal and my Nepali speaking abilities! Even if I did think I'd win, I still had to give it my best but I still didn't know what to expect. I was hoping I'd win, so I could build connections, so I'd be able to come back and get a job here or start a business.
When I first auditioned, I wasn't physically fit, as for my Nepali...mero Nepali aile dherai ramro bha chha!...I used to talk really weird. They didn't think I was "Nepali" enough; I was questioned "Are you even Nepali?" I was exiting the audition when I told myself, "well...I gave it a shot!" I didn't think that they were going to accept me. So when I got the call, I was happy! I was in, and there was no going back. When I got crowned, I was like "Oh! Great!" I have to do something about it now. The good thing about me is that once I commit to something I give it my all. I told myself that I have already started this, so I'm going to see it through to the end. I am going to give it my best because these opportunities don't come every single day. So I guess that probably made me work really hard on my body, my performance, my walk and ultimately I ended up doing really well at Miss Universe.
I wasn't able to connect too much with the Nepalese audience as much as the other Miss Nepals. I didn't speak proper Nepali, and most of my interviews would be in English and I'm sure you've seen the comments about it. I explained that I couldn't speak Nepali well, and that I can't answer complex questions in Nepali. I find myself being comfortable in English. But it did hinder my journey, and I might have had more support if I was more fluent in Nepali. A lot of people used to call me Miss America, Miss England, Miss English or something, and ask me why I didn't speak in Nepali. Since they couldn't understand me, they didn't choose to support me as I couldn't connect with them. It bothered me a lot but even with that obstacle, I chose not to focus on it and rather chose to focus on making a mark. I guess...that is what led me to my success.
Challenging the Universe!!
The idea itself was a challenge and that is why it motivated me. I love a challenge! I didn't grow up in this environment, I wasn't confident in this environment as much as I should've been. If you look at my interviews, there was this one interview; all the questions were in Nepali, I didn't know what they were saying and it was very difficult. I winged the whole thing and I just wasn't comfortable in this environment. I know that I didn't flourish as much as I should have.
Let me paint a backstory first!
Many people involved behind-thescenes in my journey somewhat underestimated me. With underestimation comes disrespect comes favouritism of others. When you're not their favourite, when they think that you're not capable of anything, all the resources that they have goes to someone else. So I had to deal with a lot of that, it made my journey much more harder but it also motivated me more, to prove them wrong and that I AM capable! Later on I realized that even if I didn't flourish in Nepal, I would be able to flourish in Miss Universe. It is an international arena, and I'm an international Nepali. I may not be from here, and I may have had a hard time but when I went to the Miss Universe pageant, I made everyone know what and where Nepal is. People were always saying 'Nepal! Nepal! Nepal!'; the contestants, the judges, the chaperones, the audience, Everybody! That is something I was very proud of because it felt amazing that these people noticed Nepal through me. For a while, I guess about six months, I was feeling sad, and was a bit depressed because people didn't use to think of me as anything! But at Miss Universe, guess what, I was capable of so much more. I'd just been in the wrong environment.
Rising Above!
Oh my gosh, I knew, I knew it...this might sound cocky...I was actually hoping for the Top 5 but technical difficulties! I knew I was going to make it to the Top 20, and the Top 10, because I nailed my interview! I spoke about my life, how I am a first generation immigrant, first generation college graduate, how I am an advocate for women and girls' health back here in Nepal since 2015. I had a strong background and a strong resume and the judges really appreciated me as a woman with an advocacy and substance. I am that woman and I knew that! So, I went into that interview feeling like a million bucks and I just went in and told them about myself and my experiences and they loved it. When the bell rang on my four minute interview, the judges showed disappointment that I had to go because they still were interested in what more I had to say. So I knew I had nailed my interview and it was 60% of the grading system and I knew I would be placed.
Nepal vs The Universe
No matter what, the results would've been the same. If we go back in time, the results would have been the same. I would still have won the Miss Nepal Universe title. Actually, I am very thankful that I got the Miss Nepal Universe title because what I've realized is that Miss Universe is a very fair and professional pageant that acknowledges women who are deserving, without looking at the market value a country has.
The Auction Gift
About the auction gift... five countries were given the chance to present their nation's auction gifts. So I was like, "Yeah, this is my opportunity to talk." I'd been having dinner when all of a sudden one of the organization members came and said, "Manita, we need you to come with us and present the auction gift to the audience." I was like, "This is my moment!", so I went backstage and talked to a few people and asked them about a few phrases in Thai. I used some Thai words to connect with the Thai audience; I told them that this is our gift and it is inspired from Buddhism and how we shared our spiritual values. I presented a speech that I hoped would make the crowd really happy.
I really worked on my auction gift. The auction gift and my national costume are all my ideas. So I brainstormed my auction gift knowing that the Thai audience is majority Buddhist and they would appreciate something from Lumbini. I'm so thankful to Kayo Studio for helping me bring this idea to reality. One of the elements of my gift was holy sand from Lumbini; it had the Vajra, the Dharmacharya, a statue of Buddha and a painting of the tree of enlightenment. People really liked that and they kept on raising their hand, and I was like, "WHAT IS GOING ON?" It went for USD 9,600; it was an achievement for Nepal.
When I got the go-ahead for my auction gift and national costume, I was told,"It's okay. It's Miss Universe, it has to be grand, don't worry! We will take care of it." So I went ahead with my plan of creating them both. Jump to two days before I had to leave, I was told that due to some reasons they would not be able to transfer my auction gift and my national costume.
I was in tears because it was really important. At Miss Universe, when you show up, you need to have a national costume, auction gift and your gown. If I don't have them, if I don't have the basic necessities, how am I going to do well?
At the last minute I realized "NO! This is too much! I am not going to do this!" So I decided to risk it and take them with me on the plane. I talked to Nepal Airlines; they were gracious enough to understand my situation. They placed a fragile sticker on and did their best to transport it as safely as possible. It was still damaged when I got there but thankfully I had some adhesive and the Miss Universe team and management helped me mend it. Thus, I was able to go and perform.
Nepal's national costume, even though it didn't win the "Best Costume Award" was noticed and made an impact. It was a Top 10 favourite as it was unique. There are jokes about it, memes about it but still, it made a significant impact on taking Nepal a step forward in the competition.
The Reception!
After I came back, the directors were there at the airport itself and I even received a message from the Chairman as well. Even though I may have not had much support going into the pageant, I am happy I have that support now for my future endeavors.
Handing over the crown!
I am ecstatic about it! I am not attached to my crown as expected of many beauty queens. I am thankful for the opportunity but I know when to move forward and when to let go, that's something of a positive thing about me. I am ecstatic to give my crown to my successor and I will be willing to help her anyway possible, all she has to do is reach out.
What's Next?
I'm going back to being Me; going back to being a simple girl. I have so many plans! I've got some offers from India, so I might or might not do that. The same for the Philippines! I want to go teach English in Kenya or South Korea. I want to travel to Northern Europe, especially Iceland. I want to go back to school, apply for law school and work as a paralegal while studying for my LSATs as I apply. OR, be a youtuber; vlog my experience in rural Nepal, travel all over the country. I want to go live in Lutiel, Gorkha and teach English and live with my grandparents to spend some extra time in Nepal. "Become a farmer in Nepal and Vlog that!"
Inspiring the Aspirers!
I would say...believe in yourself and stay committed to your dreams and goals. There is always going to be people who will pull you down and underestimate you but at the end, all you need is That self belief and you will to succeed.
Something on a personal note, I want to say that I keep on reading comments that "I can't speak in Nepali" and that "I'm not a Nepali", like "Why should I support you?" I want to tell those people that my "heart" is Nepali, and that is why I represented Nepal in the international platform. Even if I don't speak fluently in Nepali, all I want to say is that my heart is and will forever be Nepali. My love and respect for Nepal is everlasting.