Down To Earth: Rita And Rojina Shrestha
---
The saying that behind every successful man is a woman is perhaps a redundant and outdated concept.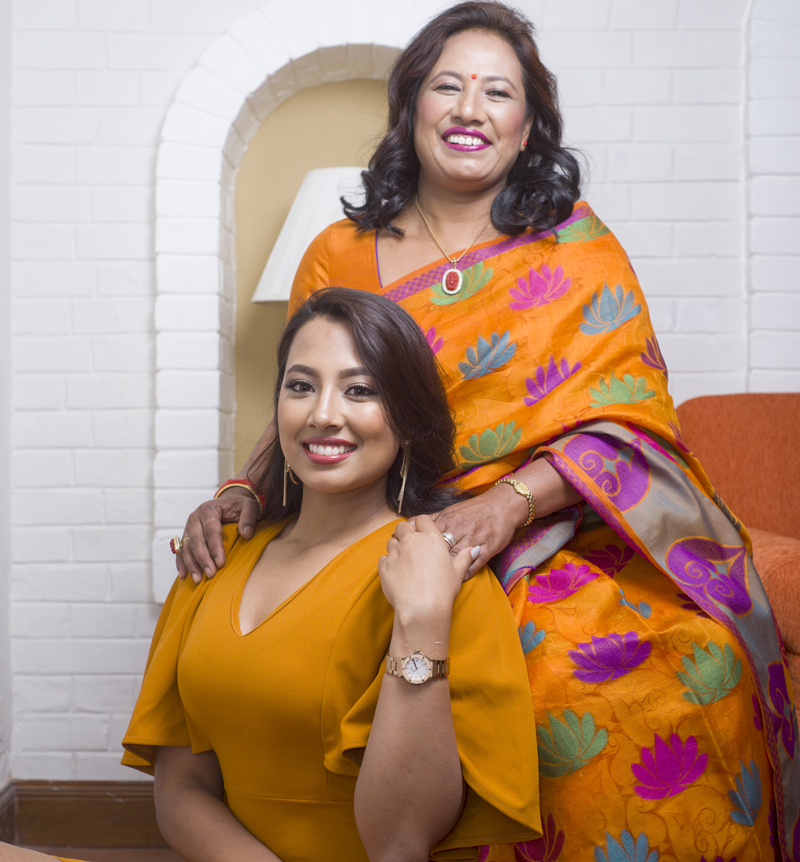 The saying that behind every successful man is a woman is perhaps a redundant and outdated concept. Today the world is more curious about the successful woman and her secrets. Rojina Shrestha, the woman who has been dazzling Nepal since 2017 after getting crowned Miss Earth Nepal, has no secrets to hide. Her success, her personality, her kindness, her beauty, and her attitude all travel down from the gene pool. Rojina and her mother, standing side by side, ooze a sort of strength that demands a quiet attention from everyone in the room. From the way the two look at each other and talk to and about each other, it is easy to understand why Rojina deserves everything she has achieved so early her in life. We all know her journey to fame and how she has handled herself post-pageantry. But today we discover a side to Rojina that only a few have discovered: a proud mother's daughter. I met Rojina and her mother Mrs. Rita Shrestha on a rainy afternoon to know more about the relationship that the two share.
To explore their dynamic relationship, I started by talking to Rojina first.
How would you describe your childhood?
I'd say my childhood was quite different. I spent most of my days in my maternal home from a very young age. My mother wanted me to keep company to my grandmother and maternal uncle mama. My aunt maiju had passed away while giving birth to her daughter. So it was only my grandmother, my mama and two elder cousin brothers in my mamaghar. I spent most of my childhood in my mamaghar. My grandmother and mama are my godparents. My parents have always encouraged me to experience more and be myself.
How would you describe your relationship with your mother?
Mum has always been my friend, my mentor and a leading figure in my life. We have always shared a very comforting relationship between us. Whenever I feel sad, whenever I feel like crying, or have anything to share, mum is always there. I also have two sisters with whom I can share everything. So I have never really been alone in my life. My mother is just so compatible with all of us. We can share all our secrets with each other. She basically knows everything.
Do you remember any incident with your mother that inspires you?
I can't remember a specific incident, but she somehow does inspire me. People tell me that I am a Xerox copy of my mother. I just don't look like her, but I resemble her habits as well. It is her generosity and her willingness to help others anyone that motivate and inspire me the most. It's just growing up watching her help everyone around us in every way she can that has influenced me a lot. Anything she says carries an immense value or priority to me. Her words always make an impression on my mind and I keep it with a very high regard. During my participation in Miss Nepal, she told me, "Never have ill intentions toward others even though it's a competition. Just do your best and be yourself and everything will turn out well." It was always in my mind and I think following what she said has made me successful throughout that journey. Anything she says and does become my inspiration.
What was her initial reaction when you got selected for Miss Nepal?
When I first told my parents that I wanted to try modeling, they were both surprisingly supportive about it. I have always been very serious about everything I have done. Up until that point I had excelled in my academics, so I guess they knew I wasn't being irrational. I think they trusted my need to try something new. They didn't have any restrictions for me. Both my parents were very supportive toward this decision. They used to be so excited and were always there to watch my shows and support me. So by the time I told them that I was selected for Miss Nepal they weren't surprised at all. It was almost like they were expecting me to go for it all along.
And what about her reaction when you won the title of Miss Earth Nepal 2017?
I was on the stage and I could see my dad. He's really tall and my mum was beside him. After the announcement my sister came running toward the stage, crying tears of joy. They were cheering my name. I was holding it together till then but to be the reason of such happiness and celebration, it was something else. I could see both my mum and dad crying tears of joy. It was one of my happiest moments even though we cried like babies.
How do you think winning the title of Miss Earth Nepal has affected the dynamics of your relationship with your mother?
I do not think anything has really changed much. It has made her more understanding and supportive of all the hassles that come with my career. She understands that with this title comes with a lot of responsibilities and duties. These days she not only understands my late hours but is confident that I am taking care of my duties and responsibilities. She is also enjoying the perks of my work. She gets rather be excited when I bring any souvenirs from my travels. Before the Miss Nepal pageantry my mum would complain if I splurged on many of my shopping trips, but now when I come back with bags of new clothes she defends me against my dad. It is the funniest thing seeing her trying to explain to him that I need all these outfits.
One thing that you love the most and one thing that annoys you about your mother.
The thing that I love about my mother is her generosity. Something that I would like to change about her would be her loudness (laughs). I am also quite loud like her, but a thing that I would like to change about her would be that.
Something that the world doesn't know about Rojina would be?
Well that would be my academic excellence, I guess. You wouldn't find that about me from any public sources. I have received academic scholarship since high school till my undergraduate degree. So that would be the thing that the world wouldn't know about me.
After talking to Rojina, I moved on to talk to her mother Rita Shrestha. Dressed in an elegant attire, Mrs. Rita Shrestha was as graceful as her pageant winner daughter herself. Looking at the way she walked, the way she talked, and the way she carried herself, it was easy to guess where Rojina had gotten her natural poise from. Mrs. Shrestha kept her cool but smiled the best when I asked her to spill beans about her daughter. She liked to reminisce about the time past, and simply watching Rojina grow up has been a source of joy for her.

What was she like growing up?
She was really good growing up. She was never really mischievous, always good in studies and we hardly had to scold her for anything. She'd come running back home from school, complete all her homeworks, and then do her own thing. I never had to worry about her.
How involved was she when growing up? Did she share her secrets with you?
She mostly stayed at her maternal home so she mostly used to talk and share her secrets with her mama. But she doesn't really talk much. She is usually very serious and tries to keep stuff with herself as she thinks I might worry about her. But I think she was always comfortable to tell me anything she really wanted to.
When did you realize that Rojina was all grown up?
Well, I cannot remember any specific incident as of now, but it was way before Miss Nepal. She was always invested in her studies, and besides that she hadn't really shown interest in anything else until her high school when she started showing interest in modeling. I guess it was just knowing and being assured that she would always pick the right path that made me realize that she's grown up.
Do you think there has been any changes in relationship between the two of you since her winning the title of Miss Earth Nepal?
First and foremost would be the fact that she made us really proud. Beside that, all her work and hectic schedules are natural, but it's mostly how much proud we are of her.
Did you know about her interest in modelling? and when did you find out?
No, I would have never guessed that she was interested into modeling. I think it was from her high school days ‑‑ when she participated in Miss Apex contest ‑‑ that gave me a hint that she liked modeling.Well, we have supported her and she has made us proud ever since. I wouldn't have been having this interview if it weren't for her. (Laughs)
Can you share one thing that you love and one thing that annoys you about Rojina?
The only thing that I would change about her is her anger everything else than that I love about her.
Who knows best?
After talking to the two, it was clear that the two shared a sweet bond of friendship. But like with any friendship, I wanted to test theirs as well. I asked the mother-daughter duo the same questions about each other separately to see who knows the other better.
---
About Rojina:
First thing Rojina does after waking up?
Rojina: I drink a glass of water.
Rita: She wakes up, showers, drinks water, and tells me if she has to leave for work.
Last thing Rojina does before going the bed?
Rojina: I again drink a glass of water, but I also watch a few reality shows and talk with my parents.
Rita: We watch TV together, and she talks with us before going to sleep.
Rojina's Favorite color
Rojina: White.
Rita: I think it's pink.
Rojina's Favorite food
Rojina: I love mo:mo. I know mum would say meat (laughs).
Rita: Meat. She doesn't eat anything without meat.
Rojina's Favorite TV shows
Rojina: I don't really watch television.
Rita: She barely watches television these days.
Rojina's favorite pastime
Rojina: I usually just use my phone when I have free time. I also like to do nail art when I have time.
Rita: She would sleep if she has free time.
About her mother
First thing Rita does after waking up?
Rojina: She starts cleaning up.
Rita: I start my day by cleaning the house.
Last thing Rita does before going the bed?
Rojina: Again, clean the kitchen but we help her out too.
Rita: I watch TV, and talk with my family.
Rita's favorite color
Rojina: Orange, maybe.
Rita: Orange.
Rita's Favorite food
Rojina: She likes mangoes. Besides that she mostly enjoys dal-bhat and home-cooked food.
Rita: I only like home-cooked food.
Rita's favorite TV shows
Rojina: She mostly just watches singing or dancing reality shows like Indian idols and such.
Rita: I only like singing or dancing shows on television.
Rita's favorite pastime
Rojina: She loves looking after my sister's son. She loves playing with him.
Rita: I clean up around the house and look after my grandson.
Aside from their knowledge about each other's trivia, it was their bond that was truly admirable. A daughter who keeps her mother above all else, and a mother who is proud of her daughter and truly believes that her daughter can achieve all
---