Miles To Go Before We Sleep: A Heart-to-Heart With The Khatiwada Family
Cover Story
|
Feb 24, 2020
|
by Aakanchya Tamang and Shreyashka Vikram Raj Maharjan, In Conversation with Miss Nepal World 2018 Shrinkhala Khatiwada, Mr Badri Khatiwada, Mrs Munu Sigdel Khatiwada and Mr Bimba Khatiwada
---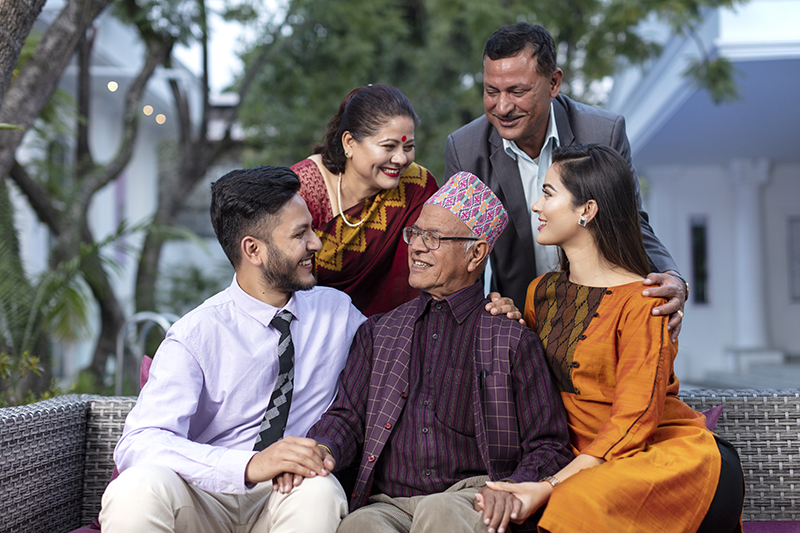 We as humans always gravitate toward success. We follow successful people and aspire to reach the summits they have conquered. But rarely do we read between the lines and look behind the magnificent facade of their tales of glory. We are honored this time to have one such successful person grace the cover of this issue of Smart Family. Miss Shrinkhala Khatiwada engraved the hearts and minds of the people of Nepal with her actions, affection and care for what she stands for. She let the world know that the crown of Miss Nepal World is more than just a jewel. It is an insignia of the people, the symbol of our nation and it's a responsibility which she fulfilled with grace. Even after she crowned the next Miss Nepal she didn't stop her endeavors, she didn't choose to rest, because she has -- in her own words -- "Miles to go before I sleep."

Through all her success, hardships and those tireless nights of dedication, her pillars of strength -- that is, her family -- always stood by her. Her loving family chose to be alongside her through thick and thin. With their love and support she made sure that the world now knows her name and the nation she hails from.

We are proud to bring to you our conversation with the Khatiwada family, in which we explore the bond she shares with her loved ones, her memories of her childhood, and her inspirations.

How would you define Shrinkhala's personality when she was younger?
Munu Sigdel Khatiwada: She was such a fearless child. I remember that whenever any political figure from my party would come over to our house, she would go initiate conversations with them and never hesitated to ask them whatever she felt in her heart. Always soft-spoken, she knew how to respect everyone.
Bimba Khatiwada: She was a kid full of energy and enthusiasm, and I guess that plays a huge role in who she is now. A smart and happy kid who was friendly with everyone she met.

What was your reaction when she mentioned that she wanted to participate in Miss Nepal and did you expect her to win? And can you define your emotions when she was crowned with the title?
Munu Sigdel Khatiwada: I remember that she mentioned about participating in Miss Nepal a few years back and I didn't take her seriously at the time. But when I realized that she was sincere about her decision to pursue it, at first thought, it didn't feel right given our family comes from a political background. But slowly she was able to convince us as she showed us the positive side to the world of pageantry. During her training session, she proved that this platform seeks to empower women. I saw that it was helping her grow, become more outgoing and that was when I felt confident about her decision. At the time of Miss Nepal 2018, I was travelling and was watching her perform on the television. When she got crowned, I was filled with joy and was happier with the fact that my daughter achieved what she strived for.

Birodh Khatiwada: For the first 15-20 years we were conservative about the whole idea of Miss Nepal and pageantry as a whole. That was before the multi-party system of governance, when the society was conservative. Now since society and people's thinking are flourishing, it is needless to say everything has a good and a bad side. Capacity and talent can be shown on this platform. I got convinced and I was very happy when my daughter was crowned Miss Nepal.

Bimba Khatiwada: Reminiscing those memories, I was sleeping and she came to my room and started irritating me like she always does and said: "I am planning to go to Miss Nepal." I was half asleep so I shrugged it off only to realize later that she was serious about it. I was anticipating the results and when she won Miss Nepal, I was so overwhelmed that I cried and most of all, I missed not being in Nepal and witnessing her crowning in person.

In regards to Shrinkhala and Bimbas's relationship, can you recall any notorious things they did together as children? And who is more "badmas" between the two?
Munu Sigdel Khatiwada: Both of them were "Gyani" since their childhood. However, Shrinkhala used to tease her brother and he would get really angry. Since we would be away most times because of work, growing up, all they had was each other. They would annoy each other but in the end, one couldn't live without the other.

Birodh Khatiwada: The love that they share is still the same even till this day. They annoy each other like before. They fight and tease each other all the time.

What is the best thing you have learned from your parent's or their relationship?
Bimba Khatiwada: Always have good morals and to do and be good to everyone. Mom always used to tell us: "Everything in life that we wanted to teach you, we have done our part, and now it is your responsibility to choose your path and take your step forward".

I have always looked up to them, learned to help others and be good to others even when they are bad to me. And to never let negative energy affect the positiveness that I carry.

Shrinkhala Khatiwada: What I have learned from their relationship is that it doesn't necessarily mean that two people have to be soul mates to spend your life together. You can complement each other by supporting each other. My dad never stopped my mom for reaching out to bigger things and bigger goals. In most conventional families, it is difficult for women -- especially when you are a mother -- to get out for work or study, but my dad has always supported her every step of the way. After giving birth to my brother, she completed her double master's and dad has always encouraged us to support our mother. Similarly, with my dad being busy most times, she has always understood the value of his career and his time and never envies or gets jealous about anything. What I love about them is that they both inspire each other and also inspire us.

What is the most memorable family memory that you guys share?
Munu Sigdel Khatiwada: During the festival times, we would meet and celebrate together, which has always been precious for all of us. When Shrinkhala and Bimba were little, we travelled to Janakpur and a monkey bit her hands. And we recently travelled to Janakpur again for her birthday, and I was surprised that she recollected all those memories of her from back then. We had a lot of fun talking about them.

Birodh Khatiwada: My favourite family memories are childhood memories, and this one time Shrinkhala asked to eat "Peda" while we were travelling. We convinced her that we would buy her some when we return and by the time we did, the shop was closed so she cried all the way back till Illam (laughs).

Bimba Khatiwada: It was when we travelled as a family to Darjeeling. I don't remember everything vividly but I do remember having troubles on the road, experiencing bad hotels and traffics but we were really happy. What mattered most at the time was that my family was there with me to go through it together.

Shrinkhala Khatiwada: During our childhood, we simultaneously lived in Kathmandu and Hetauda. My grandparents lived with my dad in Kathmandu because of dad's parliamentary duties and I and my brother lived with my mom in Hetauda. So rarely, we would get the opportunity as a family to sit together, dine and spend some quality time together. For me, those family moments where I had all of my family members together and we shared good food were the ones I have always kept dear to my heart. And now that my brother is abroad, those moments are still fewer, which makes me value them even more than ever.

What is the best thing about having a little sister?
Fighting with her (laughs)! Having Shrinkhala as a younger sister was like having someone I could always spend time with, feel comfortable and she is not like a younger sister who I need to take care of. She instead takes care of all of us.

As we studied together since nursery, we practically grew up together more like twins. We have so many fond memories, she used to fight with me and later I would end up getting scolded by mom and dad. We used to wear tikas in Bhaitika and if she ruined mine, I would ruin her tika as well (laughs). This one time she fell from the stairs, I have no idea how, and I got blamed for it and got scolded by baba (laughs).

What is the best thing about having a big brother?
People think that he is protective since he is the bigger brother but I feel like I am the eldest one in the relationship. I was the mature one. He was more childish and still today a lot of people confuse him as being my younger brother.


Coming out of your shell from being a shy and introverted personality who is now suddenly Miss Nepal and also a role model to many aspiring individuals who has such a huge following on social media, how did you handle the sudden change and also the responses(good or bad) that you got from
the public?
I don't know if this makes sense but I wanted to be a Miss Nepal but not be popular. Yes, I did want people to recognize me for the things that I did, but I did not expect to this reach this height and get recognized by so many people. It is a good thing sometimes because I get to travel around the world and people recognize me but that also backfires on me at times. They know your name, but they have no idea who you truly are, what you have done and they treat you like an object. My personal space, my emotions are not cared for which saddens me a bit but I know it is part of the game. Now it has been quite some time and I have gotten used to dealing with the good and the bad aspects of it.

What have you learned from every member of your family?
Shrinkhala Khatiwada: They individually have taught me something very valuable and I always try to take the best quality from them. My mom is the patient one and she is the one that always keeps everyone together in our family. My father is the leader of the pact and I learn kindness from my mom and the alpha character from my dad. My grandpa has always taught me to live a simple life and to learn to be happy with what you have, especially in materialistic things. He inspires me and he is so research-oriented. He loves our country and loves to write articles about it. My brother teaches me to be more jolly in life.

The best life advice that your mom and dad have given you?
A lot of people think that every time I give my interview, I get trained by my dad to speak a certain way but in reality, he is one of my biggest fans. Immediately after I won Miss Nepal, I had to partake in many interviews. I could hear his room constantly buzzing with my voice as he used to watch interviews and he always gives me feedback about them. He teaches me diplomacy and tells me that sometimes I am too outspoken about my opinions and that my words can hurt certain people even when my intentions are good.

I remember that ever since my childhood, a lot of people would come up to me and call me "Pretty Baby" which worried my mother because she thought those complements would get over my head and I would get obsessed about my appearance. So, she calls me to her room one day, and what she said, I have deeply embedded in my heart and has a huge impact on my life and my morality. She said: "Your physical beauty is not something you have earned; it is something you were born with, so never take pride in that. What you make out of yourself, your intelligence, your capabilities, how you treat others is what you have earned for yourself and is what you should take pride in."

How would you define your brother's personality and one of his best aspects?
I love how he is so jolly and social all the time. He has this ability to make friends easily and even when we were young, we would go to restaurants and then he would already have made friends with everyone regardless of age. And his best quality is that he makes friends but he also keeps them. He has the biggest number of friends. He really cares for them, and he loves, cherishes their relationship. And all of them are just one call away for him.

Since you aspire to become the first female Prime Minister of Nepal, what would be the first 5 things that you would do if you reach that position?
Wanting to be the first female Prime Minister of Nepal is like aiming for the stars. So, more than that I want to be a female figure who has the administrative power to make changes that could be anything. It could be just with this title I have right now. I had mentioned earlier in Miss Nepal about a few things that I look forward to tackling in Nepal, corruption being the first. Corruption in all aspects -- health, education, and many others. By eliminating corruption at all levels would, I feel that everything would become better, more efficient and it would greatly speed up all-round development of this nation.

I also wish to create more employment through tourism. We need to recognize the true potential that our country has in the field of tourism. We need to love our uniqueness and promote it to the world.

I want to support and focus on quality education. There is a partial implementation of free education in our country but I believe that they lack the quality that is required for "good education." I also want to make people more aware of information technology. This generation has access to one of the most powerful tools, which is the internet. But it is not being utilized properly, or in some cases with good intent and they seem to neglect the fact that actions have consequences. I want to educate them of both the good and the bad aspects and teach them to use to it for betterment and learning.

Since I am academically linked to the field of architecture, I am passionate about creating better cities, better villages, and in infrastructure development. What I choose to emphasize is human-centric development, with more green spaces so that the human civilization can come together to interact with each other and create a better community that will lead to a prosperous nation. I want to promote better infrastructures, create better transport infrastructure so that tourists visit our country. Adding to this, I also want to address the issue of climate change because it is a serious issue and we should be conscious of our actions which have a whole host of implications in the environment. Our environment is where we live and we are the ones to save it.


In light of the upcoming Visit Nepal Year 2020, what do you think that we as citizens should do to make it a grand success?
Munu Sigdel Khatiwada: : Tourism industry is one of those industries that has paved a way for the economic growth of our country. Tourists visit our country to admire the beauty of our Himalayas, our green forests and also the beauty that we Nepalese carry in our heart. What will make them love our country is the respect we give them and the behavior that we show them. Our tradition says that "A home where we respect our guests is a home where Goddess Laxmi lives." And we should always mirror this behavior with our guests.

Birodh Khatiwada: Every year should be a Visit Nepal Year. People nowadays are gravitating toward the beauty of nature, and our home-grown organic food. The people who used to travel to cities now want to travel in rural areas and admire the cultural beauty, the traditions of the native people and explore their habitats. Today, the local food that reflects our love and culture carries more value than any food at a 5-star hotel, which is why we should preserve our culture, respect where we come from, our traditions, our ethnicity, and our uniqueness.

Bimba Khatiwada: I recently went on a 10-days trek and noticed that what we are lacking is proper hospitality etiquette. Visit Nepal 2020 should not only be about foreign tourists but also about domestic tourists as well. We are willing to spend the same amount of money that any foreigner would, but we are not treated with the same respect as foreign tourists. Which leaves a negative impression on us and makes us reconsider the decision to explore our own country. Similarly, the originality and the beauty of our culture, our beautiful villages, our nature should be kept alive rather than transforming villages to look like a 5-star hotel. That is not what we Nepalese are about.

Shrinkhala Khatiwada: Be conscious of your actions and what you impose on the environment because whatever you do to mother nature is going to directly affect not just you but everyone. If tourists visit our country and see all the pollution and litter, they are going to go back and convey to other hundreds and thousands of people. and they would never want to visit Nepal. People who are in the hospitality sector, doesn't necessarily need to mean only people from big hotel chains. They can be anyone -- a person that owns a small shop, a taxi driver, or anyone of us who are of service to tourists. We should treat tourists with respect because it is going to reflect the entirety of the nation.

What impression we leave on them is going to make a big difference in how they perceive us and how likely they are to visit us again. Efforts from individual levels -- from keeping our house, our community and our city clean -- should be initiated. I recall when we were younger, we used to get so happy to see tourists and greet them but somehow that respect seems to have been lost over time. They chose to visit this nation for a reason, and they are our guests. We should show love and respect, which in turn would be reciprocated and create an everlasting impact. It would encourage them to visit Nepal even more, and they would spread our message of love and care all over the world.