Samaya and More
Cover Story
|
Apr 29, 2021
|
by Shraddha Shakya in Conversation with Neha Banu and Tyson Moktan
---
A heart-to-heart with the promising vloggers; Neha Banu & Tyson Moktan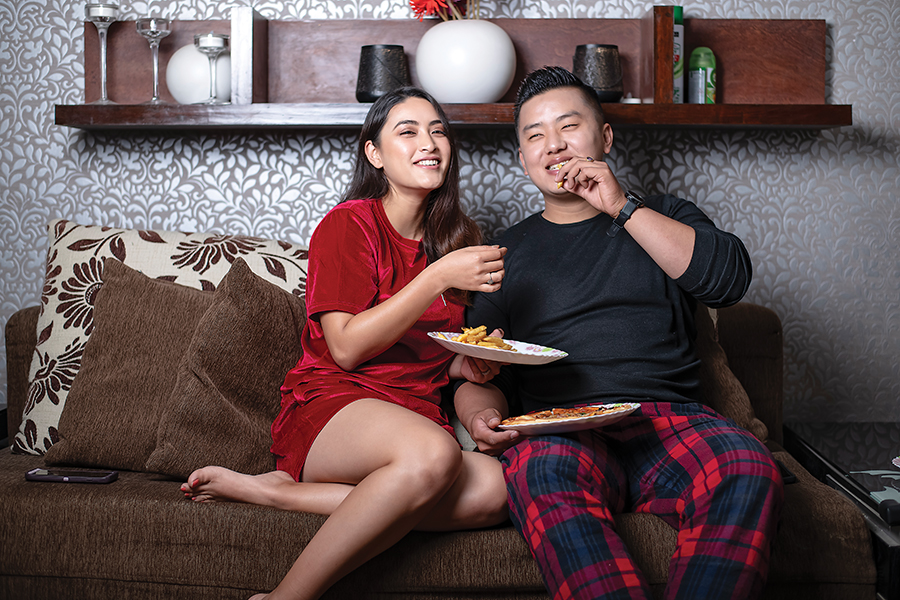 ---
Being perfectly different from one another, and having hardly any similarities, this dynamic duo has just rightly centered on their main similarity, their love for Vlogging! Starting from their fitness journey, and now their Youtube Journey, they have been inspiring many and winning hearts of innumerable through their wonderful contents.
In this issue of Smart Family Magazine, we explore more on how they started their Fitness and YouTube Journey, what 'Samaya' is, share with us little travel hacks and many more!
We are really thrilled to have Ms. Neha Banu and Mr. Tyson Moktan on our cover where they share a bit about journey and themselves in this unfiltered fun chat.
If you had to describe one another, how would you?
Neha: If I were to describe Tyson, I think it would be passionate and hardworking.
Tyson: I was thinking the opposite. (laughs)
Neha: What were you thinking to say? Lazy? (Laughs)
Tyson: No no, not that haha. I think she is really fun loving.
Neha: Thank you. (Smiles)
In what ways are you both similar and different?
Tyson: We both like to eat a lot. That's the only similarity I think.
Neha: Oh my god, yes. The biggest similarity! Talking about the differences, umm.
Tyson: In general, we are like opposite in most of the things.
Neha: Yeah, pretty much.
Tyson: She's really organized and I am messy. I like being in my comfort.
Neha: Umm, I am more social.
Tyson: And I am not very social.
Neha: Yeah, boring. (Jokes and teases Tyson.)
(Neha and Tyson look at each other and laugh.)
Since you both are into fitness, how did you both start your fitness journey?
Neha: Mine story is so funny ha- ha. So, I and my best friend were watching Dhoom 3. (We all started laughing) And then, we were like WOW seeing Katrina and Amir. We were like we have to start working out and that's how I started actually.
Tyson: There's an age when boys want to join gym. When I was 15 or 16 years, I went to the gym; I just started liking the process so much that I never stopped going. Love at first sight!
What does being fit mean to you?
Tyson: I think just having an ability to enjoy life while still being healthy. Be strong enough to do certain tasks such as hiking, running or doing something adventurous. So, I think to have this capacity and enjoy food as well. That's how I look at it and also being mentally free.
Neha: For me, it's about food actually. I think fitness gives you confidence; you feel so confident, it's just the feeling that I like.
Tyson: It's basically to live life better.
As you both are fitness professional, what advice would you give to budding fitness enthusiast?
Tyson: People have different agendas to go to join. So, if it's for regular people, it's not as hardcore as it seems. Just dedicating 3-5 hours a week in gym can change your life. So, if you think this way, you can keep doing it for a long time; you can stay healthy, enjoy life and do adventurous sports even while you are getting older.
Neha: Also, have smaller goals and don't think that you'll achieve a six-packs abs within just 6 months; it's not possible. It will just demotivate you.
Tyson: Exactly, when peoples' expectations don't meet their progress, they start dropping off. So, have smaller goals.
Neha: Just be consistent. And make small goals and keep moving forward.
Tyson: Once you start the process, you'll understand what's realistic and what's not. So, the first goal should be to go to the gym and you'll understand the process.
What led you both to creating your YouTube channel?
Tyson: We used to vlog since very long. We used to record with our phones and go-pro. We used to make vlogs of every month. We were already kind of into the vlogging culture.
Neha: But, Tyson started his fitness channel first. We were traveling for the past 2 years too, so we thought why not make videos out of it? That's how we started actually.
What's the reason behind name, 'Samaya'?
Neha: We just knew that wanted a Nepali name to which people can relate to.
Tyson: And which we could also use as a brand. So, Samaya is more about being in the present and stop contemplating ideas.
Neha: Samaya is about the idea of just do it and this is the moment and you need to do it.
Neha and Tyson: Samaya just clicked.
What is the one thing about traveling that you love the most?
Tyson: I like driving, taking pictures, videos of new places. That's my only motivation ha-ha.
Neha: Just being there and exploring something new.
Tyson: I don't like just the idea of traveling. It's because I really enjoy driving, taking pictures and videos.
Neha: I think it's the best thing that happened because I like traveling; he doesn't like it much. But, as we need to vlog, so, he has to go! (Neha and Tyson both laugh.)
Since you both travel a lot, could you tell our audiences some travel hacks regarding the ways to cut expenses on vacations?
Neha: I do all the planning ha-ha. So basically for international trips, travel at night, it saves you so much cost; night flights are cheaper and you can save hotel costs as well. We book everything beforehand.
Tyson: So, half of the trip pre-planned such as where to stay, where to eat, must visit tourist attractions. But, we don't exactly preplan what we do every day. Some days, we decide it in the moment itself.
Neha: When we plan, I just note down the tourist attractions and I decide the hotel and the other places where we can visit accordingly.
Tyson: I think you should watch vlogs of the places that you want to travel. You kind of get an idea about public transport and know about the place a lot. When were traveling in the South- East Asia, we realized that we can rent a bike everywhere and that's really cheap comparatively.
Any suggestions for aspiring YouTubers?
Tyson: What most people think is gear is the most important. The most common question that I get is, 'what camera do you use, what editing apps?' It definitely makes a huge difference and we are always updating but more important is putting out contents and be super consistent. The more content we can get out, the more likelihood that it's going to be successful.
Neha: Yes, just be consistent. Don't be demotivated because some of your videos didn't do well, because maybe, some other videos might click. It takes time but just be consistent.
Tyson: Put out contents. As creators, that's the only thing we can do.
Neha: It's the content that matters at the end of the day.
What is five years down the road for you both professionally? How do you both plan to take your professional journey forward?
Neha: We have just started our Samaya Apparel; we want to make a brand out of Samaya. That's the whole goal for now.
Tyson: Our mutual goal is to make Samaya a brand which people would recognize.
Neha: From this year, we are also thinking ozf involving our subscribers more.
Tyson: We don't have five years goal for Samaya. But, we are here to stay and be super consistent. My personal goal is to retire as a power lifter by the age of 30 and maybe to have an Asian champion by 5 years in power lifting. And work on family business.
Neha: I am more of live in the moment kind. So, I haven't planned anything.
Any message for your well- wishers?
Neha: Thank you so much for always being there and we will try to do better.
Tyson: Actually I know who our supporters are and I see our comments, I know them and thank you for being there.
Neha: It makes us really happy when you come and talk to us when we bump into each other. So, don't be shy; we are more than happy to meet you guys and we'll try to have you on our videos.
Tyson: Just keep supporting and keep the love coming.
A memory about the travel picture.
Neha: This is the display picture of Samaya on Instagram. The spot is Nusa Penida Island and it's so beautiful Oh my God! But, it was a struggle! To reach the beach, you would need to walk for 1-2 hours straight. On top of that, it was so sunny and hot; we were completely burnt.
Tyson: We were so tired. The place you see in the background, it takes hours to reach there. We walked for 10 minutes and we stopped. We looked at the people who were coming back and they looked so exhausted that we didn't even go. Nevertheless, we got this beautiful spot; stayed there for a bit, we clicked this picture and came back.
---
A fun filled chat with the Dynamic Duo
What would be an ideal job for you?
Neha: Probably, be a singer if I had a nice voice. (Laughs)
Tyson: Any job that would not have restricted timing. Just be free but not be free at the same time but have money. (Laughs)
What your signature dish?
Tyson: I can only cook egg, chicken and rice.
Neha: I think muffins.
What's your favorite cuisine?
Neha: I love Indian Food.
Tyson: I like meat. I like anything meat.
If you could erase one food from existence, what would it be?
Neha: I don' like vegetables.
Tyson: Karela and Brinjal.
If you could only eat one food for the rest of your life, what would it be?
Tyson: Chicken rice.
Neha: Thakali.
Which exercise/ workout do you avoid till the last minute?
Neha: Hip thrust.
Tyson: Cardio.
The best comment that you have received from your subscribers?
Neha & Tyson: Any comment in which they appreciate our work is the best comment for us.