The Joys of Fatherhood
Cover Story
|
Jul 16, 2018
|
by Malvika Biswas Shrestha
---
After a few months of their grand wedding, I asked Zenisha Moktan and Dikesh Malhotra if they are planning for a little one anytime soon. Well their answer to me was "Since we are quite loud in the social media everyone will know when it ensues."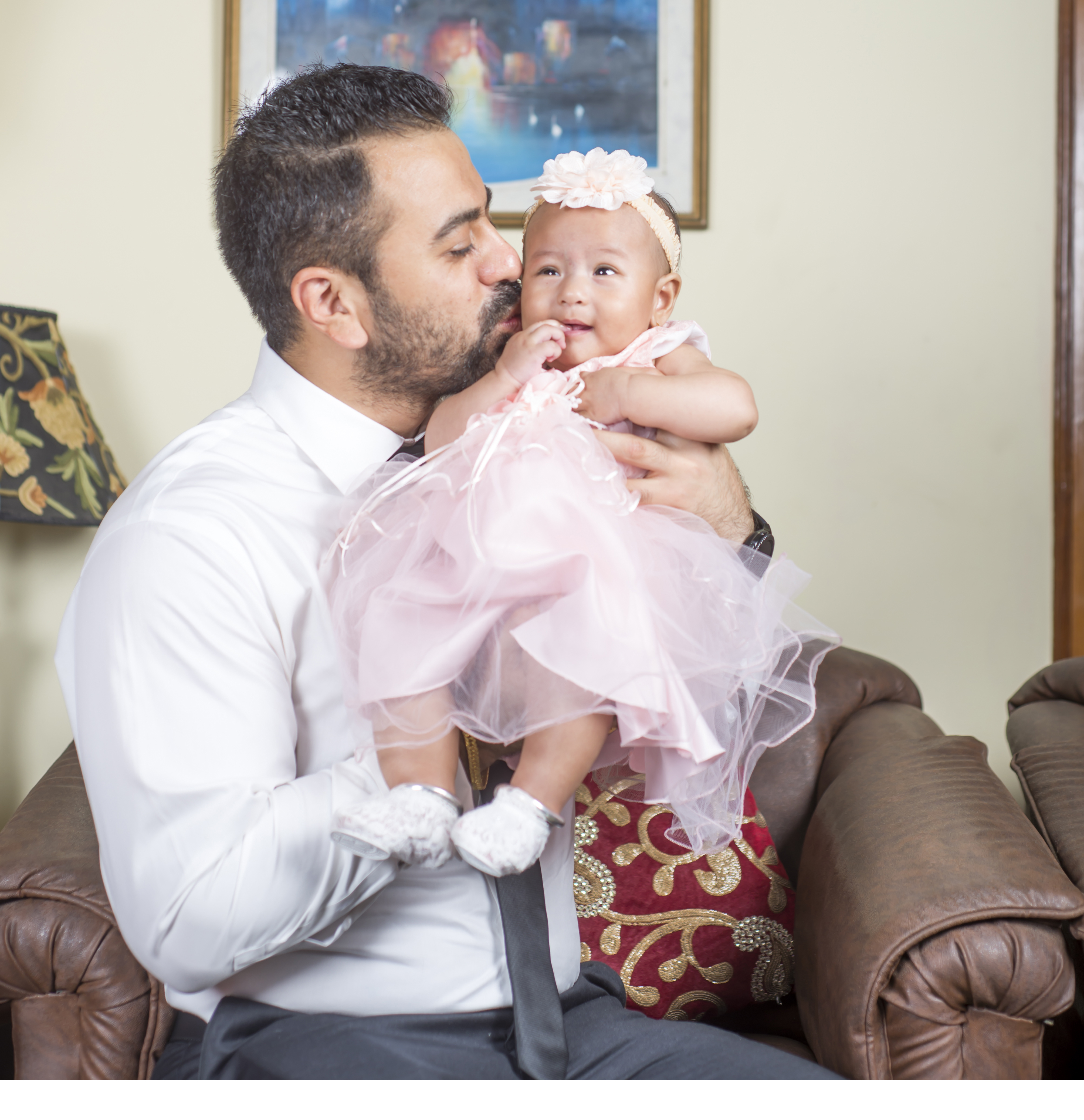 Everyone experiences a wide range of reactions on becoming a parent, from excitement to nervousness. And believe me, it is all absolutely normal. A woman experiences a variety of emotions during and after her pregnancy and life changes. But to all you expecting mothers, you are not alone as most often first time fathers too have their own feelings and concerns to deal with. They too go through a roller coaster of emotions just like any other first time mothers. Was it the same with this first time daddy to be? Get to know what Dikesh Malhotra has to say about it.
How was your reaction when you first heard about the pregnancy? How was the whole pregnancy?
Dikesh: It was a very wonderful moment because we both wanted a child. I was happy because that was the obvious next step for Zenisha and me but I did not want to get too excited before the doctor confirmed it. A mother goes through a lot of hormonal changes during pregnancy. So if I talk about her, the first few months were harder for her because of morning sickness. I was okay I just had to cope up with her mood swings which were not many but still a little bit (laughs). But for me personally the entire process was not challenging at all; it was fun.

Tell us about the big day (the birth of the child). What was going inside your mind? How was that experience?
Dikesh: I had different expectations based on movies and horror stories about how the woman screams and shouts and even slaps her husband. But luckily for me my wife was very calm and was not screaming at all. Since it was a normal delivery, I was in the OT throughout the process. It was quite an experience ‑‑ of feeling excited, happy, yet a little nervous not knowing fully what to expect. It was an entire new thing for me. I tried to record that moment. All our family members were waiting outside. They were all trying to sneak in, but I was blocking the door and asking them to not sneak in (laughs). Our doctor and the birthing team at Grande were really good and they talked to us throughout the whole process. So it was pretty amazing.

What was it like to hold your baby for the first time? Were you scared?
Dikesh: I was not scared but she was so tiny I was not sure if I could handle her. I was then allowed to cut her umbilical cord, which was pretty scary but then I held her and it all felt right. She was precious!

How is parenting treating you?
Dikesh: Oh I am enjoying every bit of it. I think I started getting the fatherly instinct when I started shopping for her even before she was born. I read a lot and made sure she got everything she needed. I feel more responsible than ever and love my role as a father to a precious little baby girl.
How has life changed after becoming a father?
Dikesh: Life has gotten better, if anything. Our daughter has brought so much happiness and smiles to our lives. Every morning I wake up to a smiling face and I know it will be a good day. I look forward to going home to be with her and absolutely enjoy every moment with her. I put her to sleep sometimes and seeing how comfortable she is in my hands makes my heart happy.

Have there been any adjustment issues?
Dikesh: There have been adjustments, not really issues. We sometimes sleep together on the bed, as she does not have her own room yet. She wakes up early in the morning, so there have been timing adjustments. I can no longer scream and watch football anymore. I need to spend more time at home, and cannot be spontaneous with plans. It is all part of the package.


What it is like to be a father? How often do you spend time with Dia. And do you understand her gestures?
Dikesh: It is a beautiful feeling. One that cannot be put into words. I spend as much time as I can, mostly mornings and weekends. Earlier she would sleep at around 6 pm so I would not get playtime in the evenings. But now she has pushed her bedtime to 8 pm so I get some time after work too! And yes, I do mostly understand her gestures but babies have their own moods and they can change pretty fast.

Do you go shop for Dia all by yourself?
Dikesh: Every time I travel, all my shopping is for her! I had never seen that much baby stuff ever before. I am amazed at how much stuff there are for kids out there. I absolutely enjoy shopping for her. I look up everything online and if it is not available here, I order it internationally too. Initially the baby had not latched so we were bottle feeding her and she had a severe case of colic. I ordered Dr. Brown's bottles since they let less gas into the baby and it worked wonders for her (smiles). So I actually got the distribution for their products, and I will be bringing it to the Nepali market soon. But these days you get almost everything here too. I love Smartdoko. It has the best collection for both the baby and the mother, so shopping is now easy for me.

What five advice would you give to to-be fathers?
Support your wife. If you want a happy healthy baby and a happy family, it is most important for her to be happy and feel loved. Sometimes when the baby comes along, so much focus goes on the baby that her health and attention could take a back seat. Make sure she is well taken care of.

Download Apps to support and guide you both through pregnancy and baby development. There is so much information out there, it is important to filter and use it to grow together as a family.

Take responsibility and handle them. Share duties. You do not have to do everything. Do what you are comfortable doing but make sure it adds value to your family.

Go to every doctor's appointment with your wife and with the baby. The mother may be carrying the baby and is obviously the primary caretaker but that is your child too. You want to know what is happening and how you can contribute to everyone's well-being.

Stay connected ‑‑ with milestones, with developments, with feelings, with growth. This is more for yourself than for anybody else. Time surely flies and the baby grows up so fast. You do not want to miss seeing her transform into her own beautiful self.
Most importantly, enjoy yourself and embrace parenthood.
We then had the mother talking about her beautiful journey. The glow she had on her face throughout was so surreal. During the whole interview session I could actually see how cheerful she was talking about her baby girl. She could have talked for the whole day but unfortunately we were bounded by the limitation of time. So here we have a brief take on her pregnancy and ongoing motherhood journey.
Zenisha: I was super-duper happy when I knew that I was pregnant. But my pregnancy was initially very difficult. I had morning sickness till the fifth month. It was morning sickness only on namesake as it did not happen in the morning but would start anytime and the experience was horrible. But after the sixth month it got easier. The rest of the pregnancy was beautiful, and fun. I had a lot of energy, I would go out, and eat. And now talking about the delivery day, I was adamant from the beginning that I wanted a normal delivery as I did not want to undergo the knife or any kind of surgery because I am scared of surgeries. I was happy that I had normal delivery. I gave birth to my golden baby on Christmas so I felt blessed to receive her as my personal X-Mas present. To be honest, I was not overwhelmed with emotion on holding Dia for the very first time. It was something I was preparing for nine months and that was the result day. I think that is just me as a person. I do not get overly emotional about anything. I was not scared. I knew I could do it as my threshold for pain was very high. My only worry was that I would have to get a caesarean section if any complications arose. Hence, holding her felt like the most natural thing! People would be visiting us, and everyone wanted to see the baby. But after a month things almost started selling down because by then it had become a routine. Then all that emotion came to me very strongly. I started feeling very emotional even over small little things and I am still like that with her. It just gotten more and more and more and I am almost obsessed at this point but I know more is yet to come (laughs).
Everything has changed after becoming a mother and I have gotten bigger to probably accommodate all the love I feel (laughs out loud). Priorities have changed. My schedule, my lifestyle, my day and my nights have all changed. I am loving each and every second of parenthood. I think there is too much negativity out there about having a child or raising one. But I am enjoying it to the fullest. I do not see how people can complain about anything. And trust me, it is not like I have the easiest baby in the world. Yet I love the whole experience. In term of adjustment issues, I cannot think of any ‑‑ maybe sleep. I spend all day, all night with her which I love to do (smiles) but I would also like to believe that I understand her gestures. She makes the cutest expressions and I enjoy watching her even when she is asleep (smiles). To become a mother is the most spectacular feeling in the universe, nothing has been more rewarding to me. I think women give so much to humankind and to the universe because we are bestowed with the ability to give birth. Best feeling ever!
---