P.I.G.S ART BEYOND THE CANVAS
Decor
|
Jan 01, 2019
|
by Nipun Bajracharya
---
PIGS are an artistic duo in Kathmandu exploring their skills in forms of murals and many decorative and recycled accessories.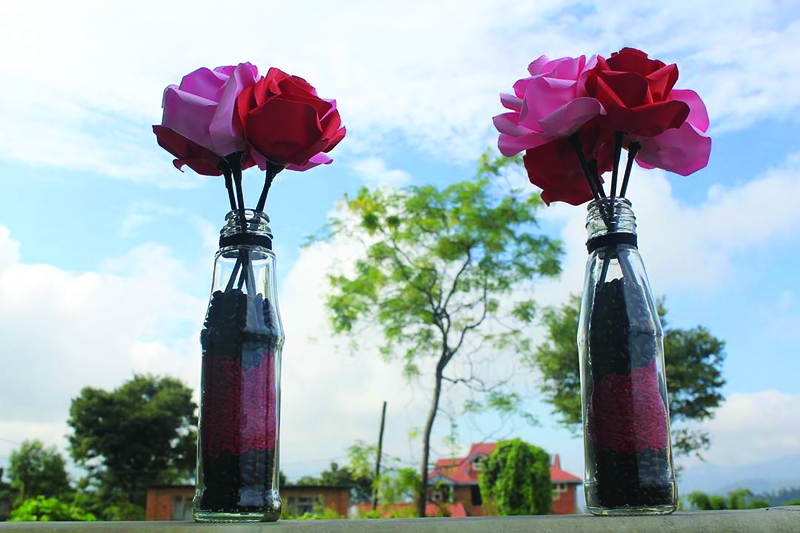 What comes to your mind when you read the word pigs? For majority of us, it will be those cute animals that love to play around in dirt. For most it might be repulsive, for a select few animal lovers, it might evoke a smile. Until a few days ago, I could have bet my life on the fact that the word pigs would never be associated with décor or art. And yet for Sharave Gurung and Ismriti Purjak, P.I.G.S has been their art baby. For the last four years, the duo has been redefining the mainstream definition of art décor. They are taking art beyond the high end spectrum of canvases and bringing it closer to home.
This is not to say that they did not have their own fair share of struggles in this journey. The two started out with getting their hands dirty as a motorcycle modification business. They used to make graffiti on the two wheelers. But Gurung shares that it just wasn't working out even though it was loads of fun to be working on their own. Having a taste of being their own bosses, the duo started P.I.G.S. When I asked how they named their venture, the answer was as simple as it could get and yet unheard of in the present business age.
"We used our name's initial letters. My name is Sharave Gurung and her name is Ismriti Purjak. We tried out variations from our own initials and came up with P.I.G.S. That is where the name P.I.G.S comes from. We didn't expect that it would work this well but we gave it our all. We would compete with each other about our own DIY ideas and would post them on social media.'
None of them had realized that this, after the failure of the last business, would take on so easily. P.I.G.S started almost as an inside joke or more like an inside art competition. The two of them over the phone talk about what they wanted to make and challenge each other. After a week of working on their ideas for décor products, they posted it online and let the gods of social media take the wheels.
"Slowly, the number of likes and views increased. One day our little page grabbed the attention of the owner of the Boudha café. They contacted us for wall art and it was pretty good. We had never done the wall art but slowly we picked up our paint brushes and pace."
The first product they made was 'The Mario'. The duo shared showcasing a piece of art that needed a bit of squinting like all piece of art need. A board covered in bottle caps but also showing the lovable video game character was an instant hit at the exhibitions.
"There was an art exhibition called NASA and they were asking for models and they selected this model. We started this as a hobby, we didn't have much expectation. After Bouddha café called us for the wall art, we picked up from there."
P.I.G.S plan to take things international while the owners pursue their further education in Australia, they share that they never want to stop pursuing arts as their passion. Before heading to the country down under, the duo are open to any kinds of art work. They love working in murals and working on them fast. 'No matter the size of the mural, we finish it within 3-4 days,' shares Gurung when talking about their first mural at the Orchid Café. If you want a mural or any kind of art really, their business is always active in social media. With, P.I.G.S. you are only one click away from heart-warming art and décor.