DFSK Glory 580
Drive
|
Aug 07, 2019
|
by Abhinav Das Shrestha
---
Final verdict – At the price it's being offered at, is indisputable choice for a luxury SUV.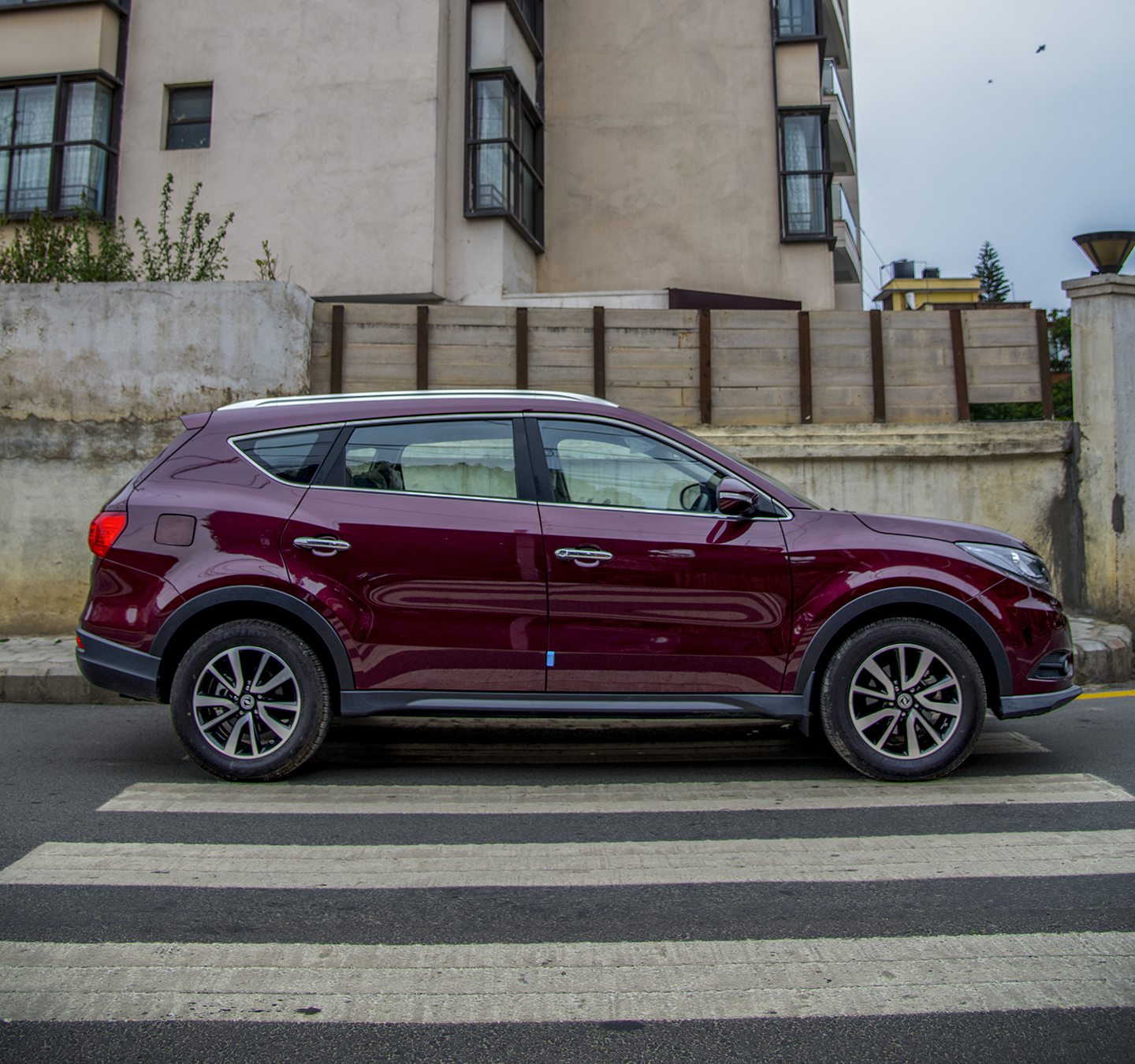 Although a new name in car brands in Nepal, its debut SUV offers features at a price that will surely make you reconsider your choices.
At First Glance
The DFSK displays clean long designs that stretch the entire vehicle. When it comes to the body design and features, one can draw parallels with Honda C-RV, while the interiors reminds you of that clean eurpoean finishing of Volkswagen. The insides of the car is laminated with leather finishing across the seats and dashboards giving it that cozy and premium feel. The lion eyed headlamps gives the SUV a sharp look and yet the body cuts and edges seem welcoming, making it seem a good fit to be carrying the label of a family vehicle.
Behind the Wheel
We brought the car out from the showroom in Panipokhari for a quick test ride in the roads of the capital. Seated at the driving seat, everything looks and feels premium. The dashboard design is clean and classy, complete with a built-in touchscreen infotainment system that supports both IOS and Android. The multi-function steering wheel is perfectly sized, with additional grips underneath it, giving your palms a firmer hold while driving. The interiors are very spacious and have enough headroom to comfortably accommodate anyone above 6 feet in height. The large windows and the sun roof provide ample lighting inside the car. The seats are covered in beautiful leather and are designed in a manner that cushions and supports your body as you sink into comfort; it's quite apparent that these seats will be your best friends in those long drives.
You press the keyless ignition button that starts up the engine. DFSK Glory 580 is powered by 1.5L SFGT Turbocharged Engine with a 1498cc displacement. It provides 148 bhp power at 5600 rpm and 220 Nm torque at 5600 rpm. All this translates into a powerful driving experience while being extremely efficient. The engine thrusts the car forward yet nothing seems hoarse or pushy. And this car even glides seamless atop the beaten roads of Kathmandu. The wheels are equipped with independent suspensions that help make the driving experience very fluid, very luxurious in fact.
A Passenger on Seat Number Seven
The option for a seven seater vehicle in Nepal is limited, and the Glory 580 seeks to make a mark in this segment. I handed over the steering wheel to a friend and went all the way back to the rearmost seat, the seventh seat at the back. I'm 5 ft 10 inch tall, yet I sat comfortably. Long story short, I don't mind having to sit at the rearmost seat for a few hours of long drive.
Safety and other features
DFSK cars display that they are very serious when it comes to safety features. The Glory 580 model especially boasts of a 5-star vehicle body safety. The SUV has attained the certification for EURO III, EURO IV, EURO V, EURO VI, and WVTA. It further includes parking sensors, rear camera, driver airbag, passenger airbag, anti-theft alarm, child-safety lock, ABS and speed-sensing auto door lock.
The Glory 580 is spacious without a doubt, plus the additional luggage spaces further supports large families who love long drives. Adding to its feature-rich list is the Remote controlled Intelligent Key, Dash-camera, and Centrally controlled console which displays the pressures for each individual tire, the doors that are open, whether the trunk is open, and even if they are, the car automatically locks all doors within a few seconds of accelerating forward.
So should you buy it?
The most striking feature of Glory 580 is its price. They only sell the full option variants, and you can purchase this premium luxury SUV at a price of 62.8 lakhs, which includes all the features we've mentioned in this article. A simple and quick online comparison will easily show how other SUVs in this price range fare in contrast to the Glory 580. The starting option for KIA Sportage is being sold at 69.9 lakhs. If you look even further, you'll find that any other car with the same number of features as the Glory 580 are priced above 1 crore. What's more, they're also providing a 7-year or 150,000km warranty on the engine.
The DFSK Glory 580 is a formidable opponent for all SUVs in Nepal. But we want you to learn and experience it firsthand on your own. Go online, there are already lots of reviews in Nepali portals, visit their showroom, give it a test ride, you might find yourself much surprised
and impressed.