The New Forester 2019
Drive
|
Apr 07, 2019
|
by Abhinav Das Shrestha
---
This newest generation of the Forester has been re-designed It's ride is smooth and handling is very easy, turns around corners and sharp bends like a lithe cheetah.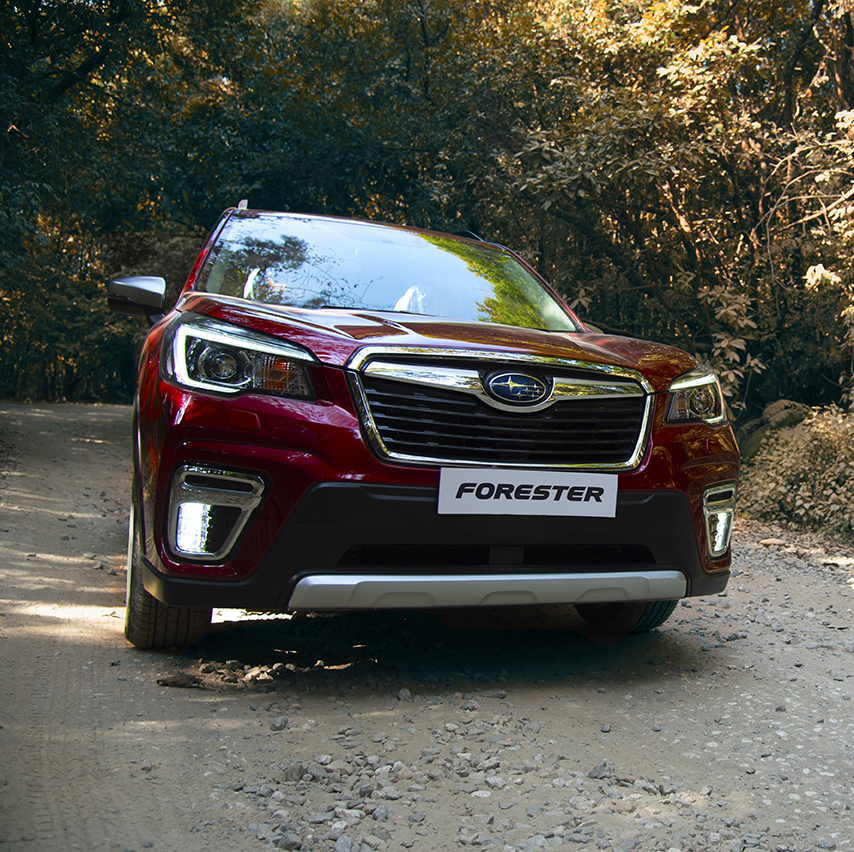 Subaru comes with a rich historical background that dates back to the Nakajima Aircraft Company. From manufacturing aircraft Subaru turned to making automobiles in 1951, using the technology and precision engineering skills and experience gained from aircraft development. From the Nakajima Aircraft Company it changed its name to Fuji Heavy Industries and only recently the name changed to Subaru Corporation.Subaru is the Japanese name for Pleiades, a star cluster nearest to the earth and most obvious to our naked eyes. Hence, its 6 start logo as well, which were its 6 companies, that later merged into one Company. Subaru has had a successful history in the motor sports world, from the World Rally Championships to Global Rally Cross Championships, and even a brief one in Formula One racing. It uses this vigorous testing and endurance for all of its vehicles.
Safety always comes first for a Subaru - it's their guiding and abiding principle. Having had its roots in aircraft manufacturing, Subaru continues its 'people first' policy by fine-tuning, testing and retesting it's advanced safety features, and the new 2019 Forester has brought with it the latest upgrades in all-round safety systems. Subaru is the only car manufacturer in the world that makes Symmetrical All-Wheel Drive cars. The balanced design of the Symmetrical All-Wheel Drive creates uniform stability and delivers an optimal distribution of power for maximum traction in virtually any weather or road condition. It delivers better handling, improved efficiency, and a quicker response to road conditions. The Forester's engine also has a flatter profile being a horizontal boxer engine, giving the overall vehicle a lower center of gravity and better sense of balance.The 2019 Forester glides around tight bends with ease and negotiates potholes and other obstructions in a masterful way, giving the driver a feeling of being in complete control at all times.
This newest generation of the Forester has been re-designed It's ride is smooth and handling is very easy, turns around corners and sharp bends like a lithe cheetah. It has a more bulk with very strong lines as compared to the previous Foresters. Major changes across the platform have been made. It now has a more rigid firm body structure for high crash-energy absorption. They have added Electronic Parking Brake replacing the manual one. The ignition system has been upgraded to Direct Ignition, which allows for better initial pickup, more fuel efficiency, and an increase in horsepower. For enhanced road visibility, the LED headlights with steering responsive functionality help you see better around corners. It also automatically dims and activates the high beams as needed.
Improved upon the older X-Mode drive, the 2019 Forester also has a new AVH system. This system assists you in a variety of tricky off-road situations. The system is more dedicated this time and has been improved to adapt to different terrains and off-road circumstances, such as for snow, sand and mud, just at the touch of a button.
The interior of the new Forester is sharp. The leather seats give it a premium feel. The seats are ergonomically designed to hug your calves and your back so you always feel snug and safe even at high speeds or sharp turns.No complaints at all with the space management as there is adequate head room and leg room, and simply a lot of breathing space. The entertainment system is Harmon Cardon and comes with an 8-inch screen, Apple Car Play and Android Auto, and seven and has a beautiful sound. The steering wheel also got a makeover to accommodate a new layout for the audio controls.
The cargo space in the new Forester is also huge,up to 76.1 cubic feet of space, and has an extra-wide rear gate opening, making loading and unloading of large items very easy. The rear gate is now powered, allowing opening and closing even when your hands are occupied. The entire vehicle opens and locks with a remote control, and the side mirrors close inwards when you lock the car making it even more nifty.
The 2019 Subaru Forester in its true sense is an off-roader vehicle that combines luxury elements. It is a very versatile SUV that can be seen taking on the most critical of road conditions, as well as gliding through the seamless city roads. As the former road condition is more prevalent across our country, the Forester makes for a great choice for all, safety, self levelling, and smooth handling. It has a 220 mm ground clearance which is one of the highest in its segment. Further, the Self-levelling feature ensures that this level is maintained. So even if you add a few more people, or some heavy cargo, the clearance level does not go down, making it ideal for a variety of trips. The older Foresters have even conquered roads to Manang and Mustang, and up to the Solukhumbhu region, and off-roads don't get more demanding than that. So imagine what you could now do and where you could go with the new Forester.
---
Engine:

Horizontal opposed, 4-cylinder, 4-stroke, petrol engine , DOHC 16-valve
Performance:

Max output (DIN) 6000 rpm, Max torque (DIN) 4000 rpm, Max speed 193 km/h
Fuel Consumption:

Urban 10.1 km/ltr, Extra Urban 15.87 km/ltr, Combined 13.15 km/ltr
Drivetrain:

Symmetrical All-Wheel Drive
Cargo Volume:

1775 litres