Registering for a Personal Permanent Account Number (PPAN)
Finance
|
Feb 23, 2020
|
by Sampanna Shrestha
---
A PAN card is an identification document issued to an individual by the government to identify him or her as a tax payer, and keep track of the taxes paid by the citizens. As per the new fiscal year, the Government of Nepal has made it mandatory for all g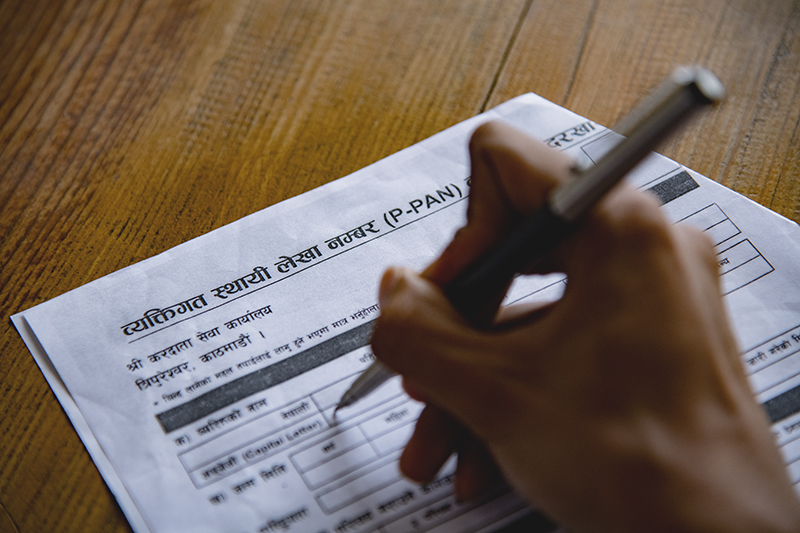 A Permanent Account Number (PAN) is an identification number that identifies an individual as a taxpayer in Nepal. PAN is also known as Tax Payer Identification Number (TPIN), and the document on which the number is printed as PAN card and PAN certificate. This number is an identification document for any individual or a tax payer and is meant for the government to keep track of taxes paid by its citizens. Once a PAN number is issued it cannot be changed and also does not need to be renewed.

There are two types of PAN cards:
Business PAN
Personal PAN

A PAN card is important as it allows the government's Inland Revenue Department to collect all the individual tax related information. Registering and obtaining a Personal PAN (PPAN) is important since the Nepalese Government is on its way to transition from an informal economy to a formal economy. Experts, such as the Director at the Inland Revenue Department also state that the compulsory implementation of the PPAN would also be helpful in identifying, contributors to the social security tax, which is a part of the Social Security Fund and its social security schemes that are to be introduced in the future.

As of July 2019, the Government of Nepal has made it mandatory for all salaried government and private workers to register and obtain a Personal PAN. Since, this is a fairly new concept for the average Nepalese, here are a few steps to registering oneself online to get a Personal PPAN.
Go to the Inland Revenue Department (IRD) website : www.ird.gov.np
Find the Services tab.
Locate the Tax Payer Portal link and click on it.
You can also directly access the Taxpayer Portal through the following link: https://taxpayerportalb.ird.gov.np:8080/taxpayer/app.html
To the left side, click on the Registration (PAN,VAT, EXCISE) tab.
Expand the vertical menu and find the application for registration.
Fill out all the details and choose the IRD office located in your area in the Verifying Offices section.
Press the OK button to and you will be given a Submission Number. Note down this number.
Press on Continue button.
Fill out all the personal details as required.
At the end click on Save button.
Click on Print button to get a copy of the submitted application form.
Take the printed copy to the IRD office located in your area.
The IRD office will then verify your details and provide you a PAN card which is free of charge.
The process is fairly simple to understand and a detailed description of each step in the online registration can also be found on the Inland Revenue Department's website.
Sources:
http://dhukutee.com/pan-card
http://www.therisingnepal.org.np/news/32858
https://ird.gov.np/Content/ContentAttachment/5200/ITS_R001-registration_for_PPAN-Final-v35182017_12819_PM.pdf