GG's Mocktails
Food
|
May 18, 2017
|
by Pratisara Manandhar
---
Never tried making mock tails? Try these effortless mocktail recipes from GG Machaan.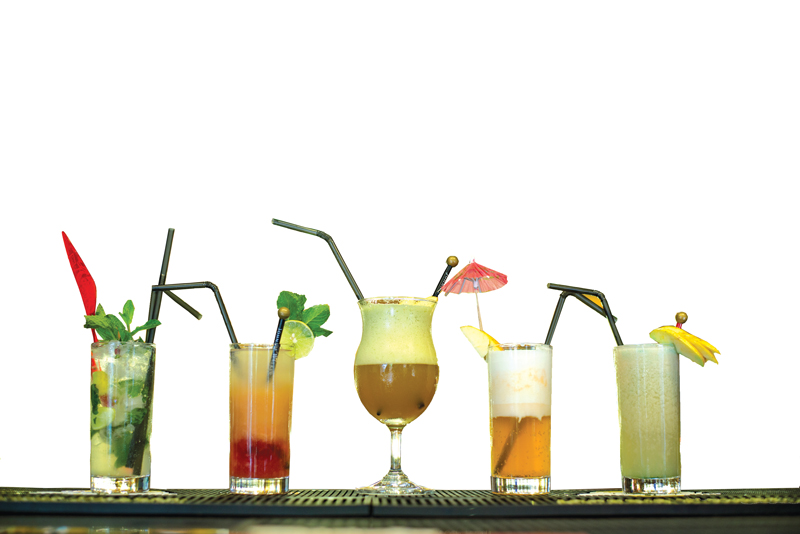 Non-alcoholic drink that makes life more fun, sometimes fizzy but always refreshing is all you need to beat this summer. Fascinate your guests with these mocktail recipes that are very easy to achieve with ingredients right under your bench. Turn a boring afternoon into a fun and refreshing with mocktails shared by Mr. Raman Shrestha of GG Machaan.
Virgin Mojito
Ingredients: Bottle of soda/sprite, 5-6 mint leaves, half a lemon, lemon syrup (optional), half glass of crushed ice
Procedure: The first step is crushing mint leaves along with a lemon wedge. For more sourness add around 10ml of lemon syrup. Pour bottle of soda/ sprite mixed with mint and lemon in a high glass of crushed ice.
HOM's Special
Ingredients: Cranberry juice 30ml, Guava juice 30ml, Bottle of sprite or soda
Procedure: This edition has two distinct flavors, sweet and sour. Mix cranberry and guava juice and shake the mixed juice properly to complement each other. Pour them onto a glass and simply top it off with soda or sprite for sour or sweet flavor. Garnish it with fruit wedges and Enjoy!
Sunset Cloud
Ingredients: Fanta, a scoop of vanilla icecream
Procedure: Fill quarter of the glass with fanta and gently top it with a big clean scoop of vanilla ice-cream. Decorate using an umbrella to give a beautiful beach-y vibe.
Go Green
Ingredients: Cranberry juice 45ml, Mango juice 45ml, Orange juice 45ml, Litchi juice 45ml, Mint leaves 8 leaves, Lemon juice 10-15ml, Peach snap (liquor flavor)
Procedure: First, roughly mortar your mint leaves. Then simply blend all the ingredients together using a blender or ice shaker. For the presentation, fill the bottom of the glass with cranberry juice and pour your mixture gently. Top with soda or more litchi juice and enjoy the sweet beverage.