Grilled Pork Chop with Butter Pepper Sauce
Food
|
May 18, 2017
|
by Sujana Singh
---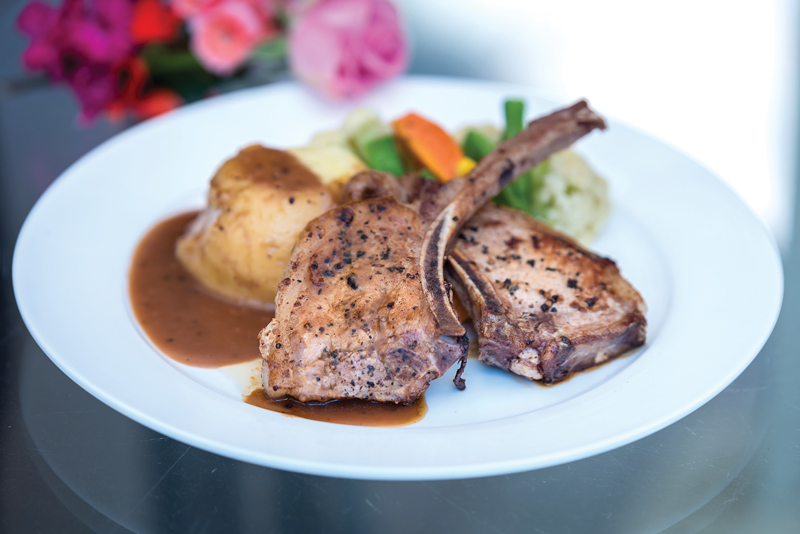 The Spanish verb tapas is the all- encompassing term for little plates of appetizers usually washed down with alcoholic beverages. Who among the proud Nepali or the self-loving denizen of Mediterranean coastline dare pick up a drink without the assortments of delicacies spread in front of them?
With this dining culture in mind, in 2011, Manny's eatery and tapas bar in Jawalakhel, inside shaligram gardens, came up with the concept of a menu that carried the popular mouthwatering tapas items from the Mediterranean to Continental, from Thailand to mainland China and from the hills of Nepal to the valley of tradition rich Newars in Kathmandu.
And then there is menu for main courses dominated by Thai and Continental and supplemented by delicate Chinese cuisines. Since we were not drinking and were there for Lunch, we decided to settle on one of the Manny's popular items the ubiquitous but often maligned Pork Chops. Chef Bikram Giri "Vicks" cheerily complimented on our excellent choice and suggested we have it with the buttered pepper sauce.
The mashed potatoes, on the other hand, had a creamy richness and a sweet aftertaste that soothed my tongue. It had conspicuously been boiled and seasoned with black pepper for its aroma gave off a creamy scent. Chef Bikram told me that he had cooked the item using ingredients like nutmeg (for flavour enhancement), milk, white pepper, salt and butter. The vegetables, which were boiled and seasoned with black pepper, salt and had a hint of butter, were also cooked perfectly. Removing any one item from the plate would ruin the dish's balance of flavours.
At Manny's, the butter pepper sauce can also be substituted by barbeque, balsamic red wine, or brown, orange, apple or cranberry sauce. Because this restaurant offers many options in its menu (not just in the choice sauce), keeps food hygienic and fresh, and prepares food on the same day that they're served. Manny's is a great pick for casual meals and fine dining. Additionally, it has five different but perfectly lighted, clean and well-put together seating areas, which make it a great hangout place, especially for the tapas, the ambience and the eclectic options.