"HOTEL YAK & YETI PRESENTS THE SCRUMPTIOUS AND TIME SAVING "YAK & YETI SIDEBOARD LUNCH" WITH AMAZING FOOD AND GREAT AMBIENCE"
---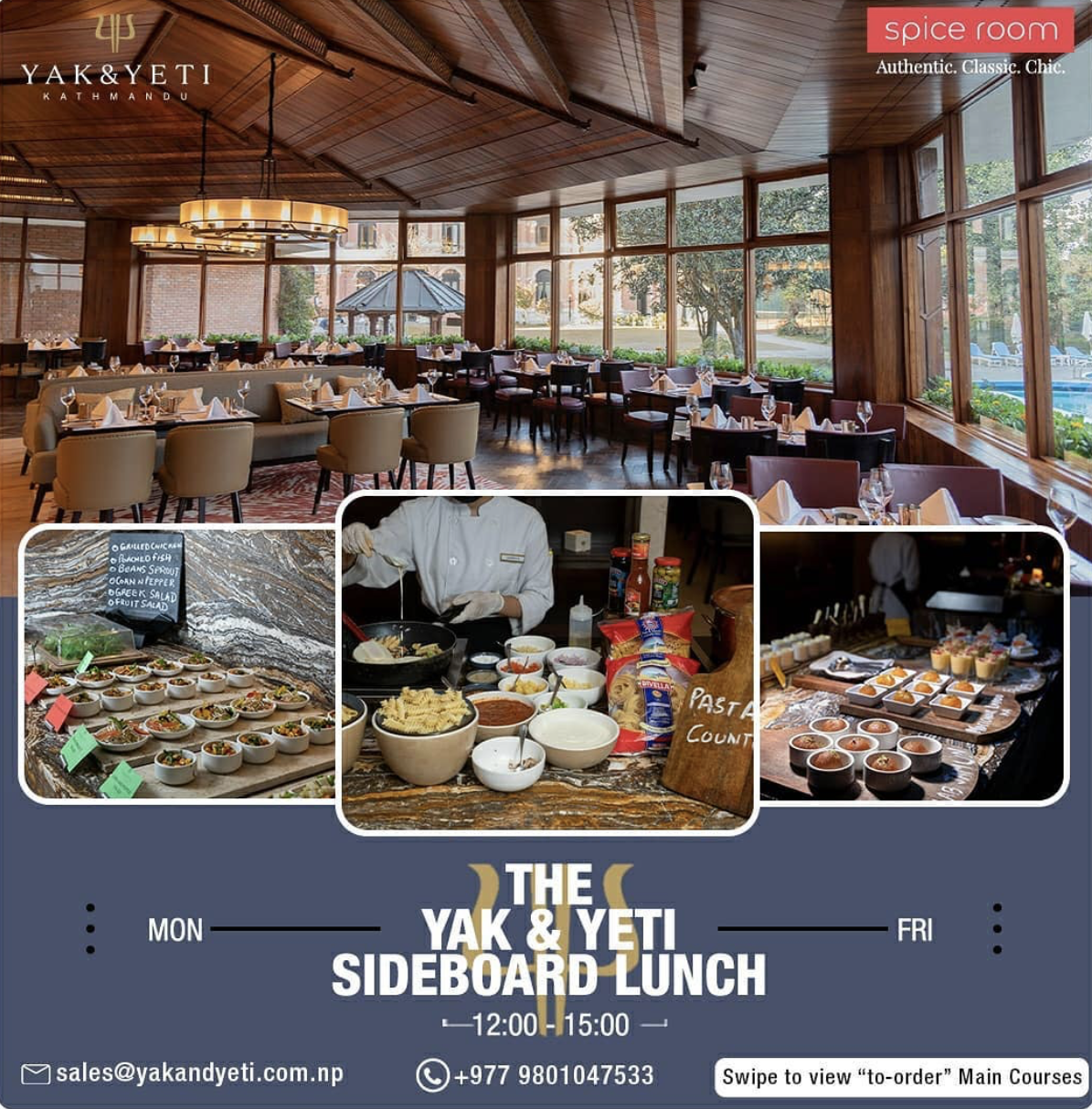 A Sideboard, also called a buffet, is an item of furniture traditionally used in the dining room for serving food, for displaying serving dishes, and for storage.
With the end of prohibition in Kathmandu Valley from Wednesday September 1, 2021, gradually people have started to get back to normal routine of life including commuting to work and enjoying lunch with colleagues, friends or business partners. At Durbar Marg, the heart of Kathmandu, professionals and general public are looking for a contemporary venue with ample parking to enjoy a quick, delicious and productive lunch.
Where other than the Spice Room at Hotel Yak & Yeti?
The buzzing Spice Room has been recently renovated into a chic food and beverage establishment offering delectable cuisines, the famed Yak & Yeti service and the unmatched backdrop of the historical Lal Durbar Palace.
Hotel Yak and Yeti proudly presents a minimalist yet filling and delicious feast – "The Yak & Yeti Sideboard Lunch" – a semi-buffet that saves the valuable time of our patrons during a hectic work day, without compromising on the meal quality, and allows them to be productive even during their lunch breaks.
At Hotel Yak & Yeti, we are very conscious of our dual responsibilities to do our part in restraining of the current pandemic situation as well as to safely and securely run our business adhering to the health & safety guidelines provided by the concerned local and global authorities. Safety First has been our Modus Operandi, and our daily conducts are geared to ensure that the health and safety of our valued guests, partners and associates always takes the precedence over any other things.
Price: NPR 1,555 + 24.3% taxes per person (promotional offer)
Days of the week: Monday - Friday
Venue: Spice Room
Time: 12 pm – 3 pm
Major Attractions of the Yak & Yeti Sideboard Lunch:
Assortment of individually portioned Fresh Salads, live Soup and Pasta /Sandwich Station and individually portioned Desserts.
Flavorsome "to-order" Main Courses which are personally curated by our Chef and cycled periodically. The Main Courses are freshly prepared once guests place the order and served hot as you finish enjoying your soup, salads, pasta or sandwiches.
Choice of preferred tea or coffee.
Children Policy:
Kids up to 5 years old is complementary on the rate.
Kids above 5 years old and up to 12 years old will get 50% off on the offer rate.
Kids aged 13 and above will be charged full adult rates.
For reservations and enquiries about the event,
Email: sales@yakandyeti.com.np | call +977 9801047533