"The Strings" got its new singing sensation
---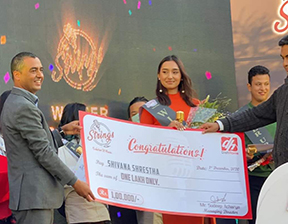 Date: 2.12.2020 | Kathmandu, The Strings, Retro English Singing Competition finally came to end and with it came the end of the wait for the winner's name. The grand finale episode is a fully loaded entertainment dose with performances from contestants and the judges alongside them there was Nirvana Chaudhary, Yulia Koirala, Pemba Lepcha and Sonna Amatya. Five contestants – Riya Shrestha, Shivana Shrestha, Swornim Shrestha, Tushita Maskey and Yogain Rai were left for the grand finale. Vivek Singh Thakuri was the solo host of the show. With audience votes to choose the winner, the audience was sure about who they wanted to see win. The winner of "The Strings" was announced on Tuesday, and it was a big evening for everyone.
Shivana Shrestha created history as she took the title and the trophy of The Strings season 1. Tushita Maskey bagged the 1st Runner Up spot and Swornim Shrestha getting the 2nd Runner Up spot. Talking about the prizes, Winner was rewarded with 100K NPR cash prize & 2N/ 3D stay at Hotel Rainforest, Sauraha, Chitwan, 1st Runner Up was rewarded with 50K NPR cash prize & 2N/ 3D stay at Hotel Parkland, Sauraha, Chitwan and 2nd Runner Up was rewarded with 25K NPR & 2N/ 3D stay at Chandragiri Hills Resort, Chandragiri. Along with these prizes, free connection of DishHome for a year, and other exciting gift hampers were also awarded to these winners.
The grand finale will be aired on Wednesday 8.30PM onwards on DishHome Reality TV. Pemba Lepcha and Bhushan Shrestha's special performances took the viewers down the memory lane with their performance of many retro songs which was pure magic.