Why I Love Mandalas?
News
|
Jun 11, 2019
|
by Shreyashka Vikram Raj Maharjan, In Conversation with Sajita Shahi
---
Mandala is a graphic symbol of the universe, but painting one is an art, a meditation and more.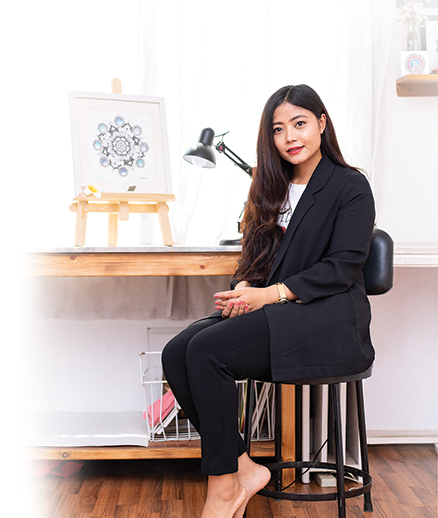 The art of making mandala is not an easy endeavor. It requires countless hours of patience, and focus – skills which are not easy to master. Sanjita Shahi's love for mandalas began in 2016, when she turned her hobby into a full time profession. She has now been organizing workshops to pass on the knowledge to those who wish to create mandala art. We sat down with Sajita to know why she loves mandalas.
How long has it been?
I started making mandalas as a hobby in 2016. I didn't think at that time that it would turn into my career. I began with basic doodling, watching numerous videos on youtube. I always like to try new things and the process of making mandala has had a very positive impact in my life.
Why do you love mandalas so much?
The process of making a mandalas is a very creative process. I have always been interested in art. I used to make portraits and was not into symmetric art. The process of making a mandala is compared to a process of meditation. It is a very relaxing process. It helps divert one's mind and has healing effects. I was going thorough a low phase of life in 2015, that's when I formally started taking art seriously. It became an escape for me, and it helped me overcome my hurdles and challenges. I didn't have this set up. I started in my room with a tiny table, played music and just immersed myself into making mandala.
The process of making mandala increases one's level of patience and focus. It took me away me from my issues, and now I just can't imagine my life without it.
Can you tell me more about your process?
It's a very simple process. It begins with a centre circle. It ends up with large symmetry of circles which you can interlace with your own imagination. There are no restrictions. You can include all designs and you don't have to stick to norms. But one requires an extreme level of patience and focus. One cannot fast track the process. The result shows one's pace.
How has the response been?
The response has been quite immense. If not for the enthusiastic response, I wouldn't be here. People have approached me to ask, "Do you sell your work?" I told myself," I must be doing something good because people want to purchase my work." I didn't have any formal training in mandala art, but people are very interested in my work process. Thus I started to organize workshops and made this studio so that I can share this knowledge.