Doting father of a Dynamic daughter
Parenting
|
Dec 15, 2016
|
by Malvika Biswas Shrestha
---
Miss Nepal World 2015 Evana Manandhar is not a new name to our ears. This multi-talented young woman shares a beautiful rapport with her father Gopal Manandhar. The dynamic duo talks about their interpersonal father–daughter relationship here with us.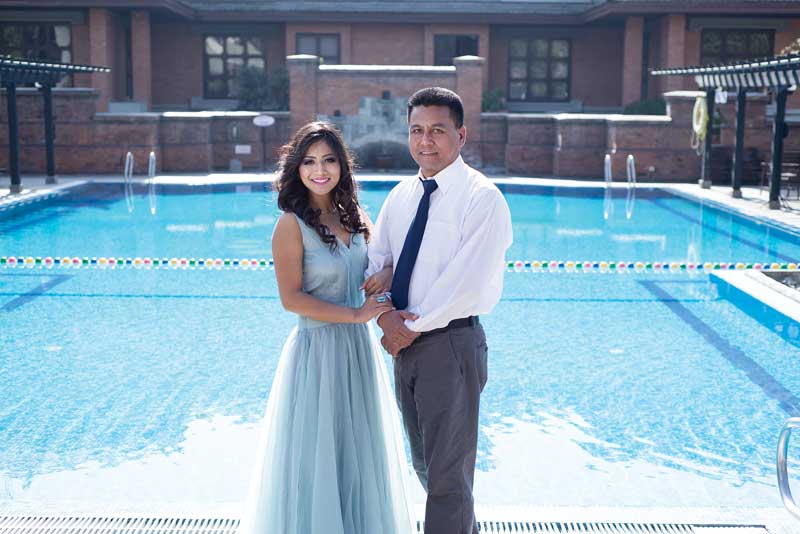 The father – daughter relationship is one of the most special bonds in the world. Daughters have always been Daddy's little princesses. No matter how close daughters are with their mothers, fathers have a special place in their hearts that cannot be replaced by any other person. A father is his daughter's shield, friend and superhero in any situation, especially when mothers get a little too strict.
For almost every daughter, her father is the smartest and strongest person in the entire world. And believe me this perception lasts for quite a long time, if not forever. And daughters, right from their childhood, also do sweet little things within their capacity for their fathers such as wiping their spectacles or polishing their shoes to make their fathers feel special. The father figure is the first person a daughter thinks of whenever she needs any advice because he is a special man in her life with answers to all her questions.
Many daughters also tend to follow the footsteps of their fathers. They are so influenced by their fathers that they even want to find a partner who is just like them. They look for their father's qualities in the men they meet. The love, care and affection they share are simply incomparable.
Here is a story of a gorgeously talented daughter who shares a similar kind of relation with her doting father.
Gopal Manandhar, a prominent businessman, is a proud father of two lovely children – Evana and Gaurav. A graduate in Marketing and Entrepreneurship, Evana Manandhar is a very determined woman. She has her goals all set. Evana being the eldest is very closely attached to her father and says that her father is her best teacher when it comes to life lessons. Gopal Manandhar and his beauty queen daughter Evana are one of the best father–daughter duos that I have witnessed. Both are full of energy. Evana, who was crowned Miss Nepal World 2015 believes that her father is her best friend. This amazing father–daughter duo's love and affection for each other are visible from the great rapport they share. Read on more to know all about this power packed father–daughter duo.
Interesting Incidents
Evana received the Dean's Excellence Award on her father's birthday which was not just a gift for her, but also for her father.
Evana received the International Student of the Year Award just a day before her birthday on 2014, which she thinks is her best gift.
Evana won the title of Miss Nepal World 2015 on the very day of Mother's Day and she gifted the crown to her mother as a mother's day present.
Evana's parents had planned a birthday party for Evana on 25th of April but unfortunately Nepal went through a massive earthquake on the same day.
Evana, the papa's pampered princess
Evana's father: As a kid she was pampered. Her mother wanted her to be dressed up all pretty. Back then it was difficult getting nice dresses and boots for kids so locally we used to get her wardrobe from the States. Now she is capable enough to pamper herself.
No need for heart–to–heart conversation
Evana's father: We actually do not feel the need for heart–to–heart conversation, but we do communicate. Compared to her, I am less communicative, but she is more open. Evana is so transparent that she does not keep anything inside her. She has never done that, and that is the best part of her. She always either communicates with her mother or me.
Three things you want to do for your dad
Evana: There are so many. First, I want to be professionally very successful, a recognized role model as a motivational speaker and be a great International public speaker, or an International spokesperson for my dad's company. Secondly, I want to have a complete family myself because my father always wanted me to find a significant other some one who is like him (which is impossible) and who is more successful than me. I want to fulfill it so that when the time comes he would be proudly letting me go. And finally, I always want to make him able to hold his head high with my values, integrity, and ethics.
Best gift for father's day till date
Evana's father: It was in 2016 when both my kids, Evana and Gaurav celebrated father's day along with the rest of the family in the U.S. Their presence together, rather than any materialistic gift, was the best gift for me.
Evana: My brother and I, we are hardly together. Either he is here or I am not here and its vice–versa because for six–seven years I was abroad and as of now he is abroad. So recently we celebrated father's day together and I think that was the best gift for dad.
What traits of your dad do you wish you had?
Evana: Being organized, punctual and patient; these are the three traits of my dad's I wish I had. Except these three traits, I have all other traits in me. Especially after being a Miss Nepal I am always late due to the time required for make up and all, but my dad is always right on time, or even before time.
Fondest childhood memory
Evana's father: Once when Evana was around three years old we, along with my business partners and their family members, went to Nagarkot. There my friend's young son happened to pull Evana's hair, and in return Evana bit his nose. It is the fondest memory for all of us.
What is the best thing about each other?
Both: We are very frank and friendly with each other which brings transparency in our relationship. And we think every family needs to have that.
Your dad to you means
Evana: He is the creator of our family empire, the one who holds the family throne. Most importantly, he is my best friend; secondly he is my trainer, a guardian and an inspirational figure.
Like father, like daughter
Evana's father: I was very strong and stubborn during my youth. Whatever I used to say, I would decide on that, and I would do that. And she is just a replica of that. Whatever she wants, end up doing that.
Differences in Evana before and after being Miss Nepal
Evana's father: Before becoming Miss Nepal she was with me and the family most of the time, but after winning the title I almost felt that I would need to request a time if I wanted to meet her. She had the contract with Hidden Treasure so she used to be monitored by them. She had always been living a very independent life whether at home or abroad. But after being Miss Nepal the family time was missing, and that was something I did not like.
Anything you don't like about each other?
Both: We both are very short tempered and little aggressive sometimes. Also we both are very loud. We can discuss back and forth. That is something we have to change about each other. We do not want those qualities of ours (Evana and her father laugh). Well these are some attributes we both share and also dislike at the same time.
Proud father of a wonderful daughter
Evana's father: It is a proud thing for me to have Evana as my daughter. She has followed in the exact manner that I have taught her. And she can live an independent life in any part of the world. There are many moments where she has proved herself and made us proud. Be they receiving the Dean's Excellence Award in Marketing, receiving the International Student of the Year Award, or winning the Miss Nepal World 2015 title, and there are many additional accolades.
Helped with homework
Evana's father: I used to sit with her every day for her homework. I still remember this incidence when Evana was probably in grade one. She was least interested in Nepali subject, and my wife was teaching her s, v, u, 3 . My wife had difficult time while teaching her as she was so stubborn, Evana did not learn it, and my wife had to shout at her. As a result of her shouting she had a sore throat for six months.
How would you define your relationship?
Evana: My dad would always be my first love. Male relationship is very important in my family. I have a really personal relationship with my dad which is highly valued and which my future husband would probably not be able to substitute in the future. My dad is my first teacher, criticizer and a male figure who always led my family with harmony and integrity. He would always be the pillar of success, pillar of strength and also an arm of weakness when I need it.
We are very frank and friendly with each other which brings transparency in our relationship. And we think every family needs to have that.
Evana's birth and the difficulty they went through
Evana's father: It was a very tough time during her birth as my wife contracted jaundice just around ten days before Evana's delivery, and she was very serious. The doctor took me to a corner, and quietly told me of the doubt they had in their minds about whether they would be able to save both the mother and the daughter. For me that moment was dreadful. I was blessed in that almost all the doctors from emergency ward were my friends the place felt like a second home to me as everyone was very cooperative. Luckily the delivery turned out to be relatively easy. Evana was born at around 1:30 at night, and the feeling was overwhelming. I was flabbergasted to receive Goddess of wealth Laxmi in my family. Due to my wife jaundice we had to stay in the hospital for an additional month but both my wife and daughter returned home safe and sound.
A protective father
Evana's father: To certain extent I am protective of her because I have to make sure that she leads an exemplary life and be an example to other youths.