Hotel Sabrina
Recipe
|
Sep 09, 2019
|
by Shreyashka Vikram Raj Maharjan at Hotel Sabrina, Budanilkanta, Kathmandu
---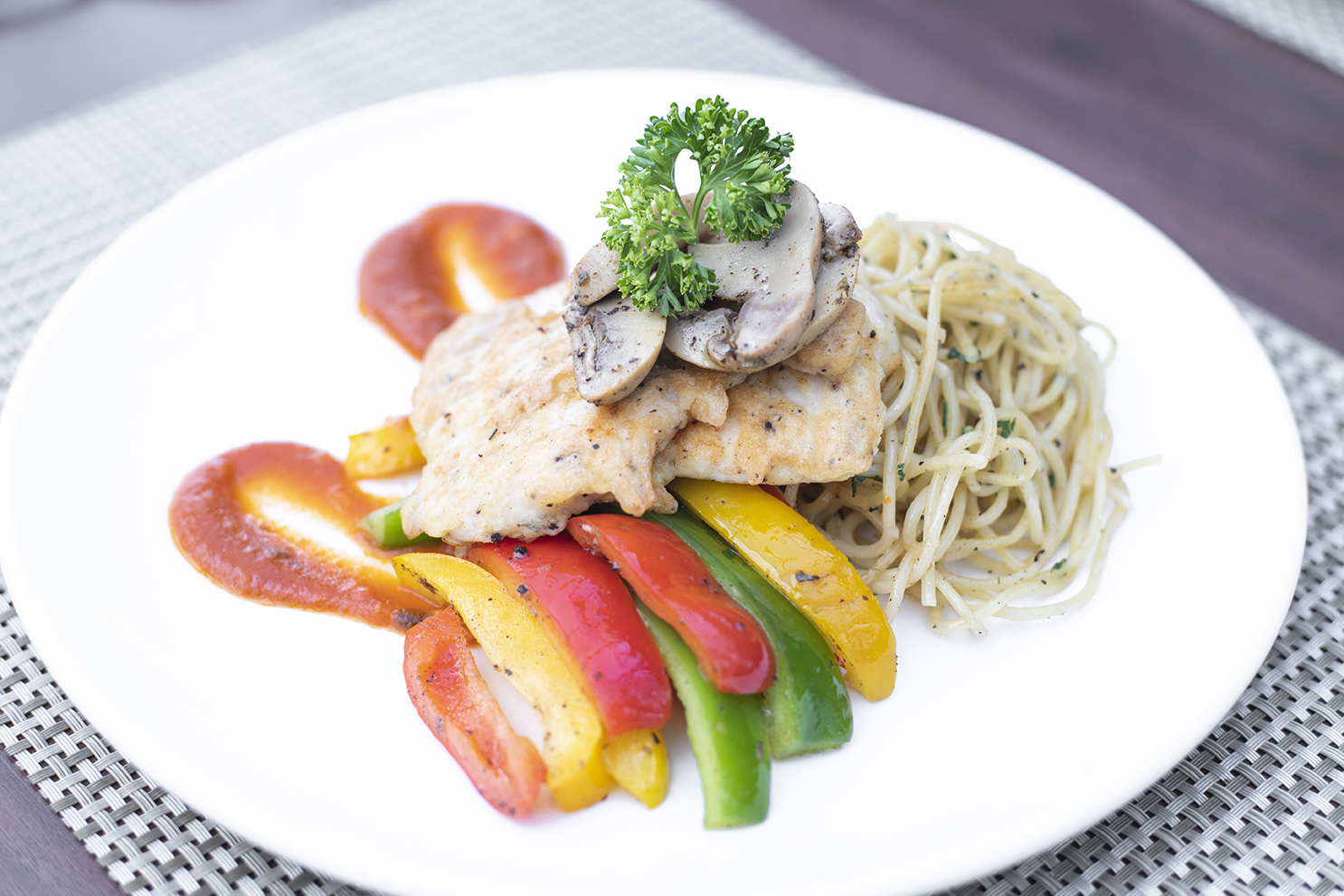 Chef Pradip Bhandari has been cooking for the past 15 years. He spent most of his time in Qatar, where he worked in multiple esteemed hotels. He came back to Nepal garnering ten years of experience, and began serving his delights at Hotel Sambala, where he worked for five years. Now at Hotel Sabrina he heads the team as an Executive Sou Chef. When asked how he finds the establishment he said, "It's been a great experience working here at Sabrina. The quaint location, and the family theme are something that I really love." Specializing in Continental and Italian Cuisine, Executive Sou Chef Pradip Bhandari here shares with our readers the secrets of his festive delights: Chicken Picata with Mushroom and Tomato Sauce and Grilled Fish Filet with Lemon Grass Sauce.
Chicken Piccata With Mushroom and Tomato Sauce served with Spaghetti, Peperonata with Oregano.
Ingredients
• Spaghetti 300 Grams
• For the Chicken Piccata
• Chicken breast 0.5 KG
• Eggs 2
• Parmesan cheese 80 Grams
• Butter/ Oil 100 ml
• Garnishing
• Button mushrooms 100 Grams
• Butter 20 grams
• White wine 40 ml
• Salt, pepper, lemon juice
• Tomato sauce 200 Grams
Peperonata
• Mixed peppers 400 Grams
• Onions 60 Grams
• Garlic 20 Grams
• Olive oil, salt, pepper and oregano
Preparation
• Cut the chicken breasts into even portions of eight each weighing in at 60 grams and flatten them with a mallet.
• Heat the tomato sauce, gently.
• Mix the egg with paremesan to create the coating for the chicken piccata.
• Heat water to a boil.
Cooking method
• Season the chicken breast with salt, pepper and dust with flour.
• Dip into the prepared egg- paremesan mixture.
• Place butter/oil in a pan/skillet and once hot, place the coated chicken breasts and cook for 4 to 5 minutes on each side until golden brown on both sides.
• Cook the spaghetti for 8 to 12 minutes.
• Saute the sliced mushrooms in butter, deglaze the pan with white wine and season with salt, pepper, lemon and put to side.
• Put onions, garlic in olive oil and add the mixed peppers and saute while covered for a while.
• Arrange the spaghetti with the piccata and peperonata on a plate. Top the piccata with mushrooms and surround that with a bit of tomato sauce.
• Decorate with fresh oregano.
---
Grilled Fish Fillet with a Light Lemongrass Sauce Served with steamed rice and vegetables
Ingredients
• For fish Filet
• Fish of your choice (boneless) 560 Grams
• Salt & pepper
• Lemon juice 600 ml
• Worcester sauce and soya sauce 150 ml
• Oil 200 ml
Lemongrass Sauce
• White wine 20 ml
• Onions 20 grams
• Lemongrass 10 grams
• Cream 300 ml
• Salt & pepper
• Lemongrass soft and chopped 10 grams
Steamed vegetables
• Oil 10 ml
• Garlic 10 grams
• Ginger 10 Grams
• Carrots 100 Grams
• Mixed peppers 10 Grams
• Snow peas 100 Grams
• Soya sauce 10 ml
• Sesame Oil 5 ml
• Salt & pepper
Rice
• Basmati rice 320 Grams
Preparation
• Marinate the fish filet with pepper, lemon juice, Worcester sauce and soya sauce.
• Rinse the Basmati rice thoroughly and place it in the cooker.
Procedure
• Begin cooking the Basmati rice (cooking time an average of 15 minutes).
• Season the fish filet with salt and grill them for about a minute.
• For the sauce, reduce the white wine with onions and lemongrass to a quarter and then add cream and reduce it to half again. Season with salt, pepper, dash of lemon juice and strain the sauce.
• Using the ingredients, prepare the stir fried vegetables.
•
Place the grilled fish fillets on the bed of the vegetables and surround with sauce.
•
Serve with rice and garnish with lemongrass sticks (or sesame and flax seed sticks).