Weekend Bites
Recipe
|
Apr 07, 2019
|
by Siris Maharjan
---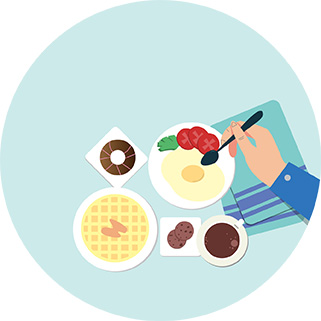 Weekends can sometimes be boring and uninteresting. That does not mean that you can't start the day with a bit of exciting twist for your palate. From breakfast to dinner, everything you partake aids your moods. So let's about talk breakfast on a normal weekend.
Here are a few interesting breakfast ideas to start your weekend:
Pancakes
Maybe it's a bit extravagant but pancakes are easy to make in every kitchen. Add your twist to your pancakes and select a wide option for syrups. It is a healthy and a happy way to start the weekend.
Scrambled Eggs
There is something quite satisfying about scrambled eggs especially when it's perfect, creamy and the texture does not break. It's a light and fun way to welcome the weekend.
Waffles
Waffles aren't everyone's first choice, but they are rather interesting breakfast. Add to them some ice cream or chocolate syrup, and it's a sweet, savory start to your mornings.
Nutella Crackers
There isn't much to be said about this at all. Nutella on Crackers in the morning, is just too pleasurable. Add some cheese to the crackers if you want a more salty morning delight. Crackers, jam, and nutella sauce are the best options.
Muffins
Muffins come in all shapes and sizes. You can bake some or buy some in the morning. Muffins with fillings are also options but flavored muffins are the popular choice for breakfasts in a weekend mornings. You can also add some marmalade to your muffins for better taste.
Ice Cream French Toast
Healthy, fun and fancy! Make some French toasts and add ice cream on top. And add some chocolate syrup on top of that.
Donuts
There are chocolate donuts, glazed donuts, doughy donuts and plain donuts. Rip, dunk or bite – these are some of the ways to eat them. Tea/coffee and donuts go well. Or be a rebel and pair a milkshake with it.
Milk and Cookies
Bring out the child in you and simply dunk those cookies in the milk. Cookies in the morning is the perfect way to release your inner child and make your mornings fun and create a cheerful mood for the rest of the day.
Oatmeal
Healthy? Yes. Filling? Yes. Simple? Yes!
A good bowl of oatmeal in the morning is a healthy way to start the morning. It's simple and helps keep those calories in check as well, so you don't have to worry about an overpowering breakfast. Add some honey to it or something else of your choice if you prefer.