---
Samsung has introduced a range of air conditioners with it new 8 pole digital inverter technology that helps it stand out in the market.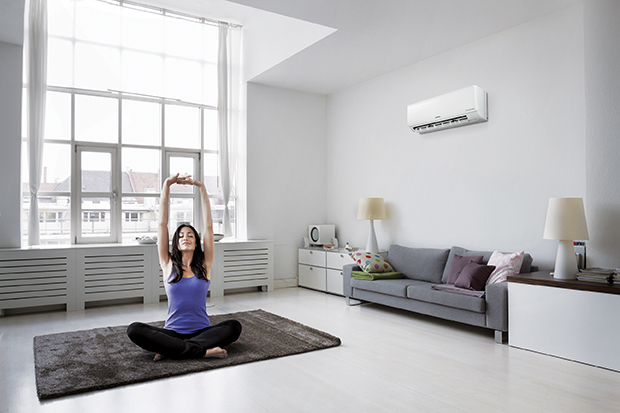 Samsung has introduced a range of air conditioners with its new 8-pole digital inverter technology that helps them stand out in the market. With numerous features such as digital inverter technology, energy efficiency, superior cooling, and 3-care filter, these air conditioners give you a great value for the price.
With summer kicking in, the heat has increased to such levels that it is now hard to stay indoors without a cooling system. To fight the heat, Samsung has brought in a range of air conditioners that give you a great value for their price.
One of the key reasons to buy Samsung's brand's products is that it has always been dedicated to innovating new technologies that outsell other competitors with their features. The Samsung air conditioners come as both cooling and heating devices, thus they meet your needs throughout the year. With the 2019 Samsung air conditioner line-ups, the brand has introduced the world's first 8-pole digital inverter technology into the market. Incorporated in the AR5500M series, the newly designed air conditioners deliver fast and powerful heating and cooling performance without any disruption. The newly introduced 8-pole compressor makes the device more efficient resulting in smooth functionality, low noise levels and consumption of only a very low amount of energy. Currently, air conditioners in the market have only the 6-pole less or compressors. Thus, with the Samsung air conditioners you get superior cooling. Moreover, the 8-pole compressor supports a 'Fast Cooling Mode' that cools the room much faster than any other models currently in the market. So as you enter your room, switch on the AC, sit back and feel the air cool around you instantly!

With the rise in air pollution, the quality of the air you breathe in has become a major concern. Most people are unaware of the fact that air pollution can enter indoors and affect your home. To counter this, Samsung air conditioners also work as air filters. The residential variants of the air conditioners are designed with the 3-care filter system that ensures the air is not just cool, but also clean and safe. The inside unit of the device is coated with a unique anti-bacterial and anti-virus, material which captures the dust and simultaneously eliminates viruses bacteria and allergens. Along with this, the device also comes with an auto clean function that automatically runs a fan to remove dust and moisture in the inner unit. This helps the device stay clean and dry and prevents the growth of bacteria.

Another interesting feature in these new Samsung air conditioners is the Triple Protector Plus technology. This technology helps the air conditioner function smoothly even in the most challenging environments. Due to its separate voltage stabilizer, which is isolated in an anti-corrosive coating, the triple protector plus technology helps prevent overloads. This also helps the inner unit endure extreme heat produced by internal mechanisms. Samsung AR5500M series air conditioners also come with Durafin condenser that enhances its functionality in various ways. The microchannel aluminum condenser has a parallel flow design that creates a refrigerant circulation of air and a faster heat exchange than a serial flow. Moreover, this also helps the air conditioner function for a longer time with the same performance levels keeping your surrounding just the way you want. All in all, this feature makes the air conditioner efficient, compact, and eco friendly.

Outside its technical highlights, you will find various other advantages of the Samsung AR5500M series air conditioners. The variants of the air conditioners come with an inbuilt automatic temperature control system. The device automatically changes its settings to maintain the set temperature, thus having no need for frequent manual setting changes. Along with this comes its Good Sleep mode; yet another automatic feature. Its temperature control crease a desirable atmosphere for you to comfortable sleep and wake up refreshed. The Samsung AR5500M series air conditioner variants are priced competitively and you will find that these devices are worth every penny you spend.

These products are available at all Samsung Digital Plazas and dealer networks of authorized distributor Him Electronics & Big Digital as well as all dealer networks of Triveni Byapar company.
In conclusion, Samsung has been introducing innovations that make it a brand that is a class apart. Similarly, it has not failed to surprise the general public with the new AR5500M series air conditioners. For its massive advantageous traits, these air conditioners are perfectly suitable for your home. With its compact and eco-friendly design, not only are you enjoying your own benefits; but you are contributing to the environment by consuming less energy too. Thus, to fight the heat, get yourself the all new Samsung AR5500M series air conditioners!