Smarter Cooling with LG
Appliance
|
Jun 12, 2019
|
by Prashant Raj Dahal, In Conversation with Er, Prajun Dhani, LG
---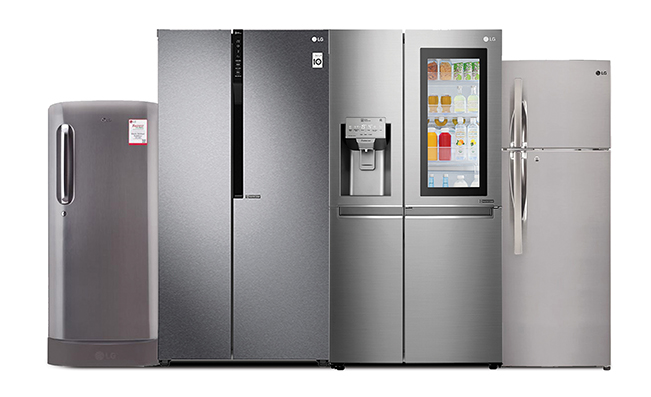 LG is a brand that most of us are very familiar with. From televisions, vaccum cleaners, washing machines to refrigerators, the company has earned a reputation for creating top of the class home appliances.

In this piece, we cover LG's new lineup of fridges with new and noteworthy technologies that are sure to entice you to get their latest offerings. These new lines up of refrigerators range from budget-friendly all the way to IoT Based Premium Refrigerators which you can control from your smartphone. Single Door, Double Door, Door- in- Door Models, Large Capacity Models, etc are some of the latest refrigerators that they have brought to the Nepali market.

The LG line up of refrigeration units have hallmark technologies such as linear cooling, inverter linear compressor, door cooling which make LG stand out from the rest of the competition. These technologies have been pioneered to not just keep food fresh for a longer time, but also to conserve energy and reduce the environmental impact. With the ability to refrigerate longer, it reduces our food waste also a positive impact.

Linear Cooling
Let's face it, most conventional refrigerators don't offer consistent cooling throughout the whole fridge. Most of the fridges don't cool the door racks as much as the inside compartments. LG's new fridges eliminate all these hassles by providing consistent cooling throughout the whole fridge. The company also states that with Linear Cooling, your foods will remain fresh up to 14 days so no need to visit the grocery every now and then.

Inverter Linear Compressor
This is another cool (no pun intended) compressor technology that LG has used in their fridges. This compressor basically detects the load of the fridge and then adjusts the speed of the compressor accordingly.

This cool technology is available in all LG's new line-ups. It has a 20 year life span rating from VDE organization. This USP Compressor technology has other advantages as well. For starters, this compressor has less moving parts, meaning there's less friction which eventually means that it consumes less energy. It also cools the items faster than the traditional refrigerators. LG proudly claims that this USP Compressor uses a whopping 50% less energy and is 25% less quiet than conventional refrigerators.

Door Cooling+
This is yet another awesome feature that's built into LG's refrigerators. It cools 35% faster than the competitions out there. This eventually reduces the temperature gap between the inner part and the door side of the compartment and thus, you end up with consistent cooling and more freshness of items.

When you open your refrigerator's door, the cold air from it passes away and your fridge has to consume more energy to make up for that. This revolutionary door cooling + technology allows to maintain the temperature difference of +- 0.5 degree C which helps to maintain the food freshness inside refrigerator up to 14 days.

LG Dual Refrigerator
The freezer is pretty much useless during winter time since nobody is going to use ice cubes in such cold weather. Or maybe you just don't use ice cubes even in summer. Wouldn't it be a lot better if you could utilize the freezer space during winter? That's exactly what LG Dual Freeze Technology is all about.

You can convert your freezer to a conventional fridge space within 68 minutes. This timing is 100% faster than what the others are providing at the moment in the same product category. With just a touch, one can increase the storage space by 1.4 times i.e. from the standard 331 liters to 438 liters. This is neat as the new freezer also maintains a consistent cooling with the other compartments.

This Dual Fridge aims to eliminate hassles such as High Food Spoilage, Shortage of Spaces, Low Performance, and uneven cooling.

Insta View: Door- In- Door Refrigerator
In their more premium lineup of refrigerators, you will find some more nifty features that are going to get you straight to the future.
Internet of Things (IoT) is a technology that's in its initial phase. It's where you can control home appliances from your smartphone. Using this, you can control and adjust your refrigerator's temperature. Say you're at the office and you want to come home and enjoy a cold glass of wine. You can adjust everything from their app and have the ice cubes ready when you get home. It's that easy. Not just controlling the temperature, this app is also capable of showing you the freshness status of the items in the fridge.

The Insta View features toughened glass which can handle load up to 175 kgs. The most unique feature about Insta View is definitely the double knock feature. Might sound simple and just tacky, but the ability to view what's inside the compartment, reduces the amount of times we open the refrigerator doors. Placing the most used items on the insta view compartment, we won't have to open the main doors allot. This results in power saved, as cooling isn't lost.

There is also water and ice dispensers in their premium range of refrigerators which means you need not open the door to access cold water or ice cubes. And more all you people out there who want to host parties and formal dining, LG also has a Bar Purpose Fridge.

LG has any type of fridge for any kind of demographic, purpose and occasion. Their refrigerators have a lot of color options to choose from.