---
It takes effort to walk a given path, but takes even more determination and vigor to create your own path. Lemii didn't just create a path for herself but empowered many to pursue with pride what was once a profession only for mavericks. Taking her skills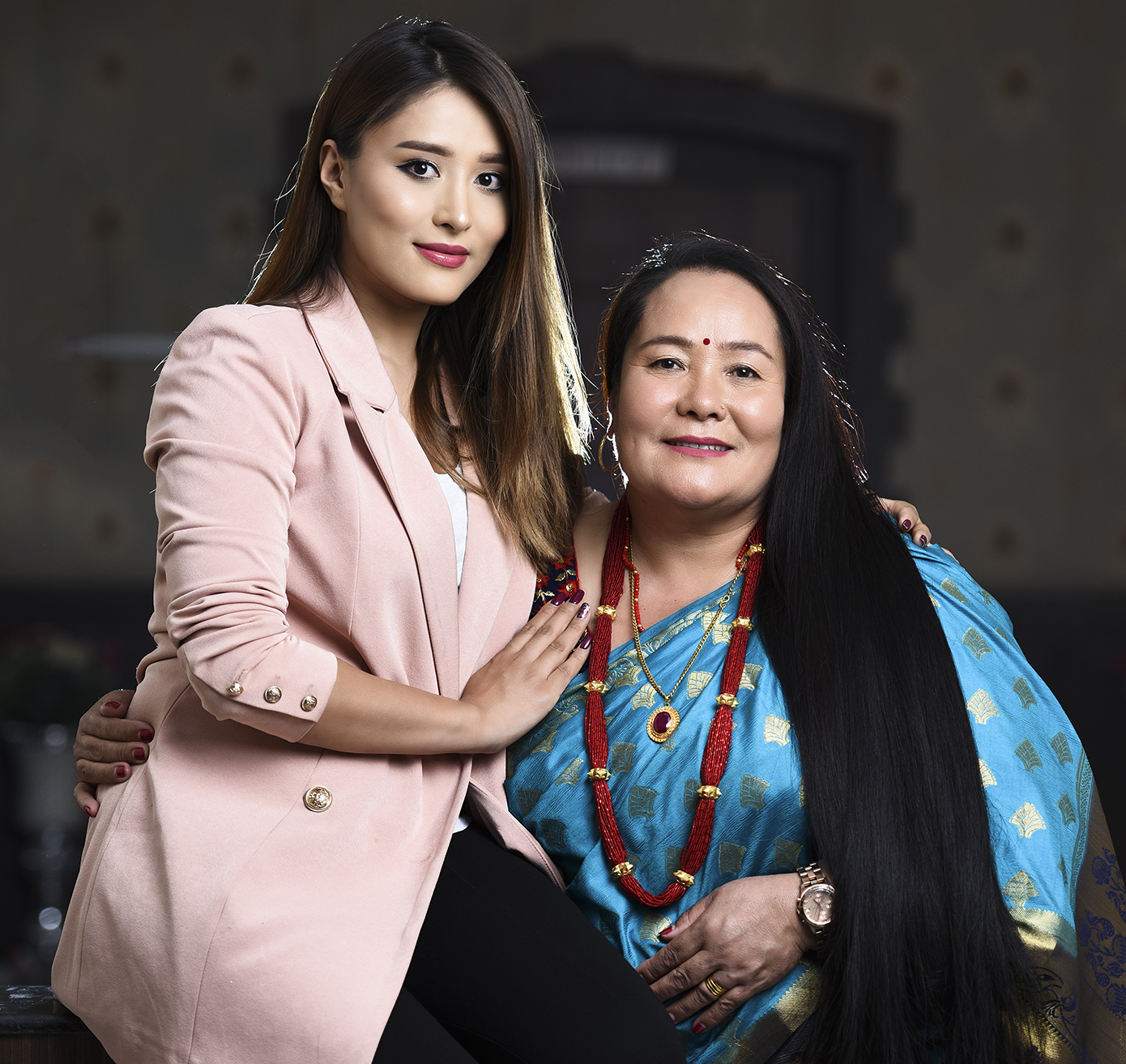 Was being a makeup artist always a career you wanted to pursue or a passion that you found later in life?
I have always loved painting and as a fine arts student I was hoping to pursue a career anything related to it. When I discovered makeup, I was completely unaware of the fact that being a makeup artist was even a profession. As I started dolling up my face or even do other people's makeup, I would feel really content and think this is what I want to pursue, this is my passion!! So, I just went on to walk on this path of newly discovered passion of mine and never looked back.
You started your career in MUA when there wasn't a proper industry in Nepal. What were the difficulties you faced during your early years?
I consider myself very lucky because I didn't face much difficulties back then. Western makeup trends like full face contour, made-up eyebrows, concealer and highlights were a fairly new concept in Nepal, and when I started it a lot of people were intrigued by it. I bet that is what made it so easy for me to pave my way. I was doing something different in the scenario of Nepal and everyone wanted to know more and more.
However, one difficulty I did face was the fact that people would confuse me for a beautician and failed to acknowledge me as a makeup artist. My clients would ask me to drape their saree, style their hair, thread their eyebrows and there would be a lot of frustration in explaining to them that I only work on the face. With much patience, I used to take the remarks lightly and would properly explain to them because I wanted a clear recognition of my work and purpose.
The transition from Nepal to India, how did it feel? Were you nervous? What difference did you notice between working in Nepal and India?
Actually, I started from ground zero. Even in Nepal, when I started makeup, the type of makeup I did was new to everybody. I opened my own studio, started doing bridal makeups that mostly focused on heavy makeup because it was what the clients demanded but my passion had always been to do neutral and minimal makeup.
Work wise in India, I had an opportunity to explore a lot in the field of makeup because there you get opportunity to work with a lot of institutions like TV, Ad Agencies, Magazines, Movies. But they demanded neutral makeup looks which led to numerous rejections of my style of work. Then, I decided to start again, teaching myself how to do minimal makeup. The agencies then started comprehending my work and I started getting offers there. The good thing about working in India is that they value the work of makeup artists, separate genuine budgets for makeup and pay a good amount. Whereas in Nepal, I have noticed even good brands hesitating to pay makeup artists the amount they deserve.
How difficult was it for you, being away from your family at such an early age, adjusting to a new place where you hardly know anybody?
I had a pretty good life here, with my own studio and income but I wanted to grow and explore my options. When I decided to move to Mumbai, my mom was completely unaware of it. I lied to her and told her that I am going to visit some of my friends there when in reality, I was looking to settle and work there so I was moving my closet one by one without my mom noticing.
I struggled a lot and it was painful being away from home, specially my mom. I would miss her the most and all the required paper works added more agitation. Even when everything was settled, the hardships were the same but I knew what I wanted to accomplish so I stayed there, against all odds.
How important do you feel it is to have the support of your family while striving in your career path?
For me, it is everything. Just like all parents think of their children forever as little babies, so did mine. I knew they believed in me and getting the blessing of my mom was very important to me. My mom would worry a lot and always made sure I was taking care of myself. But once when I took her to Mumbai, showed her where and how I lived, my work and how much I loved it, I think I convinced her a little and she started letting me be on my own. She still worries about me from time to time but she has been so supportive of me through my whole journey and that is my biggest strength.
What is your mantra to being successful and when it gets extremely stressful?
My mantra to being successful is quite simple. You need to know in your heart what you want and then chase it with all your might. It is never easy, not for everyone, but learn to compromise, step out of your safe zone and welcome whatever life throws at you. It will get tough but I always remind myself why I started it in the first place and that is what keeps me going.
How do you define success? How does it feel being successful at such an early age, especially with you working with renowned names from the Bollywood industry? What is the best part about it?
I don't know if I would call myself successful yet because I feel that I am a work in progress looking for that ever-elusive balance. I have yet more to learn and achieve. But when my work is praised and people look up to me as their inspiration, I do feel successful at that point.
I have always imagined myself working with renowned names in the industry and getting star struck. I was quite surprised that when I got the chance to work with them and my dreams finally came to reality, I was calm and enjoyed every bit of it, nothing like I had expected to be. I guess, when you work really hard for something then achieving it doesn't feel like a big deal. It just felt like something that belonged to me the whole time and that is success for me.
Can you name some people who inspired you throughout your career?
Pat McGrath is the goddess of makeup, who worked with the best designs like Dior, Gucci, Dolce & Gabbana and I always take inspirations from her and her achievements. I have crazy big dreams and I hope just like her I would be working in Paris Fashion Week, Vogue Covers and with the biggest celebrities.
Most important beauty advice you can give to a woman.
As a makeup artist, I should be giving advice about makeup but I want to emphasize more on taking care of your skin, that's the secret to your makeup looking flawless. So, always take care of your skin, stay hydrated and follow an ideal skincare routine. Don't wear makeup to mask your insecurities, rather use it to enhance the beauty you already possess. Your skin is your base and a healthy skin equals a natural and healthy makeup. Learn to be confident about yourself, with or without makeup.
One makeup trend you wish stayed forever and a trend that you despise and needs to go away forever for good?
Bronzed eye makeup is my go-to and the ultimate makeup look which I feel could never go wrong. It looks effortless and minimal. But one makeup trend that I hate has to be the one with people's foundation shade not matching their skin tone and their eyebrows color different to their hair color; which is a big makeup disaster. I am not trying to judge anyone and maybe some people do enjoy it but makeup should be about enhancing your features not about making you look bad.
The biggest challenge you had to face as a makeup artist?
I have had many challenges in my career but one incident that I do remember is when I had to work with a model with the worst attitude problem. She was rude, made me miss my flight to Singapore on purpose by demanding that I touch up her makeup although my assistants are the ones to always do it. The frustration made me consider quitting my job for a while and leaving India. But with much thought, I realized it was a part of my journey and I will meet many people like her in my life that I have to deal with. I just have to persevere and focus on my goals.
What advice would you give to your 13-year-old self?
Be smart with your money and don't spend it on unnecessary things. I started earning from an early age and I would spend a lot of it for which I still feel guilty. I don't even remember what I spent most of it on (laughs). Calm down, learn to save your money and invest it properly on things that will matter in the long haul.
How influential has social media been in the development of your career?
Social Media was the deal breaker for my career and I respect it very much. I started my career from it and even now, my Instagram is my portfolio. In India, when clients demand to hire me for my work, they explore my Instagram that portrays my work which is why I always make sure I represent it in the best way possible and as a reflection of who I am and what I do.
The moment when you knew, you've made a difference.
It was when I started makeup classes. I realized I was making a difference as a lot of my students who were amateurs and didn't even know how to catch a brush gained so much confidence after taking the class. I could see it in their eyes. During my recent visit to Butwal, my student from the first batch had achieved a lot as a makeup artist there, making good name for herself. She appreciated me for being her teacher and bragged about me to everybody. That was a beautiful feeling knowing that I am the one who has been guiding people toward their dreams to achieve it.
Your struggles and hardships have helped pave the industry of Make Up Art in Nepal. Many throughout the age spectrum aspire from you, and many wish to achieve your success. What advice would you give them?
First of all, know that you are good at what you do. Don't chase after a career just because it helps you make good money. Only strive to do it, if you find passion and satisfaction in it because money is a latter issue, first of all find love towards your work and then you can achieve your dream career. If you know you are good and believe in yourself, then don't waste your time, present your work to the world, show dedication and I bet you will surely get there.
The best memory you have with your family.
I have a lot of memories with my family and with my dad always traveling and my sister abroad for her studies, I am very fond of our childhood memories. But I have an unparalleled connection with my mom because most times, it was just me and her. She has sacrificed a lot for me and as she is getting older. I know she doesn't have a lot of time. So, I always make the best of our time together, by traveling and witnessing the world together. It is so fun and now I feel like her mom, holding her hand while we travel, taking her shopping and she just gets so happy while we shop. She knows that I am going to pay for everything and she acts all cute and goes all crazy like a little kid in a toy shop (both laugh together) and for me that is the most satisfying feeling I could have as a daughter, seeing the love of my life happy.
What was Lemii like in her childhood?
She was an innocent kid and never gave me any trouble. Just like every girl in her teens, I had to deal with a lot of mood swings and occasional tantrums but other than that, I am proud to have raised such a good kid.
What did you aspire for daughter when she was younger? When she told you that she wanted to pursue a career in Make Up Art, what was your reaction?
I was clueless about makeup and its career prospects. Her sister is a bio-medical engineer so I wanted her to pursue a safe and reputed career like her sister and become a nurse. I was completely unaware that she had been pursuing makeup and opened her own studio. When she took me there one day and saw the beautiful work of my daughter, her dedication and love for her work, I could really not say no to her. She was happy, her happiness is my happiness and that's all that mattered.
What advice would you give to parents whose children want to pursue a career different from the stereotypical careers of the society?
A parent's support is the most special gift you can give to your children and I realized our support will boost their confidence and determination. Let your kids follow their passion, let them make their mistakes and learn from it. Just be a parent and love and take care of them no matter what they choose to do.
How do you feel when people identify you as Lemii's mom and praise your daughter's talent and the empire she has been able to build for herself?
I feel overwhelmed with all the recognition and I encounter a lot people who ask for pictures together. I feel really shy (laughs) but deep in my heart, I couldn't be happier being recognized from my daughter's name.
What piece of advice would you like to give to your daughter for her future endeavors?
I have faith in her and now I know that she has grown into a strong and confident woman, no matter where she goes or what she does, I know she can take care of herself. When she moved to Mumbai, I used to miss her and cry a lot, she is still my nani and I advise her to eat on time, take care of her health and not take too much stress about work and get her sleep on time.
What is the one thing that you do, when she comes home after a long time?
She loves mo:mo and I make sure I always prepare it for her. I love cooking whatever she wants to eat and sometimes I forcefully make her eat. I visit Mumbai from time to time, stay a month to make sure she is doing well and eating on time. I believe in her and I know my daughter will achieve anything she wants to. I feel blessed to have two strong daughters who love me with all their heart. My heart feels full.