A Never Ending Dream
Cover Story
|
Feb 20, 2020
|
by Text by Aakanchya Tamang, In Conversation with Subeksha Khadka
---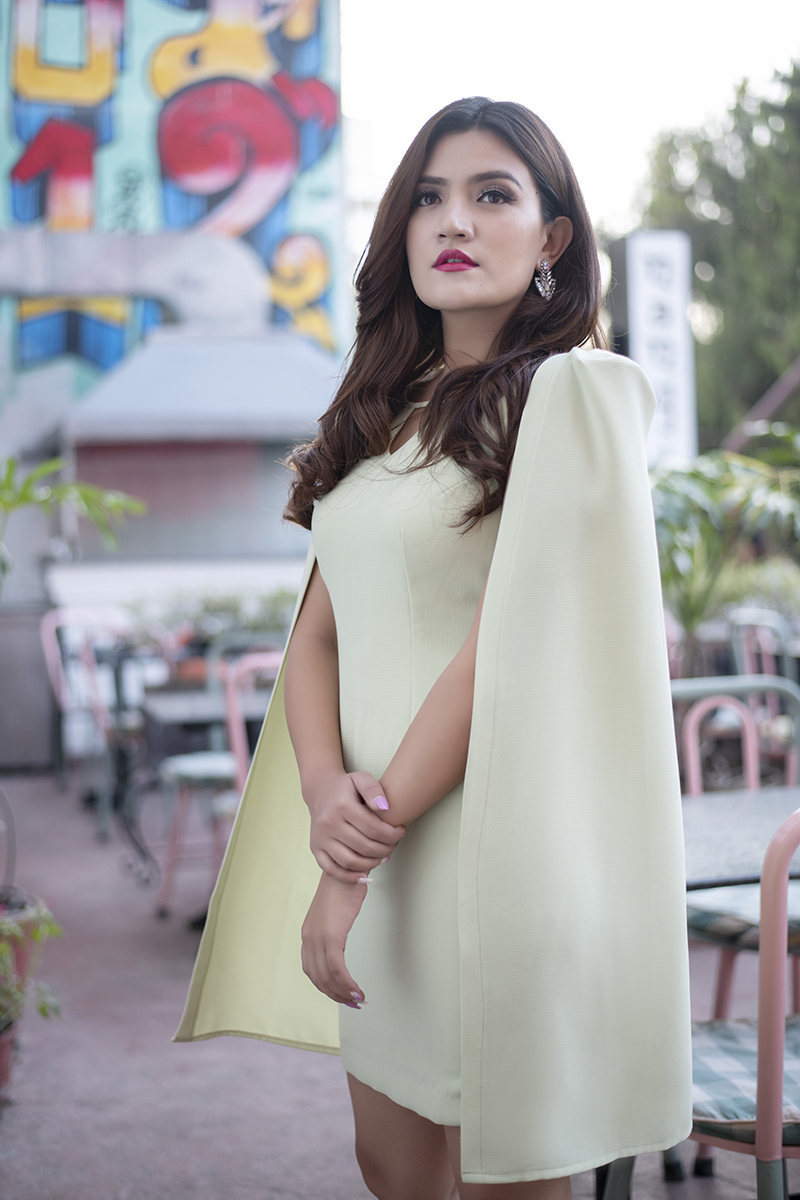 Coming into this world as bundles of joy, our journey in this Eden begins as a blank slate. With the progression of time, the slate is filled with knowledge, skills, memories of our triumphs and emptiness of our failures. The journey of life is like a riddle, at times exhausting and often unpredictable. Just as the elements of nature wither away a stone in time, the reality of life does the same to us. In this unpredictable journey, it is our family and our beloved friends who become our pillars of strength.

In this issue of Smart Family magazine, we explore the life of Ms Subeksha Khadka. She began her professional journey at a tender age of 17 as a television host and later went on to win the prestigious title of Miss Nepal International 2012. We sat down with Subeksha to explore the multiple facets of her life, from her childhood to winning the Miss Nepal title, to a social entrepreneur.

Going back to your childhood, did you have any aspirations apart from what you are doing now, or did you know that this is what you wanted in life?
As kids, we are full of hopes and dreams that change every single day. And growing up, I had always been very fond of kids. So I had this idea of being a child specialist. Later on, it changed into being a banker and then when life took a lot of twists and turns, I got a job offer in a television show, News 24, which was back in 2011. Continuing my journey there, it dawned upon me that I genuinely do love being in front of the camera and decided that this is the work that I want to involve myself in and take forward in my life as I go on.

Reminiscing 2012, can you share some memories or any challenges in your journey become a Miss Nepal?
I remember, when growing up, how my father always used to tease me with the name "Miss Nepal," which I honestly have no idea why he used to and I still don't (laughs). Even I, to a certain point, knew that I wanted to participate in this platform with no intentions that I would ever get into the media world. As soon as I turned 18 in January, I applied as the forms used to be available in March. My life was pretty simple, studying in an all-girls school, and it revolved around my family and my friends with no idea about the world outside. You can imagine, what was going inside the mind of a 19-year-old at a time when social media had little to no impact.

Miss Nepal took me to a whole new different dimension where I was meeting professionals who had so much to teach me and I had so much to learn from. At the same time, I was going through a phase of self-exploration, a young teenager full of hopes and dreams but also shadowed by self-doubt in her self who was still exploring her potentials yet looking to set an example for everybody. I exposed myself to a world where thousands of people were looking at me, where they could judge me at such a crucial age and the journey was indeed difficult yet rewarding where I believe that I learned the real-world education.


What difference did you find in yourself before and after Miss Nepal?
As a child, I was pretty naive and awkward and I would never feel comfortable being on stage even in school plays and prayer services and I would hide when I had to (laughs). This side of me is still there when sometimes I don't feel at ease being around a lot of people. Like I mentioned earlier, my journey in Miss Nepal started at an age where most people's journey of life starts. For me after Miss Nepal, everything evolved -- from my circle to the mission in my life, where my principal focus was on how to put my feet forward and leave a mark on an international platform and make my country proud. Most importantly, my life was at a fast pace where every new day was an opportunity to challenge myself, involved in new learning opportunities, and put myself in situations out of my comfort zone. I believe that is the reason why I have grown and become who I am now.

Going into the international stage, where you were competing not only with Nepalese participants but with people from all around the world, how did you feel at the time?
Flashback to seven years, the only international travel I had ever done was in India. And travelling to Japan for my international pageant was exhilarating for me and at the same time, I did have a hard time adjusting because I saw all these girls, 5-6 years older in age and experience, so well-trained and articulate that it made me question the confidence I had in my own opinions. Also, Hidden Treasure provides such diverse training, classes with makeup artists and designers now, but that time, I didn't take one makeup class. I remember calling Sophie Di, a makeup artist, and learning everything that I could in one day (laughs). But overall, the journey was so fulfilling because I was in a budding phase where I had to go through moments where I cried all alone. Now when I look back, I realize that a young girl was paving her path and that I gave my best all with the vision and sense of responsibility that I had to fulfil for my country and myself. More than a competition, it was the beginning of a learning journey for me, a journey that I have taken this far.
When did you begin your entrepreneurial journey and what inspired you to give it a go?
I majored in finance with hopes of becoming a banker. And even when later in life, I got involved in the media world, I always had this drive inside me to create something that I could call my own. So, I would seek for opportunities with my seniors and my peers where I could collaborate and do something. In the process of meeting with a lot of influential people during the numerous corporate events I hosted, I met Mr. Pawan Chitrakar when I went to interview him. We got to talking and found a lot of mutual interest, and after a few months, he came up to me with a business proposal. We wanted to create something that would be for everyday use and as he was already working in bottled water distribution, we came up with "Ma Paani," which can be found from five-star hotels to most restaurants here. We took it forward as a Nepali brand that represents our culture, even on an international level which is why we chose the colour "Red" of the "Raato Maato" that is traditionally used to clean houses and is viewed as a symbol for purity. Three years in the running, we utilize our profits to construct wells and taps in the remote areas so that access to water will be convenient for everyone.

Apart from being an entrepreneur, you're also involved in other aspects like modelling, emcee, and actress. How do you manage your time? Can you share a few of your tips for our readers?
All of these things didn't happen all at once. It was more of a journey that I took one step at a time, starting with Miss Nepal and then to modelling, doing TV shows, and advertisements. I slowly found my pace and then started hosting events. I used to get a lot of offers for acting but I didn't have the zeal for it at the time. My acting journey began with the movie "Ranveer", as I loved the script and after experiencing the depth. I decided to endeavour an acting course in "Actors Studio" coached by Mr. Anup Baral. I wanted to learn the in and outs of how film making works and wanted to be better equipped for any upcoming projects.

Even till now, I don't know if I am good or not in acting but I do feel like this is something I would very much like to continue. At the end of the day, choosing the path that you are passionate about and having the drive to fulfil is all that matters no matter the hours and days of works.


How important has your family support been for you throughout your career?
I can't even explain how much their support has helped me throughout every journey in my life. My father especially was the one who played a very important role in me deciding to work in the movie industry. Since he has a military background, everyone would keep this assumption that he would restrict me from doing things, wearing clothes of my choice, and doing modelling but he is nothing like that. He is my support system. And moms being the sweethearts that they are, my mum has also supported me for which is I feel very blessed. Their trust in me motivates me to work with my full potential.

How have you seen yourself grow throughout this journey of involving yourself in such diverse fields?
Sometimes I do wonder if I should only focus on one aspect of my career instead of being all over the place. But I always remember that we get one life and we should celebrate it by doing the things that we love and things that make us happy. Apart from the movie industry that I am fairly new in, I can say that every field that I have chosen till now, I can feel and see myself getting better every day. I have seen the growth in me, I enjoy it, and don't regret any of it at all.
What is social entrepreneurship to you and what suggestions would you give to individuals who are inspired by you?
In this generation, I can see the majority of youths being vocal about entrepreneurship and getting involved in it, starting their own business, small or big, and doing something of their own which is indeed very inspirational. All I would say is that before you decide to start up any business, be 100% sure that this is what you want to do. Do your best research on it because it is easy to start up but it is challenging to sustain the business. Seek how you can not only benefit your business but also how you can contribute to the society.
A life motto you swear by?
Our body has the same system and we are all humans, facing highs and lows of life but not every day is the same. It is one life so make it an impactful one where people will remember what you have done. It doesn't have to be all seven billion people in the world -- it can be anyone who you have made a positive impact on. If we see around the world, some people have achieved so much in their life and then others are living a simple life. So, decide who you want to be and where you want to reach. Challenge yourself as much as you can and don't put any limits in your capabilities and what you have yet to be.

Who is Subeksha Khadka to you, the one that the outside world is unaware of?
She is someone who loves living a simple life, who wants to do a lot of good things in the world and yet has a lot of things to achieve for herself because dreaming big is a never-ending process for her.