Chef Santosh Shah A Culinary Visionary's Tale of Taste and Tradition
---
This is an open conversation with Master Chef Santosh Shah about his experience, recipes, recollections, and thoughts on advancements in Nepal's culinary landscape. The experience as a contestant on "Master Chef UK" and how it has changed their viewpoint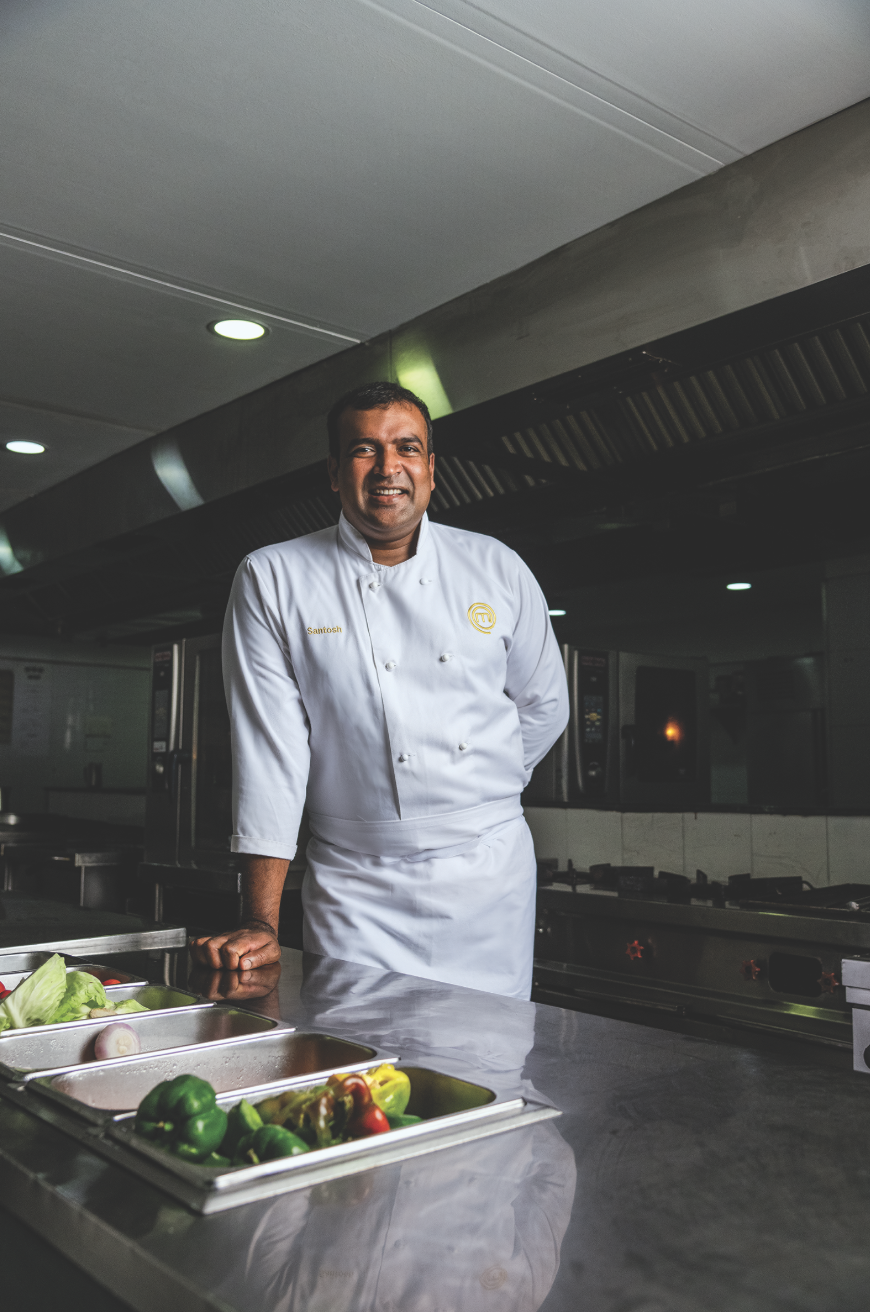 Chef Santosh Shah, the winner of BBC master chef 2021 and the runner-up of BBC master chef 2020. The culinary journey started with the uneasy situation of Nepal in 2000, the trend of moving away from Nepal was extremely popular around that time, so after giving his SLC with the influence of his friends who at the time were working in India embarked on the journey with them to India. His first job in India was in a 5 hotel as a kitchen hand, this was the moment that gave birth to the idea of pursuing this field. While working in the hotel there was a chef who held the position of executive chef, looking back at the person he remembers the way in which he presented himself, his attitude, and his dress code looking professional. Looking back the first thought that ran through my head was "How much money does he make" Honestly when people are young, they tend to chase professions that pay the highest, his salary was 20 times mine own, and this stark difference in salary served as a strong motivation for Chef Shah to aspire to become an Executive Chef at the highest level. It was during this period that his interest in further education was piqued, leading him to complete his studies in Gujarat, India.
Can you share a bit about your background, journey to Master chef, and current culinary projects?
In my 13 years of working in India, I can comfortably say that I reached the peak of working as an executive chef. Achieving this feat had many struggles, staying up late nights perfecting my English language, learning how to use a computer, and most importantly mastering all the cuisines. Working in that position I earned a lot of money, even more than the chef I first looked upon which motivated me more. This was the moment when I wondered what the next goal I wanted to strive towards, I decided to focus on my goal of becoming an executive chef outside Asia.
When I think of my Journey to MasterChef, promoting Nepali food was my main objective in Europe, and what bigger platform was there than the master chef? My love has always been there for Nepal so now my objective right now is to spread my knowledge in the food sector of Nepal. Firstly, I noticed that the media platforms were not focusing on this sector so I created the first food-related reality show called Chef Nepal which took inspiration from the competitions abroad that promote Nepali cuisine.
Talking about Projects I'm currently working on a project with the Kathmandu metropolitan city on food and hygiene, Mithila Thali restaurant chain to promote regional foods all over the world, producing the show Chef Nepal promoting Nepali chefs and dishes worldwide, currently undergoing a food world tour.
Dashain is such an important festival in Nepal. Could you describe the significance of Dashain in your life and culture and also some of your fondest memories of Dashain celebrations from your childhood or family gatherings?
Dashain holds a special place in my heart. It makes me think of gatherings with family and typical Nepali cuisine. One of my greatest memories is when my Kshettri maiju gave us our first taste of "sel roti," a delicacy sweet and crispy deep-fried bread made from rice flour. I also remember the excitement of my mama and maiju visiting us. I treasure the memories of eating sel roti and enjoying it with my loved ones. It's amazing how Dashain enhances our festivities with delectable cuisine as well as a feeling of coziness and warmth. Only the Dashain was a source of quality food and brand-new clothing in my upbringing, therefore it was eagerly awaited. When I was five years old, my father passed away, and as my brothers grew older, they all believed that by starting families, they were driving their parents away. When I was 11 years old, around Dashain, I put up a haat market and started selling plastic and bread loaves. This is how I got my first pair of brand-new slippers (hatti chap chappal) and one pair of clothes. And took part in the musical ceremonies of the magnificent Durga Puja.
How has your journey as a chef shaped your understanding of the cultural and culinary diversity within Nepal, especially during festivals like Dashain and Tihar?
I moved to India when I was young and lived there for more than ten years before starting my culinary career. I kept up with politics and cultural developments in Nepal while I was overseas, maintaining a strong connection to my roots. Despite being physically distant, I actively participated in Nepali community events and engaged in discussions with fellow expatriates to stay informed about the latest happenings. Working abroad and interacting with Nepali material online stoked my love for the country. I utilized Nepali ingredients when I competed on MasterChef UK to showcase our cuisine and culture internationally. Through my studies, I discovered the intricate techniques and unique flavour combinations that make Nepali cuisine so special. Additionally, my interactions with different communities allowed me to learn about the regional variations and traditional cooking methods that have been passed down through generations. This deeper understanding has not only enriched my culinary creations but also fuelled my passion for preserving and promoting Nepal's rich culinary heritage.
How do you balance preserving traditional Nepali Flavors while also incorporating innovation into your dishes and teachings?
My approach to Nepali cooking is to establish a balance between innovation and tradition. Instead of blending Nepali and other cultures' cuisines, I choose to modernize it. I usually add modern touches while drawing inspiration from traditional ingredients and preparation methods. I experiment with diverse taste combinations and presentation approaches to offer novelty while keeping the dish's essence. This enables me to develop novel meals while retaining the genuine tastes of Nepali cuisine. In my approach to modernizing Nepali food, I also appreciate adding locally obtained foods to assist the local economy and promote sustainability.
Innovation into Yomari: My take on Yomari, is a rice flour dumpling loaded with molten chocolate with a chili taste and topped with the zesty kick of fresh orange and the warmth of cinnamon. It was one of the MasterChef dishes I created during the Yomari Punhi. This creative take on the classic Yomari demonstrates my love of experimenting with tastes and pushing culinary limits with the combination of tastes.
Can you talk about role models and how they have influenced your journey as a chef?
When we were young and asked who our role model was, we used to respond that it was our mother and father. As we matured and broadened our horizons, our role models evolved by our goals and aspirations. Once we reached our goals, we automatically changed our role models, changing them every five years. Try to accomplish it throughout the years, and be sure to set realistic goals with your role model. Every five years, when we reach new professional milestones, I think it's important to update our role models, our goals develop, and so do our role models. I have the utmost regard for Saroj Das, an executive chef who has spent more than 12 years at the same five-star hotel. My present objective is to open several hotels and restaurants. It's crucial to establish goals for oneself. Now since I feel the need to set the standard for people who view me as an achiever role model, I must act like an achiever in all of my dealings with restaurants and hotels to genuinely live up to their expectations. Our role models need to constantly evolve. Mentoring, and once we get there, we have to respectfully adjust our role model.
Are there any specific methods you've discovered during your culinary journey that you believe would be a great fit for Dashain recipes?
I've discovered unique cooking methods, such as classic pangra preparation: boil the pangra with added whole spices and coriander, lemon grass, after straining it, marinate it, skew it to the bamboo stick, then roast it in a natural wood fire charcoal, and you'll get this delicious and appealing pangra that tastes just like it does in its natural form. After marinating and skewering, roast over natural wood fire charcoal. These approaches not only improve the taste of the food but also provide for a more aesthetically pleasing presentation. Incorporating these techniques into traditional Dashain recipes can improve the eating experience and draw a larger audience to this festive food.
What message or advice do you have for aspiring chefs and young people interested in the culinary field?
To the youths and young chefs
I encourage young chefs to gain stamina and strength in India before traveling overseas. Since the competition, if you can work in India, you can work anywhere in the world since you have to be the best among the 50s and 100s of individuals competing for the same opportunities. The culinary scene in India is incredibly diverse and challenging, providing aspiring chefs with a unique chance to master a wide range of techniques and flavors that will undoubtedly set them apart on the global stage, not only in hospitality. Gain varied experiences, skills, and knowledge abroad till the age of 25 for experience, training, employment, study, and internship, and then try other nations such as the UK and Doha, which offer the finest opportunities for growth and exposure in the culinary industry. The UK is known for its diverse food culture and renowned culinary schools, providing aspiring chefs with a chance to learn from some of the best in the field
To the parents
I highlight to parents the exciting potential of the hospitality sector in Nepal and abroad, and I encourage them to support their children's ambitions in this field. Their children could gain exposure to other cultures and cuisines by choosing a career in the hotel sector, which will ultimately increase their professional progress and widen their worldwide network. Furthermore, the hotel industry provides several prospects for promotion and entrepreneurship, making it a profitable and rewarding career path for ambitious culinary professionals.