Crowning Glory of Miss Nepal
---
Empowerment, Beauty, and Inspiration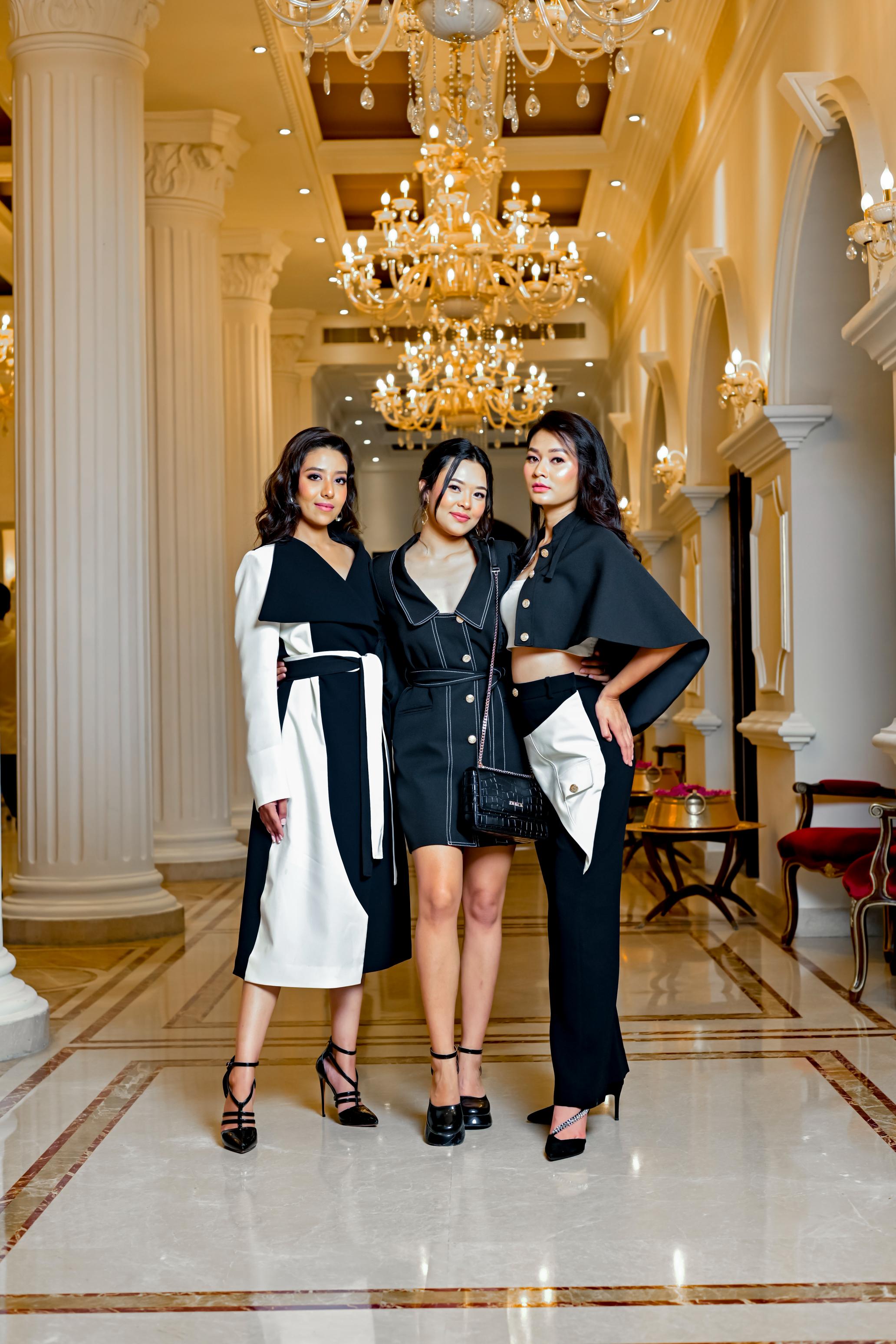 The Miss Nepal World 2023 is Srichchha Pradhan. Prasiddhy Shah was named Miss Nepal International 2023, and Raina Majgaiya got the title of Miss Nepal Earth 2023. In Miss Earth 2023 (Vietnam), Miss International 2023 (Japan), and Miss World 2024 (combined), they are expected to represent Nepal. Along with their success in their diverse fields, these successful women have demonstrated their dedication to solving environmental issues. Through their participation in these well-known international pageants, they will have a platform to promote Nepal's colorful culture, natural beauty, and commitment to sustainability on a global, but they will also spread awareness of critical environmental concerns. These successful women will motivate others to take action in the direction of a greener and more sustainable future through their commitment to sustainability and their outstanding accomplishments in their various industries.
1. Srichchha Pradhan:
Srichchha Pradhan Miss Nepal World 2023, a 23-year-old graduate student in environmental science and permanent Kathmandu resident, describes herself as an environmental activist. Throughout the tournament, she demonstrated her love and devotion to environmental problems, which helped her win the title. Pradhan's dedication to environmental advocacy was clear from both her words and deeds. She enthusiastically engaged in many awareness initiatives and sustainability activities. Her triumphs in the co-categories strengthened her reputation as a role model for young women who want to change the world.
Can you tell us more about your journey into environmental conservation and your passion for giving a voice to those who can't speak for Mother Earth?
I am Srichchha Pradhan, a 24-year-old environmental activist and Miss Nepal 2023, am actively involved in the "Digo Pranali" project, which focuses on environmental preservation. My belief in a deep connection with nature goes beyond verbal communication. I'm inspired by non-verbal animals like street dogs, which allow us to understand their emotions and body language. My all-encompassing approach to environmental conservation is a reflection of my conviction that deeds speak louder than words, and I'm devoted to speaking up for Mother Earth via her powerful initiatives.
Could you share some insights into your time studying in the US and how it contributed to your creative exploration?
While choosing a college, I chose one where I didn't have to make a decision right away. I didn't want to major in writing because I was only 17 or 18 years old and I knew I needed to explore the college. I chose this concept where every winter you have to work a certain internship regardless of your interests and for a year you are told to choose something out of your interest. I even tried taking lessons in CS, acting, pottery, dance, and vocals, so it was all different, but my heart always stayed with the environment in every project I worked on. This also made me realize that no matter which route I go in, I will find my core love, and when I do, that is the only time I will be able to communicate effectively.
Your song "Timro Lagi Mah" is a touching dedication to your grandmother. Could you share the inspiration behind the song and its message?
It might sound like a sad love story, but I wrote this during covid and it's about our grandma's changing for us, especially in career choices, when it was all said and done, she expressed her happiness and her feelings, saying, "I'll change everything about myself if you'll just love me back". Mothers are willing to adapt for their children in this way, but when their kids get married or leave home to pursue their education, they stop. It may have given her the impression that there were some things she might have done differently, and in the second part of the song, this discontent is also shown as she transforms but loses her grin. This is meant to be an encouragement to our future selves and mothers to be themselves and not try to be someone they are not.
What role do you see yourself playing as Miss Nepal 2023 in promoting climate action and environmental awareness among everyone?
There was always a bigger thing that pushed me to environment conservation so rather than being obsessed with winning or losing the title it is more of did I properly shared the climate change story of Nepal to the world and whether I gave the right message, so my goal is always in climate action is about what are the consequences for us human so to constantly rephrase. Also, we are introducing sustainable products. Events and conferences where I meet the youths who are eager and excited to support and carry on any environmental project as their motto is how to contribute to the environment. Emerging a strong movement is my hope and motive, changing the narrative about the environment as it is not just for us.
How has your perception of beauty and creativity evolved since participating in the Miss Nepal pageant?
Although I've always thought of myself as stylish and gorgeous, my standards for both were far from glamorous; instead, they focused more on baggy clothing and highly messy buns. First, a stylist advised us on the things to avoid doing in terms of pageants and fashion. Since most of these were things I used to do, I took my time to figure out what I wanted and gradually realized that still-baggy clothing has room and is concerned with presentation and message dissemination. Even if you don't care for the glitz and glitter, you still need to have confidence because that is the secret. Take chances and you could make errors, but you'll learn from them and you'll need to be committed to learning.
2. Prasiddhy Shah:
Prasiddhy Shah, a graduate in environmental studies, is Miss International 2023 and is passionate about promoting education for children. In addition to her title, she recently founded her NGO, Kopila, to create a platform for sharing ideas and working towards improving educational opportunities. As a highly motivated reader, Prasiddhy finds great joy in reading for personal growth and believes that education is the key to empowering individuals and communities.
Being the daughter of a former Miss Nepal, how did your mother's experiences influence your decision to participate in beauty pageants and continue her legacy?
The platform offered my mother an identity at a time when women were not even considered for any opportunities which had a positive impact on me since she was strong and independent, but I never felt compelled to participate because she did. Instead, I yearned to experience the same level of thrill she did in the 90s. It was motivating to have a glimpse into a transformative time in her life since I wanted to contribute to the shift as well. I wanted to see firsthand the effects it had on society since it was a moment of female empowerment and advancement.
What unique qualities and skills do you believe helped you secure the Miss Nepal International title?
Initially, I believed that my high level of responsibility and work ethic had been helpful. Responsible in the sense that I understood the value of having my own means of support, which allowed me to start working at an early age. I believe that contributed to my victory, and when I decide that something needs to be done, I just go ahead and do it. And diligent in that I give my best effort to anything I strive to do. I only wanted to offer my best effort in Miss Nepal because there was no intended result, I just wanted to give my best and let the rest be decided by fate.
What challenges do you foresee in balancing your Miss Nepal responsibilities and contributing to the Kopila Project?
I don't view it as a challenge because I can perform Kopila for Miss Nepal, so I'll probably accept it along with that. I'm working on a project Kopila since I'm in Miss Nepal. It is mixed together after all. I don't consider it a challenge. It is a provision that goes hand in hand; for me, it's a privilege. There is no difficulty.
How has growing up in a family with a beauty pageant background shaped your perspective on beauty and personal growth?
I've discovered that beauty is highly subjective, and if you see it in a predetermined manner, you will never feel attractive. You should thus concentrate on making beautiful things and engaging with the community to understand what beauty means to them. I may not appear absolutely flawless, but I can still perform admirably. That is what I discovered as a child.
What message would you like to convey to young women who aspire to follow in your footsteps, both in the pageant world and in making a positive impact
We ought to have dialed Unless you have something extremely powerful to do, if you have a strong call, it can be the platform beauty platform or any other platforms that will move you ahead. It's feasible, in my opinion, that being optimistic doesn't alter your perspective depending on the situation. Because there will be so many people telling you that you shouldn't look a particular way or that you shouldn't dress a certain way because there are so many preconceptions about people, positivity should always be the same. Only then will you be able to navigate through it.
3. Raina Majgaiya:
Raina Majgaiya Miss Nepal Earth 2023 who is a commercial pilot, clinched the title of Miss Nepal Earth 2023, showcasing her exceptional beauty, boldness, and intelligence. Her unique combination of aviation expertise and dedication to environmental causes makes her a role model for aspiring young women across the country.
Could you elaborate on the challenges you faced and the process you underwent to become a pilot, including the 17-hour flight to South Africa for the first training session?
The beginning was difficult for aviation, due to lack of support and questions about my ability as a woman. It took me 1.5 years to persuade my parents to support the aviation profession, which was partially supported by their parents. Despite the obstacles, the excitement and determination contributed to the success. Another problem is that, despite how advanced other countries are, we had to put 200% effort into showing ourselves. Then after having difficulty getting work in Nepal, I applied for a perilous career in aviation for Lukla and Jumla but was turned down because it was believed that women lacked bravery in such dangerous environments. They now only fly domestically.
Speaking about the 18-hour trip, I was really thrilled and excited as I took off, and despite how exhausting it was, I didn't sleep for too long since I couldn't wait to get to my destination and begin my voyage.
How do you plan to combine your aviation career with your role as Miss Nepal Earth and advocate for environmental causes?
Winning Miss Earth was advantageous for me because, as an individual from the aviation industry, and the project relating to the Sagarmatha ecosystem as well as the effects of climate change, global warming in the Himalayan sector, and talking about how can I connect myself with the mountains as a pilot, nowadays even in the season the snow is slowly depleting from the mountains and all we can see is the rock which bothered me, coincidentally, I won Miss Earth and as a result, I was given the opportunity to work on the project that had been worrying me for a long time. I also want to become a role model for girls who are being held back by society, friends, and norms. As Miss Earth, I will be working on projects that are related to them. In addition, I have my own story and journey, which I have shared.
What are some of the main messages you hope to convey during your reign as Miss Nepal Earth?
I want people to keep in mind while I'm in power that we all share the same planet and that it is the only place where we can exist. As the Miss Earth, I want to share that even if we are not present, the earth will continue to thrive. However, we must take action not only for the earth but also for ourselves because it is our home and it is our first duty to keep it clean. Although we cannot work as activists, we can take small actions that will have a big impact. For example, using a bamboo brush and carrying your bottle, using a metal straw will help to mitigate the effect. I want to discuss the topic of mountain climbers leaving their footprints in the mountains and reflecting on the natural beauty of Nepal while also discussing the issues that are brought about by the people when I am competing at the world level. Therefore, each person's effort alone will only have a minor impact, but when we all work together, we can improve the house.
How does your experience as a pilot influence your views on sustainability and the importance of addressing climate change?
As a pilot, I obviously come from a field that produces significant amounts of carbon emissions, but some airlines are working to become more environmentally friendly. For example, Airways is developing an engine that uses less fuel and produces less noise because people who live close to airports are aware of how chaotic it can be. Airways are also evolving, but what's more crucial is evolving in harmony with nature, and discussing how every sector should take things more naturally.
Can you share some insights into how you plan to inspire others to step out of their comfort zones and pursue their passions fearlessly?
First, I'd advise calculating risks rather than being afraid to take them. Another thing is to discover the world outside of oneself, and if someone tells you that you can't accomplish anything, use it as fuel to overcome your limitations. And while you should have strong resolve, there may be instances when you feel like giving up. If you work steadily, even if you fail, you will leave a path for others to follow.