Sugar Spice and Everything Nice: A Tale of Two Best Friends
---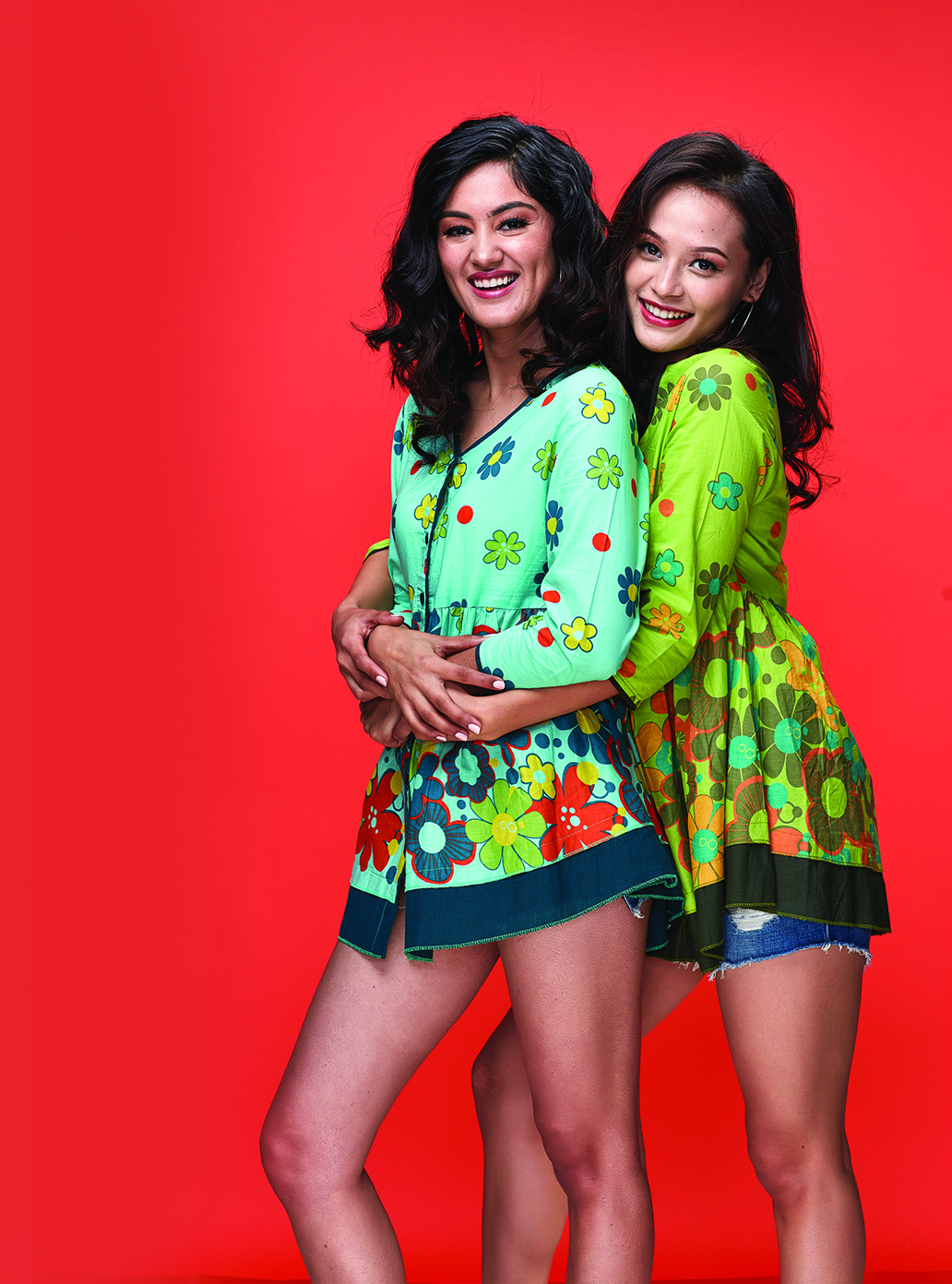 In Conversation with Miss Nepal Earth 2019 Riya Basnet & Miss Nepal Supranational 2019 Rose Lama
Friendship should never be like two peas in a pod, the best analogy is the ingredients of Professor Utonium, "Sugar, Spice and Everything Nice." It is during darkest hour, the light of friendship helps one overcome the gloominess. It is an honour to have Miss Nepal Earth 2019 Riya Basnet and Miss Nepal Supranational 2018 Rose Lama grace this issue of Smart Family Magazine.
We sat with them to know more about their friendship,
What inspired you to take part in Miss Nepal? Were you interested in becoming one since your childhood?
Rose- Honestly, when I was in high school, I used to have this very short hair; everybody used to think that was a lesbian and the community tried to preach to me saying 'Pray the gay away'. I wanted to prove that just by cutting my hair it doesn't mean that I am a lesbian and I'm no less than any other human. So, I tried for Miss Nepal California and after I got that, I got to understand that pageant is not only for being pretty or celebrating your popularity but it was also for something like working for a good cause and that brought me here to Miss Nepal.
Riya- Earlier, Miss Nepal used to be just a show and we never knew what went behind Miss Nepal. Whenever we thought of Miss Nepal, we used to think it's just a celebrity or a popular figure, but we never knew what went behind them and what contribution they made in society. Later, we realized how powerful the Miss Nepal platform can be; especially how your voice can reach so many people and what kind of impact you can make. I think after realizing the part of that platform, that is when I wanted to take part in Miss Nepal so that I could do something and utilize the platform in my best potential.
Going down the memory lane, how would you describe your Miss Nepal journey?
Riya- Umm…transformational! If I have to use one word, I would use this word 'transformational' because people only see the positive side but we have been through so much, not only the good things but also bad things and through criticisms too. We got to know so much more about ourselves after getting all the attention along with criticisms as well. So, I think with time, we've gotten used to it and we've gotten to learn more about ourselves and we've learnt to rise above all of this. Now we know ourselves more and I think the journey was transformational because there has been so much of realizations and so much of learning.
Rose-The Miss Nepal journey was similar to me. It was very transformational. What I would learn in 5-6 years, I learnt it within a year because we had to go through so much stress, hardships and I learnt how to trust people and find a trustworthy person. I made good company with my sash sisters, they taught me so many things, and I think I was so naive when I first came to Miss Nepal and then I got to see the world as it is. After that, it has all just been a learning experience.
If you had to describe one another, how would you?
Riya- Rose is someone who is an introvert but then when she gets to know someone, she can open up so well. She's fun loving and she only shows that side to her to people that she's actually close to. She's also very artistic, really creative and observant.
Rose- I think this is somewhat cringy (both laugh). It's like, when I first saw her, I thought she was like this very serious person who I should be very scared of. I did not approach her; I didn't talk to her a lot of times. (Riya: Yeah, we never talked much during our Miss Nepal days. We did not think that we would vibe so well.) Yeah, we did not talk at all, and we were in the same group. We would go to the gym together. We would come to the classroom together but we never once shared a thoughtful talk. And I think that now that I know her, she is a very thoughtful and a very caring person. Like when I go home, she's like, "oh you're not eating" and kind of a motherly figure, but I would like to say that she's my very close sister. It's like we're a mixture of peanut and butter (go so well)! I'm butter and Riya is peanut. (Looks at each other and laughs).
How has Miss Nepal Journey changed you?
Riya- Like I said before, I got to know more about myself and also the world around me. I feel like before Miss Nepal, I was inside a shell and now I'm visible to so many different people. I didn't know how to deal with it and after meeting so many people, I learned how to interact and how to deal with people basically. So, I know more about me and people more; it has changed me through realizations.
Rose- Similar for me, it has been such a learning journey for a long while because before I thought like I knew myself. I knew how to love myself and just with that, I started Miss Nepal and then after a while, I started to understand just how much I did not appreciate some aspects of life.
During our lecture times in the classroom, many people from different backgrounds would come in, they would talk about their life stories, and I realized that what I have experienced is nothing compared to them. I knew I was young and I still have many things to do. Then I realized that even when I have this whole life left, anything can happen tomorrow and I should start today and tomorrow is just going to be what I do today.
Throughout the journey, how supportive has your family been?
Riya: I would say that without my family, I would not be here; I would not be able to do anything because they were like my backbone. From the very beginning, even when I told them that I will be taking part in Miss Nepal, they were so supportive, they were like you've got to do it and I know you can do it. My mother from designing my dress to running behind me to give me keys, jackets, clothes etc. My father, my mother and sister were very supportive and even the smallest of things matters a lot when people are there to support you so yeah they have been my backbone.
Rose- So my family, there are not here. I live by myself. But throughout the journey, they tried to contact me a lot of times. I think the reason why I came to Miss Nepal was also for my family that I wanted them to feel proud of their daughter. I've been through things and I think in life I have disappointed them sometimes. So, I wanted them to be proud and they supported me because they wanted me to be successful. My sister, even though she lives all the way across in Budhanilkantha, she used to come and support me during the events like miss athlete, talent round and it was very touching.
How would you describe your friendship?
Rose: We just suddenly connected. Riya has a younger sister and Riya always tells me that I am just like her sister. Our bond is like family. Ma bina uhako saas janthyo. (She probably could not live without me, laughs)
Riya: Bhram ma basirakha la. (Keep on living in this imagination, laughs). So yeah, she is so similar to my sister at everything that's why I have this protective vibe towards her. We have this sister, family vibe so we connect so well.
As you two have such a strong bond, in what ways are you two similar and different?
(Both pause for some time and laughs)
Riya: We in similar in many ways. We do not open up with people easily and we don't trust people easily, we take our time. We analyse so much about how the person really is.
Rose: We are ambivert. I think our frequencies match and we have the same wavelength. We get excited and sad equally.
Riya: Yeah, we even become excited in similar things. Our mood depends upon the vibes. But how are we different? Oh yes, she doesn't watch movies and I watch a lot of movies.
What do you think has been the hands-down funniest moment in your friendship?
Riya: Oh yes, that mud cake moment. (Laughs)
Rose: Yeah. (Laughs so hard that she couldn't even talk.)
Riya: So we were in a restaurant and we ordered chocolate mud cake. We decided to put it on our teeth so that it seemed like we had cavity on our front tooth and we started taking pictures and making videos of it on our phones. There were so many people looking at us. (Laughs)
Rose: We were so caught up in the moment that we didn't even realize that there was someone looking at us and taking videos of us. (Laughs)
We have the whole thing on tape!
Riya: Then, two young girls came to take a picture with us and we licked the mud cake immediately. (Both laugh)
What is the best prank that you have pulled on one another OR anyone? (OR anyone has pulled on you?)
Rose: I think I am very aware of my environment because of which I easily come to know about the pranks. But it's like the famous prank where you wake up your brothers/ sisters and pretend like it's time to go to school. I actually woke up on 6pm but I thought it was 6am and I just wore everything and even went to the bus stop. And then, my sister called me and said just look at the time and I was like yes, it's already 6 in the morning. Then, she revealed that its 6pm. So yeah, I think that was the funniest prank.
Riya: My life doesn't have pranks, so boring. I think there might have been but I can't remember it right now. I just do small pranks. My sister is really scared of spiders. So, when she's asleep, I tell her that there's a spider on your body and she starts crying. One time, what had happened was that I told her that there's a spider on her body, she didn't react for almost 5 minutes, and then, she started crying. I asked her why she is she crying now and her answer to that was—if I had cried earlier, the spider would have moved. (Laughs). Her reaction was too funny.
The last time we spoke, the world wasn't going through a pandemic. As times have changed since then, how have you been keeping busy in these challenging times?

Riya: Times have certainly changed drastically. A lot of plans, important events and trips have been either cancelled or postponed endlessly due to the pandemic outbreak. There are times when I feel completely lost and hopeless. Nevertheless, I have been trying to look at the brighter side of the whole thing as much as possible. The past few months have given me more of "me" time and taught me to be comfortable with myself. I have started this beautiful art of journaling which has helped me keep track of my thoughts, activities and learning. This has also been a perfect time to invest in hobbies that I'd been long putting which for me has been dancing and learning guitar. While at it, I have also been exploring new avenues for work and have started work from home, attending webinars and taking few online courses that I am interested in. While I try to be as engaged as possible, I also time and again remind myself that it's okay not to be productive every single time. There are days I just do nothing and spend my time watching movies or series all day long.

Rose: Since I am living at my family's old house all by myself here at Kathmandu, there are a lot of things that are keeping me on my toes. I spent about 3 months just trashing and recycling the house with the intention of renovation and let me tell you, it is a hard, hard work to do. Aside from that, I have been reading a few informative books, I participated in a virtual "Social Injustice" exhibition and set some personal projects for myself.
Also how has this pandemic and the lockdown that followed changed your perception of the world around you?

Riya: The whole situation of the pandemic for me has been a realization of how fast-paced the world is. That we are always in a rush to catch the train in order to maintain the pace of this modern life. And when we fail to do so, we might feel lost, confused, and not worthy enough. It is also mentally draining to constantly throw ourselves from one commitment to another trying to catch up. The lockdown however has helped me embrace the slower life while still managing to focus on the essentials. Slowing down has been a wonderful opportunity to reflect on myself, truly understand my priorities, given me a sense of direction in my thoughts and effort, and appreciate little things in life.

Rose: A lot of things have happened in this lockdown, personally, generally, and politically. There were moments where I discovered my mind to be disturbed by reasons unchained to me. I spent some time away from the media focused on myself, meditating and healing. Doing so, I came to see the world clearer as if everything had been lightened up suddenly. I won't say it was my perception of the world that had changed but that my appreciation and acceptance of the reality grew tremendously.
Rapid Fire
If not a media personality, what would you be?
Riya: I would maybe become a social entrepreneur.
Rose: Since I am still young, I would still be in school doing my Bachelors and volunteering works.
How would you like to spend a free day?
Riya: It varies. Sometimes, I just Netflix and chill whereas sometimes, I plan a day's routine like an hour for sketch, an hour for playing guitar, dance etc.
Rose: I will bathe my dog first. Just listen to music, gardening.
A habit that you want to change about yourself?
Riya: Over thinking. I over think and overanalyse everything a lot which demotivates me sometimes. So yeah, I want to change that.
Rose: Stop being lazy. I tend to get tired or bored of something and leave it halfway.
A message to your younger self?
Rose: Just keep doing what you are doing. If I tell a younger me that one day you are going to be a Miss Nepal, then maybe I'll stop trying hard just thinking that one day you'll be a Miss Nepal. So, be yourself, keep learning and education is important.
Riya: You are okay how you are. You learn from experience and you don't have to change anything.
Do you have any pet names/ nicknames?
Riya: Banchi, Rio, Mount Everest, Latthi, Bamboo etc.
Rose: Rose Lama, Harilathak (laughs), Chora and Dhoi.
What was the first impression of each other?
Rose: I always used to be scared of her as she has this weird habit of doing an eye roll when she looks from one end to another. That was also the reason why I didn't approach to her.
Riya: I found her sweet from the very beginning even though we didn't approach each other.
All-time favourite Miss Nepal? If any.
Riya: Mine is Nitika Chandak. I love her. She's really real, innocent and she is what she is. She's been through so much even after she became a Miss Nepal but then, she talks about it so openly and she's real. That's why I love her!
Rose: I think there's this one person whom I could know well. She was really caring, humble. From the very first, she was really smiley, encouraging and gives lots of feedbacks. So, I think mine is Ishani di.
What is the one thing that you're most afraid of?
Riya: People. Actually people. Whatever goes around, it's all because of people. So yeah, I am scared of people.
Rose: There's a thing I that say many times. We people are like plagues in this earth. Even though we try not to its how we are. That is Selfishness. We look for personal gain; personal interest and we don't associate its affect others.
What is one food that you can't give up?
Rose: Momo.
Riya: Cheese. I can't give up cheese.