Thankful, Grateful, Blessed
Cover Story
|
Sep 08, 2019
|
by Aakanchya Tamang and Shreyashka Vikram Raj Maharjan , In conversation with Mr. Nabal Shah, Mrs.Shailaja Shah and Miss. Niti Shah.
---
This festive issue of Smart Family magazine, we are honoured to have one such great family of Mr Nabal Shah, Mrs.Shailaja Shah and their daughter Miss. Niti Shah. We caught up with them to flip back pages of life to recollect memories, know more about the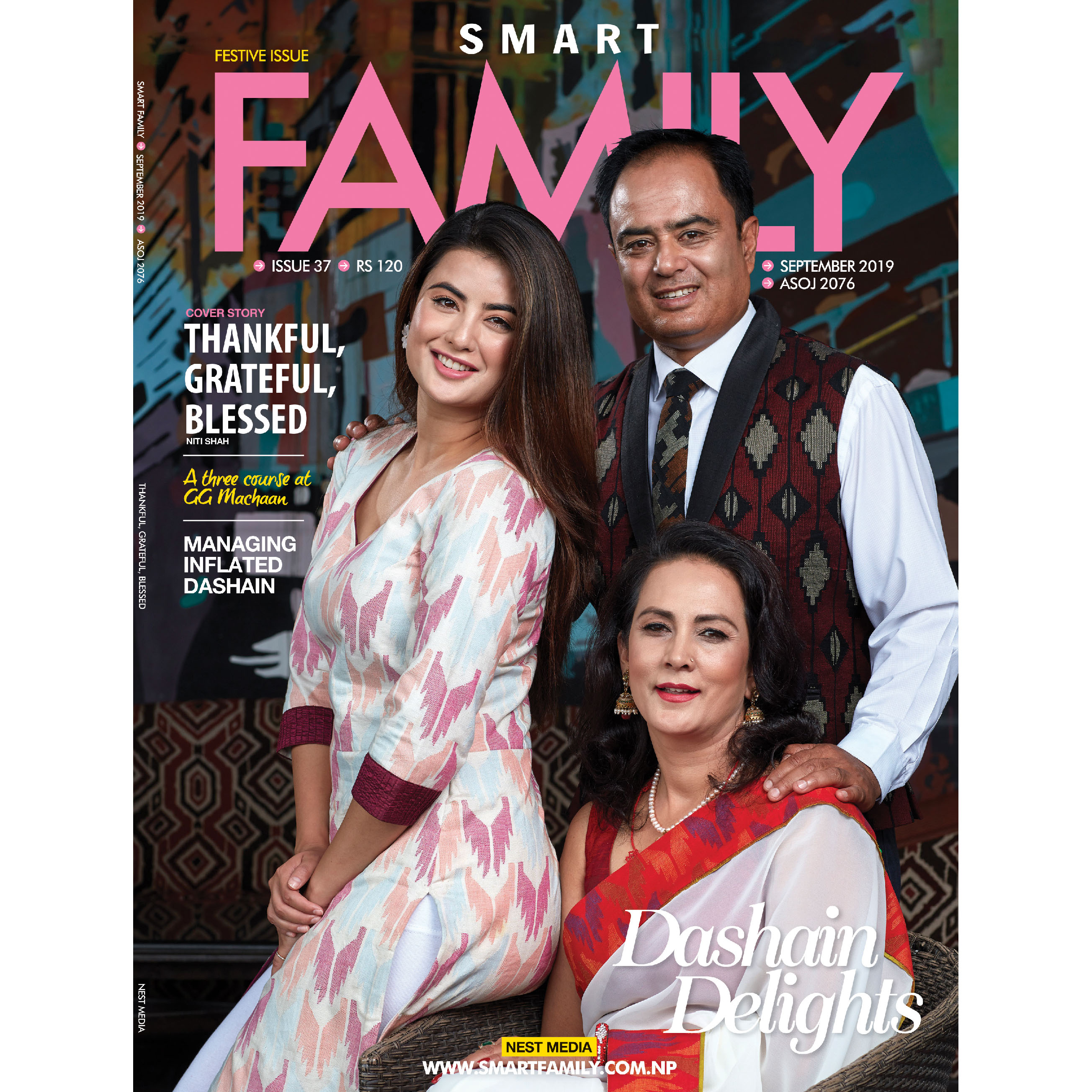 "There is no doubt that it is around the family and the home that all great virtues are created, strengthened and maintained," Winston Churchill. One's family is the first bond every one created once a human enters this world. As life takes its toll it's the one thing that we miss the most. We don't just miss the moments of happiness but also the times when our patience was trailed and tested. As one flips the great book of life once can only fathom at the uncountable times, the family was their saviour.
Little by little our loved ones weave together the feathers into one's wings, with patience and sacrifice they look upon in pride one takes flight into the real world. With heads held high and a heart heavy, they stand guard and come to the rescue in times of peril. Such is the bond of family, such as the love of our parents.
This festive issue of Smart Family magazine, we are honoured to have one such great family of Mr Nabal Shah, Mrs.Shailaja Shah and their daughter Miss. Niti Shah. We caught up with them to flip back pages of life to recollect memories, know more about the bonds they share and how they celebrate this festive season.
Can you recall some memories of how Niti was as a little girl?
Mrs Shailaja Shah: She had a reserved and quiet nature but ever since her childhood, she has been someone who is really self-dependent. For example, she would just line up for the buffet and eat by herself and wouldn't even let me hold her plates or spoon. She would be by her own and I really didn't have to worry about her not eating during family gatherings. She has always liked doing things on her own terms which I really admired about her.
Mr Nabal Shah: As her mom said, she always had a reserved personality but to my surprise, she slowly grew up to be an outgoing child. I remember as a kid, she used to make friends easily and love them with utmost heart. While I was posted in Rukum district, she used to play around and make friends with every child surrounded in the army barack. She would share her toys to play with them and make them watch cartoons and her favourite thing to do was play the role of a teacher and make them study the English alphabets. (laughs)
What is the one quality of Niti that you simply admire?
Mr Nabal Shah: She genuinely has the biggest heart than anyone I have ever known. Her kind heart is what makes her so special. Mrs Shailaja Shah: She inspires me with her independent nature. I take pride in that.
From your perception, how would you describe the Niti and her mom's relationship?
Mr.Nabal Shah: Both of my ladies are very strong headed and kind women. Niti has definitely inherited her kind nature from her mother. Most of our family members feel that when it comes to compatibility, Niti and I get along better but the truth is, Niti and her mom are really close and emotionally dependent on each other. They both share the same values and Shailaja has always approached her relationship with Niti more as a friend/mother and supported her throughout her every decision she takes in life.
From your perception, how would you describe Niti and her dad's relationship?
Mrs Shailaja Shah: Niti has always been very fond of her father. She's basically daddy's little girl. Sometimes I feel like they are literally the same personality trapped in two different bodies, as they both like and dislike the same things and if I start talking about their similar traits, I feel like I could go on and on and it still wouldn't end. Most of the qualities that Niti possesses comes from her dads such as her reserved nature, her dedication towards completing any work and the great value they share towards justice and patriotic feeling for the country. They're really sensible, adventurous and goal-oriented. Also, Nabal loves cooking so she just loves eating the food that her dad prepares for her. I feel Niti is more compatible with her father than she is with me. Being someone who doesn't share her feelings with anyone, when it comes to her dad, she is rather upfront with him and never hesitates to share anything with him. They are the perfect duo.
As a family, how do you normally celebrate Dashain and what is your favourite memory of Dashain that you recall?
Niti Shah: Since my dad is the eldest son in the family, we celebrate the main Tika ritual at our place. Also, every year we make sure we visit Nirmal Niwas to get blessings from our former king and queen. We used to travel (mostly) India and visit various pilgrimage during Dashain and Tihar holiday break.
Later, our day begins with visiting our relatives and of course, the cards and kauda session with friends and family is the best memory I have and always the highlight of the festival. It has always been great time to reunite with friends and family.
What are the best traits of your parents that you simply adore?
Niti Shah: They have always treated me more like a friend and I absolutely love how my parents have so much faith and trust in all the decisions I have made in my path of life. I consider myself the luckiest to have been blessed with parents who have kept an open mind and tried their best to adapt to the changes in today's generation. They are very humble people, warm and welcoming to everyone they meet and they've definitely taught me to become the reflection of themselves. The best part till today is, there has never been a day I have hid things from them about anything I do. Even my friends are very fond of my parents!
I feel that parents and children need to be in an environment where their companionship feels compatible with one another like children not being scared to open up with the older generation. My parents have always been like that to me which is why I have always looked up to them as my support system through my thick and thin. And I thank god to have gifted me with such amazing parents.
Having started your career at such a young age, how much of an important role have your parents support played in helping you excel in your career?
Niti Shah: They've been very supportive. They let this 17-year-old young girl explore and experience various experiences in life and that built my foundation as an individual and made me who I am today. I remember my mother used to come along with me in every shoot in the initial days and support me and my dad has always rooted and pushed me forward in every step of my life.
What is the best piece of advice you have got from your parents?
Niti Shah: Always keep your head up high and believe in yourself more than anyone.
What future advice would you like to give to your daughter for her future?
Mr.Nabal Shah: Keep working hard for what you believe in but never forget your roots. Be good to everyone and love your country, Nepal.
Mrs Shailaja Shah: "Dukha Ma Na Atine Sukha Ma Matinu" (Don't panic in times of trouble and don't boast in times of joy.)