Raising the bar for Nepali women
Inspire
|
Oct 22, 2023
|
by Gaurab Lal Maskay
---
In this episode, meet Rajani Shrestha, a Nepali bodybuilding sensation who conquered health challenges to inspire women. The episode highlights the role of discipline, her sacrifices, and aspirations for international competition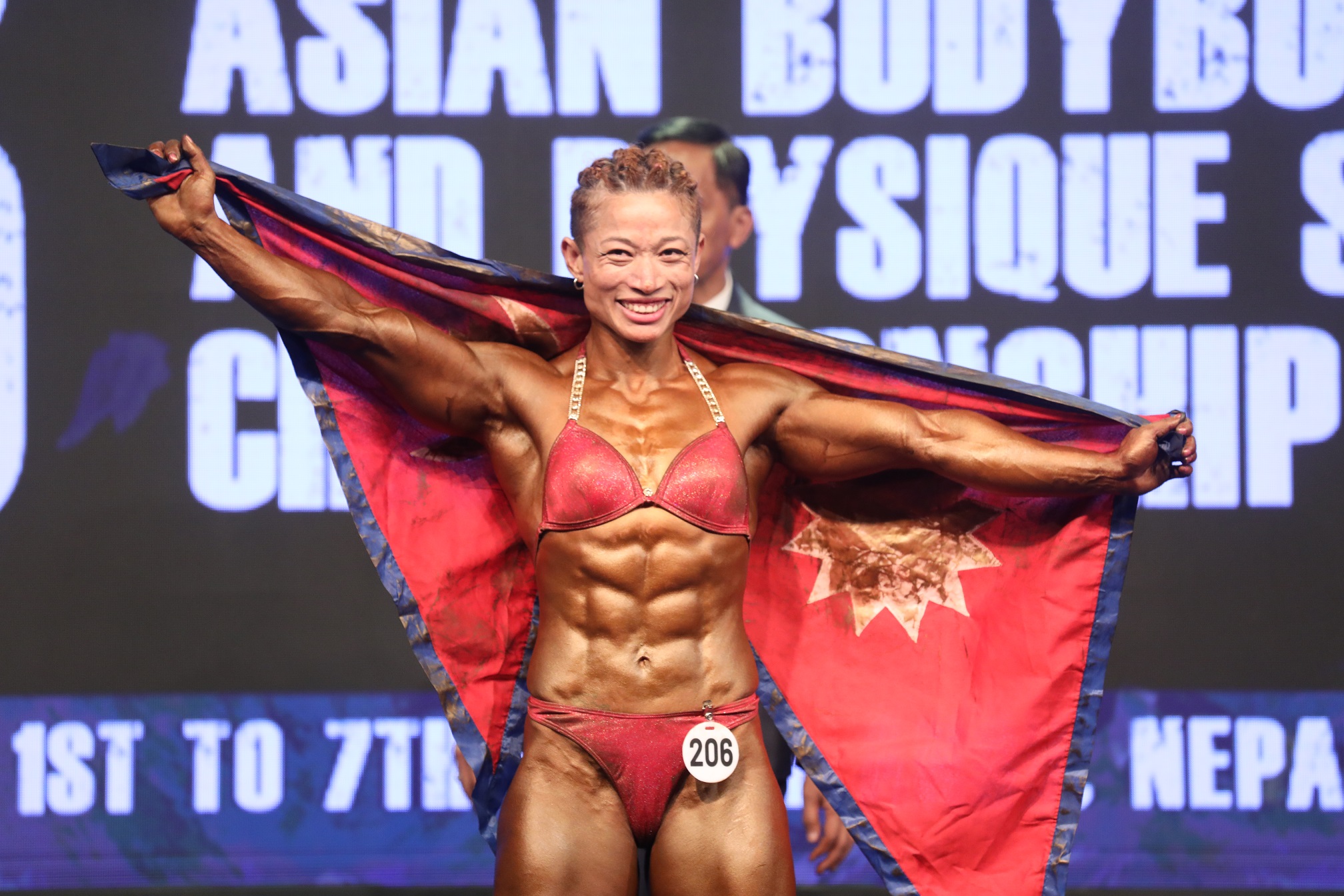 In this episode the esteemed guest speaker is the sensation of Nepal, Rajani Shrestha, an influential figure for women to chase dreams and continues to set new highs for Nepal in the field of bodybuilding. The episode begins with a warm greeting between the host of the show and the guest with a warm feel.
The episode starts off with the host of the show asking the guest about how women in particular in Nepal usually don't aim to build a muscular body in the past, how did you come about wanting to achieve this milestone?
Mrs. Rajani shares that her journey didn't begin with the goal of becoming a bodybuilder. Instead, it emerged from a period of struggle when she had to overcome health challenges. Since then, she has fully embraced this path and is wholeheartedly living it, savoring every moment.
Congratulating the guest for achieving gold in the field of bodybuilding the host asks how did the goal of achieving a gold medal for the nation incubate?
"Anushasan," the Nepali word for discipline, is a fundamental aspect that can empower individuals in any field. When we incorporate discipline into our daily lives, it equips us to confront and overcome challenges, whether they are related to mental well-being or physical health.
Can you share the difficulties or sacrifices that you had to go through in your journey as a bodybuilder?
Facing challenges is a universal experience in any field, and I can share a specific incident from my journey that was particularly demanding. It occurred during a bodybuilding competition when I had to maintain strict discipline in every aspect of my life, including my diet, rest, and exercise routines. At that time, my weight was 72 kg, but the competition category allowed only up to 55 kg. This competition placed immense importance on every muscle cut and fiber, making it a tough decision for me. I ultimately decided to reduce my calf size, lower my body fat, and rely solely on distilled water for hydration. It was an incredibly demanding period; even during a sauna steam bath, I didn't sweat at all, and my body was extremely dry. The last three days were a grueling experience as I drastically reduced my food and water intake to shed excess body fat.
In this particular field what thrills you to achieve more?
I have already played many national games as well as won medals, but I always wanted to represent the Nepali flag and anthem at the highest international levels.
In a day how often do exercise and how different is it while training professionally? Regarding the diet and hydration while preparing for competition, how do you think it affects the human body?
In my regular training routine, I typically dedicate around 1 hour and 30 minutes to my workouts. However, when preparing for a competition, the training regimen intensifies, and we train for up to 6 hours a day. It's important to note that the practice of abstaining from eating and drinking during such intense training should only be undertaken by individuals competing at a higher level, as it places significant strain on the human body. Nevertheless, it's worth mentioning that after the competition, a comprehensive body check revealed that everything was within normal parameters.
What are your thoughts on the recognition or credit that you are receiving compared to other sports in Nepal?
Taking in consideration i think that body building receives less recognition i think it's because people are slowly beginning to understand these kinds of competitions, but i think it's getting more recognition and trendy with the time.
In your journey could you share what role your family played and how did it help you achieve your goal?
Firstly i would like to say without the support of my husband none of this would have been possible, he fully supported me in every way. My son, who is studying to become a doctor, worries all the time about my body but still motivates me all the way.
Achieving the top spot in the Asian competition level, do you have plans to set your sights on competing in the world championship?
The world championship starts November 6 in South Korea, the Nepal bodybuilding association is still deciding whether or not to participate and whom to take. Waiting for the confirmation. I'm still in the preparation phase.
In the 55 kg competition there was a slight problem regarding your weight. Can you share with us your experience on that day?
On the day of the competition, I had concerns about my weight as I initially weighed more than the limit. My primary worry stemmed from the fact that my body had very little fat; it was mostly muscle. To reach the required weight, I had to shed some muscle mass. At the beginning of the day, I weighed 56.90 kg, which left me feeling uneasy. Tears welled up, and I approached my teacher for help. We began with a sauna session, which reduced my weight to 56 kg, still one kilogram over the limit. After that, I engaged in a cardio workout, followed by some rest. When it was time for the judges to check my weight again, I weighed 55.30 kg. Fortunately, since I was representing the host country, I was the last contestant to be weighed. My teacher and I walked countless rounds around the hotel where we were staying. I lost count of the rounds, and at times, I even felt like I was losing consciousness. However, with my teacher's support, I persevered. Finally, as I went inside to get my final weight checked, I weighed exactly 55 kg, meeting the required weight limit.