CG Motors Launches Eco-Friendly NETA V in Nepal
News
|
Jun 09, 2022
|
by Smart Family Editorial Team
---
CG has launched the most elegant, yet affordable electric crossover vehicle in the Nepali market called "Neta V" under CG Motors.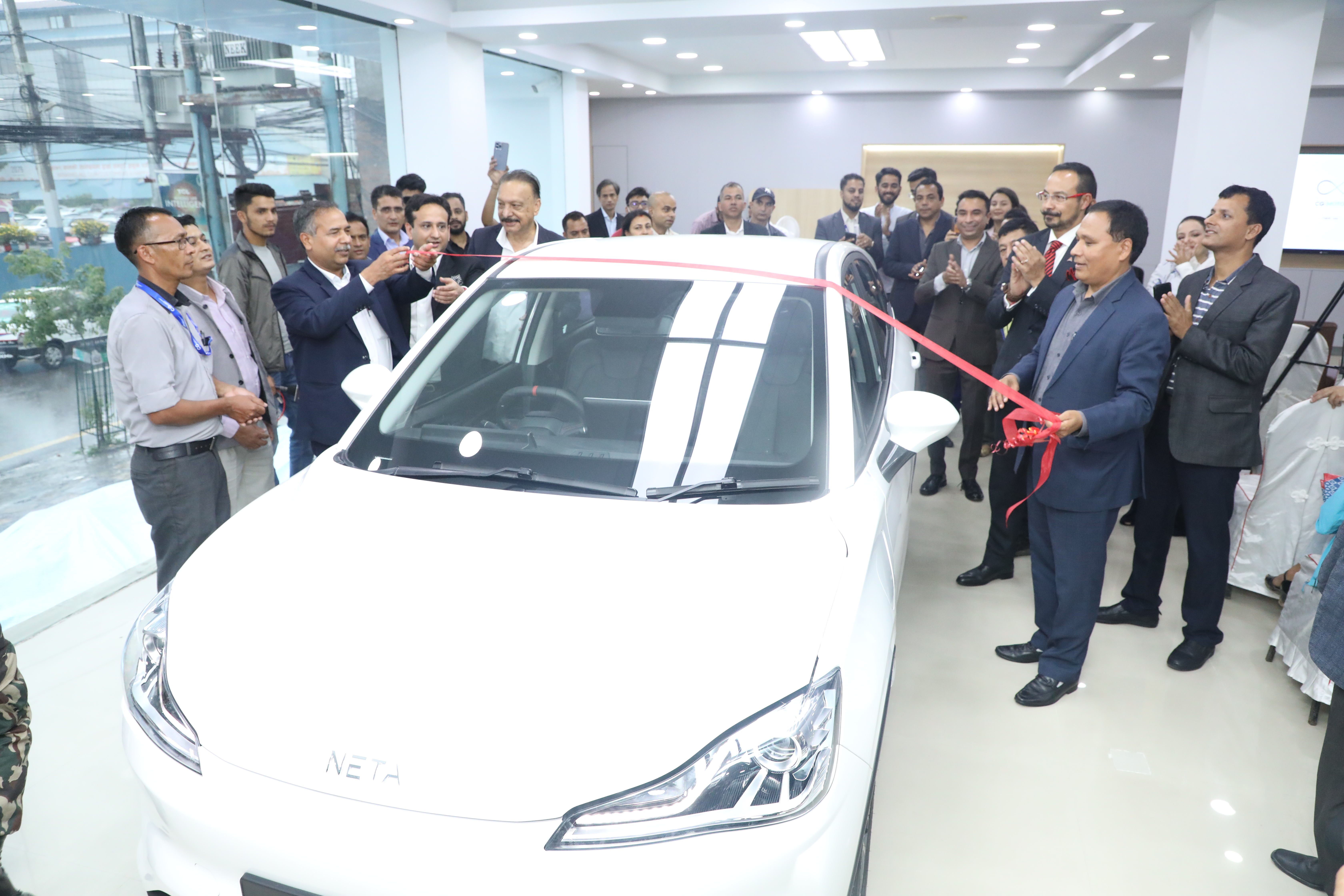 Chaudhary Group, one of the trusted conglomerates in Nepal has a history of serving the nation for more than 150 years. Continuing this journey, CG now is embarking on the promotion and sales of eco-friendly mobility.
CG Motors, MD, Mr. Nirvana Chaudhary said, "As per Nepal Government's NDC Report, transport sector's consumption of petroleum is the highest in the country and Nepal targets to reduce transport sector dependency on fossil fuels by 50% by 2050. CG Motors feels that we can overthrow the target if we have electric mobility for mass vehicles in private and commercial sectors. Electric mobility presents an attractive option to reduce the national trade deficit and foster long-term domestic sustainable energy solutions. So, we are intending to embrace sustainable mobility in both private and commercial sectors in Nepali Market."
CG Motors has introduced an electric cross over the car "Neta V" in Nepal. Neta is an EV brand owned by a Hozon Auto Company in China which is top three EV brands and has been ranked among the first echelon and rapidly growingbrand. The Neta V was first launched in 2020 and Neta U Pro was officially launched in 2021 and Neta was on show. The group was founded by an elite team with 20+ years of experience in the EV industry.
With the theme #CGRevolution, CG is entering the Nepali EV market with a truly revolutionary vehicle equipped with longer battery life, high performance, core intelligent technology, smart entertainment and trendy appearance. CG Motors organized an unveiling program of Neta V honouring the week of "World Environment Day" at their Showroom in Bishalnagar, Bhatbhateni ( Opposite Bhatbhateni Supermarket Parking)
This 4-meter long subcompact CUV is a built-in EV platform with an ergonomically designed interior and attractive aerodynamic shape. The vehicle is powered by an electric motor to the front axle with a power output of 70kW/95 PS and 160 nm of torque mated to a CATL lithium battery pack of 38.5 kWh capable of a range of 380+ km (NEDC). With top speed of 101 kmph, Neta V is a perfect drive partner for a highway too.
This car can be charged within just 20 mins (30%-80%) through DC charging, whereas it takes <6 Hrs through AC Charging (6.6 kW).
The company is offering a warranty period of 8 years/ 150000 km in battery which is backed up by advanced thermostatic BMS with automatic heating and cooling function that keeps the battery in the best working condition during any climate. Vehicle Motor also comes with the same warranty period, whereas in other non-moveable exterior parts 10 warranty has been provided.
Furthermore, the vehicle homes top-notch features such as HEPA N95 Grade Air Filter, High-strength steel caged body, Zero buttons, 14.6 central control touch screen, Light-sending Automatic Headlights, Vehicle-to-load (V2L) and an external discharge function that allows you to supply power other devices, and much more. Neta V is available in five different colour options: Silver Cloud White, Clear Sky Grey, Porcelain Cyan, Sky Blue, and Cherry Blossom Pink. The company has officially launched Neta V with an introductory price of Rs 37.99 Lakhs only. In every purchase, the company is providing an additional 6.6 kW home-based charger and one year of comprehensive insurance for free.
During the unveiling of Neta V, CG Motors CEO, Mr. Hemant Agrawal said, " CG Motors is a new venture of Chaudhary Group for New Energy Vehicle. We are committed to changing the transport landscape of Nepal by bringing in vehicles of the best quality incorporating the latest technology innovations.
CG will not itself into the private vehicle segment only but will venture into the commercial and public transport market by introducing light commercial vehicles such 11 to 14 seat capacity which can be used to replace existing petrol/diesel microbuses operating in the country.
In the other hand, commercial diesel vehicles are one of the major contributors to pollution and in this segment also, we will be introducing 1.5 to 2.5 tons capacity EV pick-up vehicles. CG Motors is rapidly building state-of-the-art workshops for the customer and intends to deploy charging networks in all the major highway routes and areas of EV operation."
The company has plans for onboarding other top variants like Neta S and Neta U Pro from next year.
Neta brand is associated with the world's renowned companies like CATL, Huawei, Horizon Robotics, Sense Time and PTT for strategic cooperation and product development. Neta's Research Centre is located in Silicon Valley, California and Design Centre in Beijing.
Technical Specifications:
| | |
| --- | --- |
| L*B*H (mm) | 4070*1690*1540 |
| Wheelbase (mm) | 2420 |
| Tire | 185/55 R16 |
| Kerb Weight (kg) | 1151 |
| Max Speed (km/h) | 101 |
| Acceleration Performance (0-50km/h) | < 3.9s |
| NEDC Range ( km) | 380 |
| Ground Clearance (mm) | 160 |
| Max Gradtent (%) | 20 |
| Battery Type | CATL (Ternary Lithium Battery) |
| Battery Capacity ( kwh) | 38.5 |
| Electric Motor Type | Permanent Magnet Synchronous |
| Motor Power (Kw)/ PS | 70 / 95 |
| Max Torque (N.m) | 160 |
| AC Home Charge (0%-100%) | 8h |
| DC Fast Charge (30%-80%) | 20 mins |
| Charging Standard | CCS2 |
For more information:
Mr. Deepak Thapa, Sales Operation Director
9820105051