Dusit Princess Kathmandu-Opening Inauguration
---
Dusit Hotels and Resorts under Dusit International, one of Thailand's leading hotel and property development companies, is making its Nepal debut with the opening of Dusit Princess Kathmandu, which will start welcoming guests on 17 July 2023.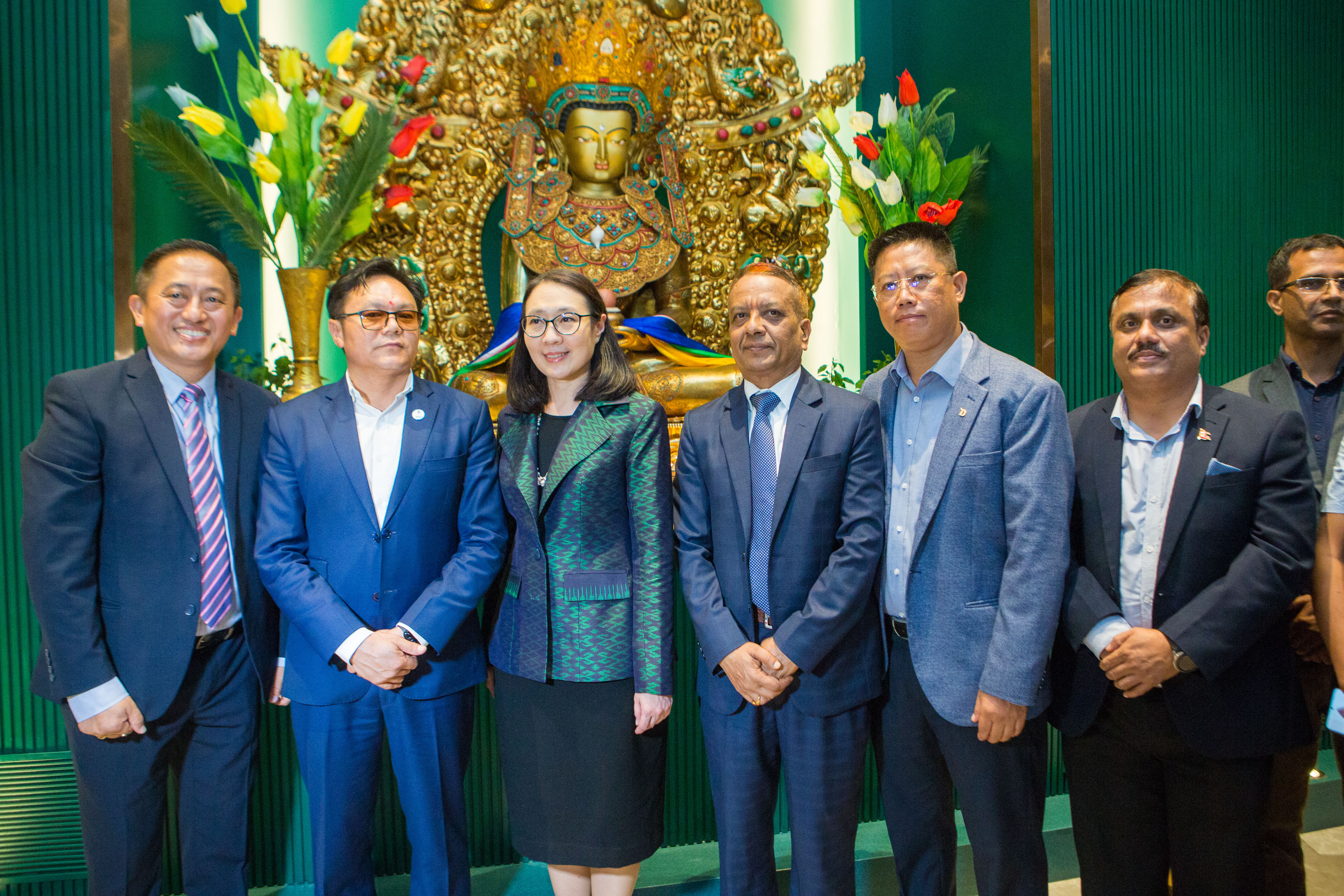 Designed to appeal to business and leisure travellers who appreciate comfort, value, and convenience, Dusit Princess Kathmandu is located in the heart of the capital's vibrant Lazimpat neighbourhood, a short walk from Narayanhiti Palace Museum and just 18 minutes by car from Tribhuvan International Airport. Must-visit attractions such as Kathmandu Durbar Square and Swayambhunath Stupa, one of the oldest and most revered temple complexes in Nepal, are just a short drive away.
Thoughtfully designed to reflect local culture and architecture, the beautiful property offers an oasis of relaxation amidst the buzz of the city. Alongside 107 comfortable and well-appointed guest rooms ranging from 28 to 62 sq m, and a Presidential Suite set over 159 sq m, the new property boasts specialty Thai restaurant Soi; a Dusit Gourmet outlet featuring freshly baked pastries, artisanal sandwiches, and deli bites; and a rooftop Kibu Sky lounge with panoramic city views. The rooftop Blue bar also boasts the city's highest infinity pool.
Reflecting Dusit's group-wide focus on wellness, Dusit Princess Kathmandu will also soon open a Crest spa offering a wide range of Thai-inspired massage therapies and beauty treatments. A steam room, sauna, and fully equipped Crest club which has a gym also available for guests seeking to pause, refresh, and reinvigorate in the utmost of comfort.
For business functions, weddings, and other special events, Dusit Princess Kathmandu offers a selection of versatile meeting spaces. Among them is the stunning rooftop venue, 'Vista,' featuring floor-to-ceiling windows and panoramic city views for up to 35 guests. The elegant Princess Ballroom is available to host larger gatherings of up to 250 attendees and for meetings and small gatherings up to 35-40 attendees, Lumbini 1 and Lumbini 2 is also available. For various informal small gatherings, The Gallery provides an open space above the lobby. With a dedicated team of professionals ensuring personalised attention to every detail, the hotel promises an exceptional event experience.
"I would like to welcome all guests to the roof of the world, home to Everest & the birthplace of Lord Buddha. Dusit Princess is nestled amidst breathtaking landscapes and steeped in rich cultural heritage. This will be a gateway to explore the wonders of this extraordinary nation. We promise to exceed your expectations and provide an experience that will leave you with cherished memories for years to come," said Mr. Tenzin Zoepa Lama, Chairman, Dusit Princess Kathmandu."
"I am delighted to open the doors of Dusit Princess Kathmandu and share the unparalleled wonders of Nepal with travelers from near and far. Through this endeavor, I am committed to supporting the country's tourism growth, creating opportunities for local communities, and showcasing the richness of our cultural heritage. It aspires to be a symbol of Nepal's excellence in hospitality. We are unwavering dedicated to exceptional service, attention to detail, and commitment to sustainability will ensure that guests have an extraordinary and authentic experience throughout their stay," expressed Mr. Dorje Lama, Managing Director, Dusit Princess Kathmandu."
"We are extremely delighted with the opening of Dusit Princess this year 2023. With the boost of tourism in Nepal we are excited to share our contribution in tourism industry for Nepal were Dusit Princess Kathmandu will define your stay, with warm Thai and Nepalese hospitality woven into every moment for our guest and local community whom we are privileged to serve," said Mr. Kalpesh Agrawal, General Manager, Dusit Princess Kathmandu."
To celebrate its opening, Dusit Princess Kathmandu is offering a special opening offer – Your New Kathmandu Base – starting at only NPR 16,500 (USD 125) per night for a Superior room with breakfast for two and a set dinner at specialty Thai restaurant SOI, valid until 17 September 2023.
About Dusit International
Established in 1948, Dusit International or Dusit Thani Public Company Limited (DUSIT) is a leading hospitality group listed on the Stock Exchange of Thailand. Its operations comprise five distinct yet complementary business units: hotels and resorts, hospitality education, food, property development, and hospitality-related services.
The group's portfolio of hotels, resorts and luxury villas includes approximately300 properties operating under a total of seven brands (Dusit Thani, Dusit Devarana, Dusit Suites, dusitD2, Dusit Princess, ASAI Hotels, and Elite Havens) across 19 countries worldwide. The group also operates culinary schools and hospitality colleges in Thailand, plus catering companies for the education sector in Thailand, Cambodia, and Vietnam.
Dusit International's diversified investments in real estate development, hospitality-related services, and the food sector are part of its long-term strategy for sustainable growth, which focuses on three key areas: balance, expansion, and diversification.