Elevate Your Party Experience at Marriott Kathmandu's Underground Garage Party Extravaganza!
---
Kathmandu, Nepal - July 14, 2023 - Marriott Kathmandu, the epitome of luxury and innovation, is proud to present a groundbreaking event that will redefine the nightlife scene in Nepal.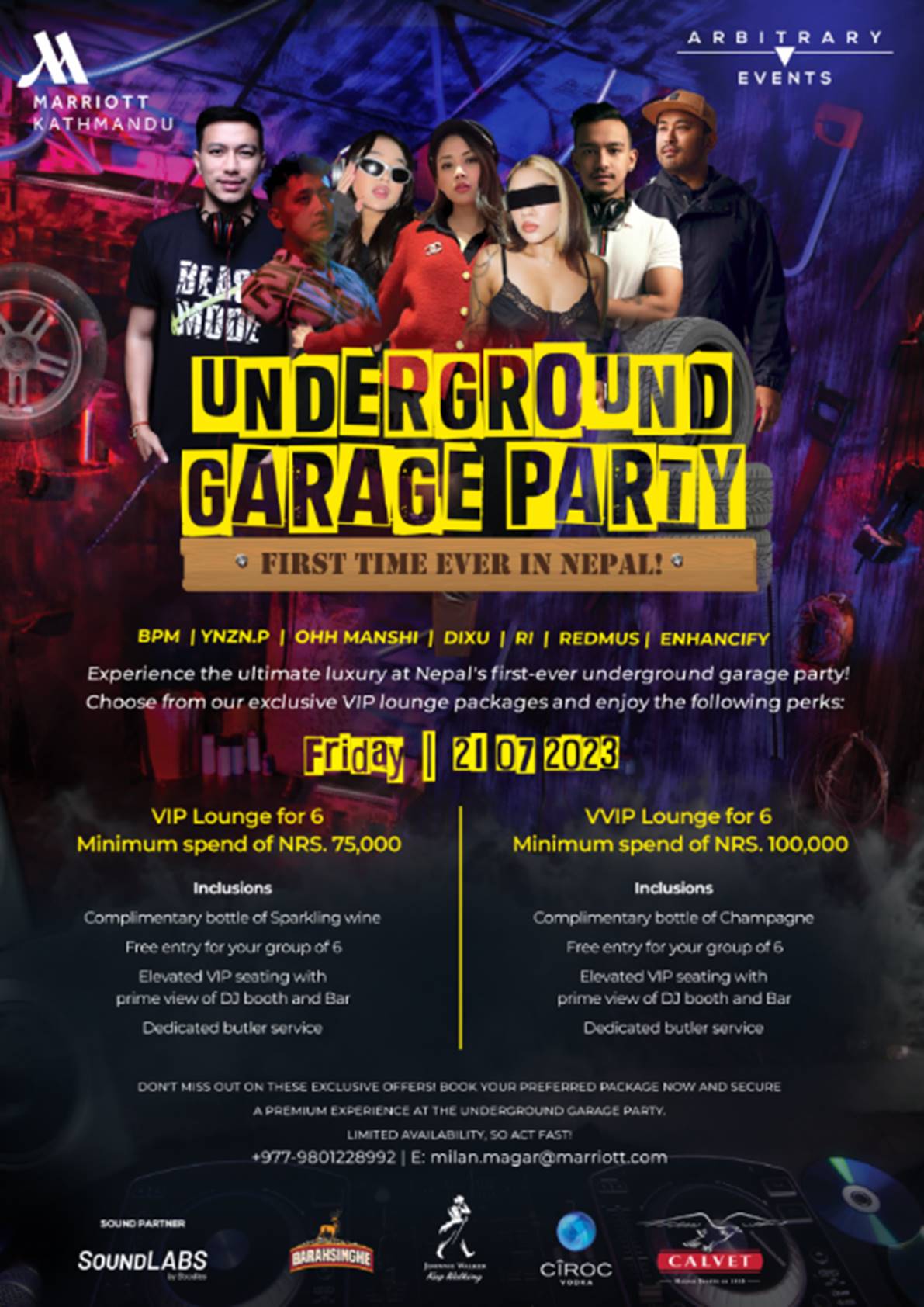 On Friday, July 21, 2023, join us at the Marriott Kathmandu for an extraordinary night filled with sensational vibes and a party like never before. Immerse yourself in the pulsating beats of electronic dance music spun by renowned DJs, creating an electrifying atmosphere that will leave you craving for more.
Featuring a lineup of the hottest DJs in town, including BPM, YNZN.P, OHH MANSHI,
DIXU, RI, REDMUS and ENHANCIFY, this event promises to be an unforgettable experience for all music lovers and party enthusiasts. Prepare to dance the night away to their incredible mixes that will keep you grooving until the early hours of the morning.
To complement the electrifying beats, we will have a fully stacked bar serving an impressive selection of beverages to keep you refreshed throughout the night. Our talented mixologists will craft signature cocktails and pour your favourite drinks, ensuring your party experience is nothing short of extraordinary.
But that's not all! Marriott Kathmandu is pulling out all the stops to make this event truly remarkable. The venue will be transformed with trail lights, creating an ambiance that is both visually stunning and immersive. Get ready to step into a world where music, lights, and energy converge to create an atmosphere like no other.
Mr. Vishal Mehra, Cluster General Manager of Marriott Kathmandu and Fairfield By Marriott Kathmandu, expressed his excitement about this groundbreaking event, saying, "At Marriott Kathmandu, we are committed to offering our guests unique experiences that go beyond their expectations. The Underground Garage Party is a testament to our dedication to bringing innovative events to Nepal. We invite everyone to join us for this extraordinary night and be a part of this unparalleled celebration."
Limited tickets are available, so make sure to secure yours now to avoid missing out on this exceptional experience. Tickets are priced at NPR 999 only, and every ticket purchase includes one complimentary beer. VIP packages are also available starting at NRS 75000 onwards for 6 guests with premium inclusions.
This is an event you do not want to miss! Join Marriott Kathmandu on Friday, July 21, 2023, and be a part of history as we redefine the party scene in Nepal. Get ready to elevate your party experience and immerse yourself in the pulsating beats of the Underground Garage Party.