Hyatt Regency Kathmandu Hosts a Joyous Cake Mixing Ceremony
---
Kathmandu, Nepal - November 18, 2023 - Hyatt Regency Kathmandu was filled with festive cheer on Friday, November 17, 2023, as the hotel hosted a delightful Cake Mixing Ceremony. The event was attended by esteemed guests, media friends and business partner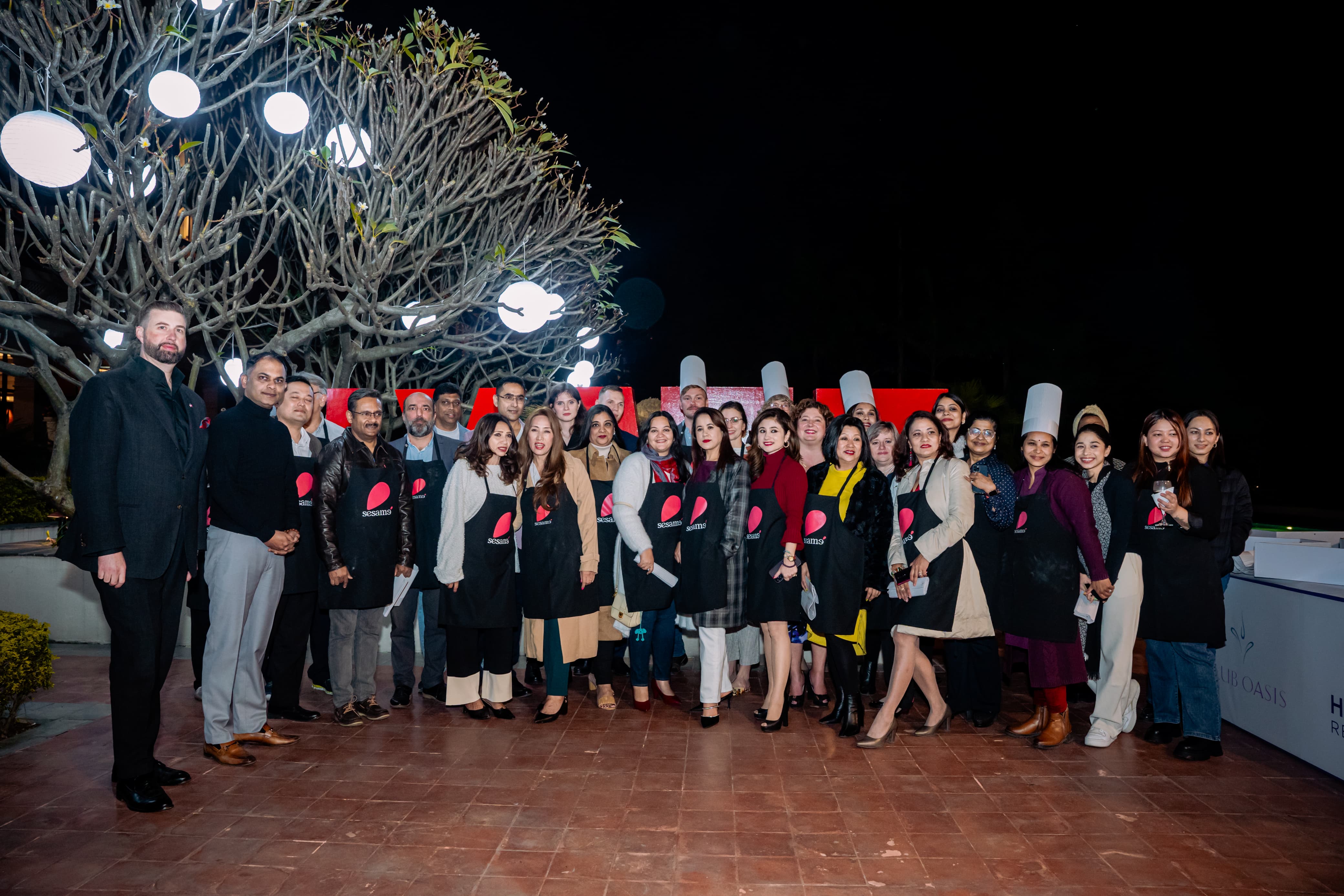 The evening commenced with a warm welcome, where guests were greeted with the delightful aroma of mulled wine, setting the tone for an evening of celebration. Mr. Ashish Kumar the General Manager of Hyatt Regency Kathmandu, extended a heartfelt welcome to all the attendees through his engaging welcome speech, setting a jovial atmosphere for the gathering.
Following the welcome address, guests were ushered to the cake mixing area, where they were provided with aprons, chef caps, and gloves, preparing them for the engaging task at hand. The air was filled with the enchanting tunes of a saxophone, adding a touch of musical elegance to the event.
Amidst laughter and camaraderie, guests joyfully participated in the cake mixing process. The delightful blend of ingredients and the shared excitement created a memorable experience for all the attendees.
Once the cake mixing reached its sweet culmination, guests were led to a lavish buffet, showcasing the culinary expertise of Hyatt Regency Kathmandu's chefs. The array of delectable dishes delighted the taste buds of all present, providing a perfect conclusion to the evening's festivities.
The event concluded on a heartfelt note, with Mr. Walter Pereira, Director of Operations of Hyatt Regency Kathmandu expressing gratitude to the attendees for their participation and enthusiasm. His thank-you speech resonated with warmth, encapsulating the spirit of togetherness and joy that defined the entire evening.
The Cake Mixing Ceremony at Hyatt Regency Kathmandu was not just an event; it was a celebration of tradition, taste, and togetherness. Hyatt Regency Kathmandu looks forward to hosting more such memorable events, bringing people together in the spirit of joy and festivity.
About Hyatt Regency
The Hyatt Regency brand prides itself on connecting travelers to who and what matters most to them. More than 175 conveniently located Hyatt Regency urban and resort locations in over 30 countries around the world serve as the go-to gathering space for every occasion – from efficient business meetings to memorable family vacations. The brand offers a one-stop experience that puts everything guests need right at their fingertips. Hyatt Regency hotels and resorts offer a full range of services and amenities, including the space to work, engage or relax; notable culinary experiences; technology-enabled ways to collaborate; and expert event planners who can take care of every detail. For more information, please visit hyattregency.com. Follow @HyattRegency on Facebook, Twitter and Instagram, and tag photos with #AtHyattRegency.
About Hyatt Hotels Corporation
Hyatt Hotels Corporation, headquartered in Chicago, is a leading global hospitality company with a portfolio of 13 premier brands. As of March 31, 2017, the Company's portfolio included 708 properties in 56 countries. The Company's purpose to care for people so they can be their best informs its business decisions and growth strategy and is intended to create value for shareholders, build relationships with guests and attract the best colleagues in the industry. The Company's subsidiaries develop, own, operate, manage, franchise, license or provide services to hotels, resorts, branded residences and vacation ownership properties, including under the Park Hyatt®, Miraval®, Grand Hyatt®, Hyatt Regency®, Hyatt®, Andaz®, Hyatt Centric®, The Unbound Collection by Hyatt™, Hyatt Place®, Hyatt House®.