Mr. Gaurav Agarwal Appointed As Honorary Consul of Dominican Republic for Nepal
---
Mr. Gaurav Agarwal has been appointed as the Honorary Consul of the Dominican Republic for Nepal. This appointment marks a new era of diplomatic relations between the Dominican Republic and Nepal.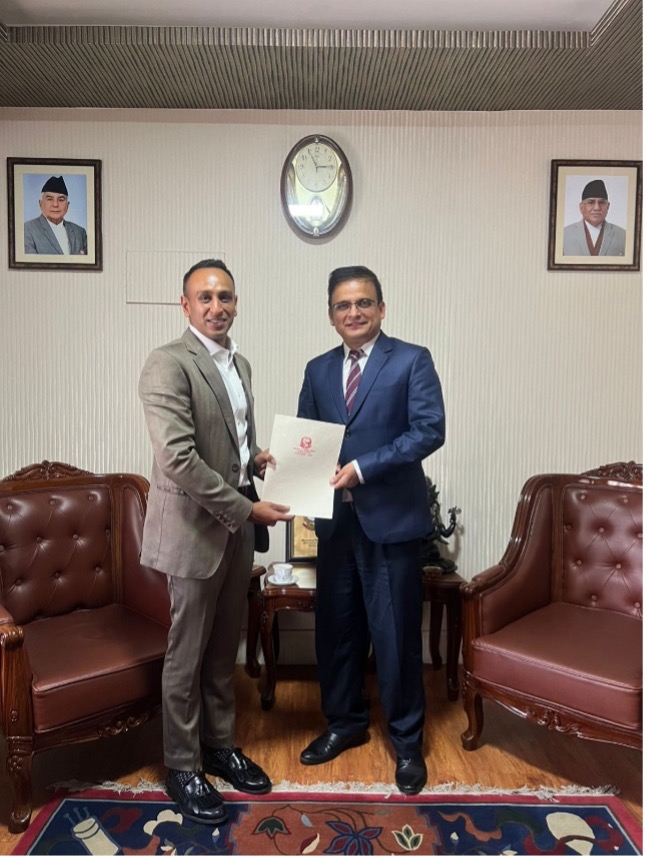 As Honorary Consul, Mr. Agarwal aims to foster friendship and cooperation between Nepal and the Dominican Republic, opening new avenues for mutual growth and understanding. The Dominican Republic Government extends its warmest congratulations and looks forward to a prosperous partnership.
"Honored and proud to be appointed to serve as Honorary Consul of The Dominican Republic in Kathmandu Valley. Grateful to the Presidency in Dominican Republic for entrusting me with this responsibility and for the Government of Nepal for approving it," said Mr. Gaurav Agarwal. "I will facilitate tourism, culture and trade exchanges between both our countries."
The Dominican Republic, a Caribbean nation known for its rich history, vibrant culture and picturesque landscapes, holds tremendous potential for collaboration with Nepal in areas such as trade, tourism, and education. Mr. Agarwal's strategic vision and network of contacts are expected to bring new opportunities for businesses and individuals alike.
Mr. Agarwal will have his office at Kathmandu Marriott Hotel and will work diligently to facilitate consular services for both Dominican and Nepalese citizens. Additionally, he will actively engage with government officials, business leaders, and cultural organizations to explore new avenues for cooperation and growth.
The Dominican Republic and Nepal share a commitment to mutual progress, and the appointment of Mr. Gaurav Agarwal as the Honorary Consul is a testament to the shared vision of building bridges across nations. We are confident that under his leadership, the relationship between the two countries will flourish, creating a legacy of enduring partnership for generations to come.
About Mr. Gaurav Agarwal:
Mr. Gaurav Agarwal is a prominent entrepreneur and advocate of international relations. He is the Managing Director of Kathmandu Marriott Hotel. He is a scholar from London Business School and has completed his Sloan Masters in Leadership and Strategy. Apart from his entrepreneurial role, he's actively involved in philanthropy and social causes where his presence has empowered many people to come along. Mr. Agarwal's appointment as Honorary Consul of the Dominican Republic for Nepal reflects his passion for bridging cultural and economic gaps between nations.
For media inquiries and further information, please contact hospitality@msgroup.com.np