Oriental Hotel LTD 26th Annual General Meeting
---
The twenty-sixth annual general meeting of this company was held on Thursday 25th Ashwin 2050 at Nepal Administrative Training Institute, Jawalakhel, Lalitpur under the chairmanship of Mrs. Subhadra Shrestha, president of the company.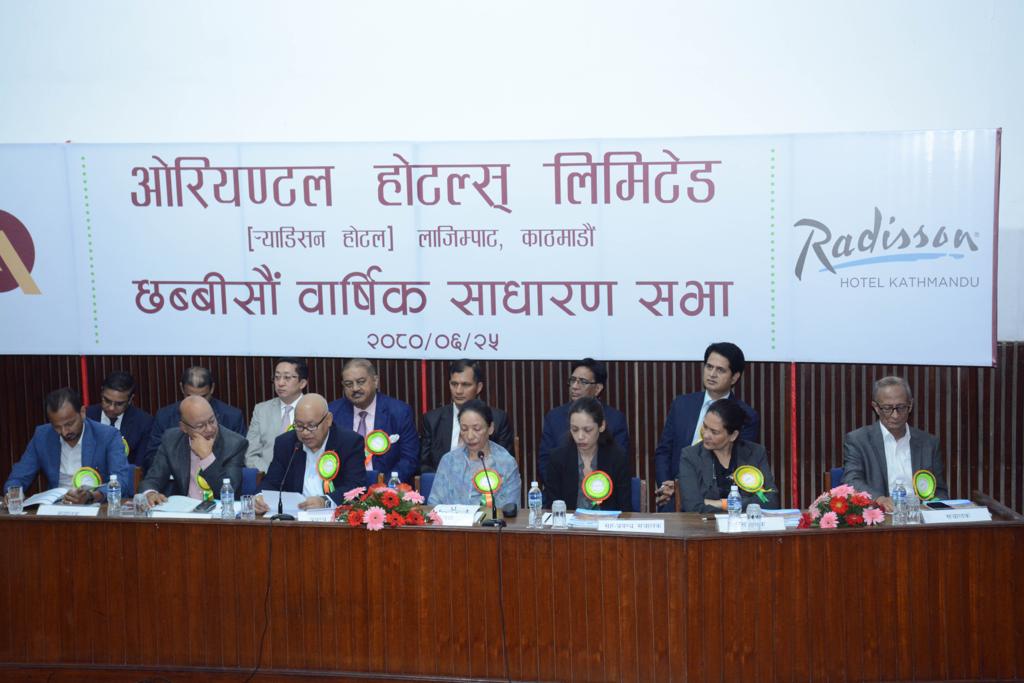 On this occasion, the annual report of the board of directors of the company for the financial year 2079 / 080, the balance sheet for the end of 2080 with the auditor's report, the profit and loss account and cash flow statement for the financial year 2079 / 080 ended on the same date and the comments related to the financial statement of the same period were passed.

In the financial year 2079/080, the total income of this hotel is Rs.121.10 crores and the total operating expenses are Rs.79.48 crores on which 41.63 crores was operating profit and after deducting all the expenses, the net profit was Rs.16.09 crores while the loss was Rs.2.46 crores in the previous year. The arrival of tourists continues to improve this year due to the significant increase in profit compared to the previous year. Looking at the current situation, it is predicted that there will be an increase in tourism arrivals in the coming days. . It was decided to give cash bonus of 5.27 percent (including tax) in this financial year. The company said that the work of the new building of the company built by this company is going on rapidly and the goal of completion of the construction by the end of this year has been taken. The company also said that the 3rd, 4th and 5th floors of the main building will be reconstructed and modernized from this year.

3 months after the end of the financial year, company has been able to complete the general meeting. It was informed that they are transparently preparing their financial reports every quarter and annually as determined by the Nepal Financial Reporting Standards (NFRS) prepared in accordance with the International Financial Reporting Standards (IFRS). In the end, the chairman of the meeting expressed his gratitude to all the shareholders and stakeholders, assuring them that the hotel will be operated according to the suggestions received from the shareholders.