WALK-IN INTERVIEW AT HOTEL YAK AND YETI
---
Looking for a rewarding career in the hospitality industry? Hotel Yak & Yeti is currently hiring for multiple positions across several departments and is organizing a walk-in interview for all interested candidates on March 16, 2023.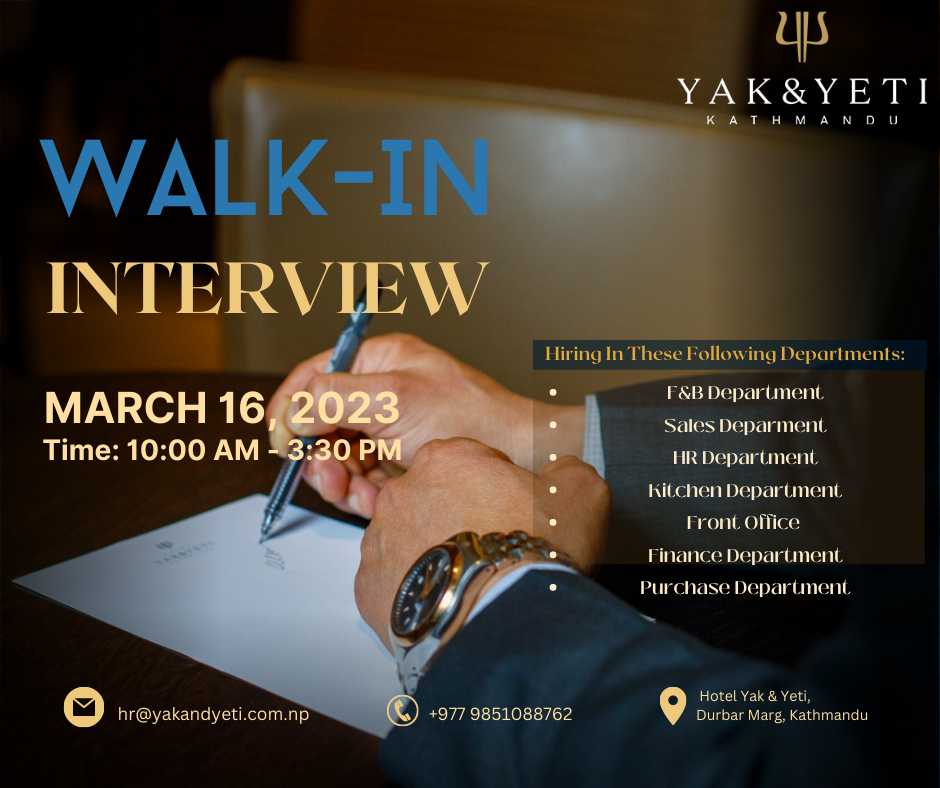 For individuals with a passion for food and beverage, our F&B Department has openings in the following positions:
1. Team Leader
2. Hostess
3. F&B Associate
4. Supervisor
5. Bartender
6. Captain
If sales and marketing is your forte, we have positions available in our Sales Department. Showcase your skills and drive revenue growth for the hotel. Available positions:
1. Room Sales Executive
2. Event Sales Executive
Our HR Department is seeking an experienced HR professional to oversee employee relations and ensure a positive work environment for our staff.
1. HR Associate
For those with a culinary background, our Kitchen Department has positions available for chefs, cooks, and kitchen staff. Help create delicious, high-quality cuisine for our guests. Available positions (Indian/ Western Asian/ Bakery/ Butchery)
1. Commis 1
2. Commis 2
3. Commis 3
4. Banquet Chef
Our Security Department is seeking experienced individuals to oversee the safety and security of the hotel and its guests.
1. Security Associate
2. Supervisor
Our Front Office team is seeking enthusiastic individuals to join our reception desk as front desk agents. Provide excellent customer service and make lasting impressions on our guests.
1. Front Office Associate
2. Reservation Associate
Likewise, our Finance & Purchase departments have the following vacancies.
1. Finance Executive
2. F&B Controller
3. Assistant Purchase Manager
At Hotel Yak & Yeti, we offer competitive compensation packages, opportunities for growth, and a fun and dynamic work environment. Join our Walk-In Interview and take the first step towards a fulfilling career in hospitality.
What: Walk-In Interview at Hotel Yak & Yeti
When: March 16, 2023
Time: 10:00 AM – 3:30 PM
For more information:
Contact No: +977 9851088762
Email: hr@yakandyeti.com.np