A Fruitful Second Inning
People
|
Jun 01, 2017
|
by Malvika Biswas Shrestha
---
Firstly, we live in a world that is far from perfect. People sometimes die young, leaving behind grieving spouses with potentially long lives ahead of them. Second marriage following the death of one's spouse poses many challenges. These challenges and unease can affect one's ability to remarry even years after the death of the spouse.
Second marriage itself is a daunting mission, but when one marries someone who has lost the first spouse, it can also be fraught with issues, emotions and real life problems. It is not easy to share your spouse's heart with another person, but in a marriage to a widow or widower that is certainly what you must learn to live with. A marriage to a widow or widower is not all about their grief and sneaking mildly around it. Your feelings matter and they deserve authentication, no matter how insensitive and unrealistic the outside world may find them. There are few tragedies that can compare to the loss of a spouse. Though the pain and grief of losing one's partner may be unimaginable, life must unavoidably continue.
Here we present to you a living example. Hari Bansha Acharya and his second wife Ramila Pathak both had strength to continue life after the loss of their respective spouses, and are now serving as an inspiration to all of us. With this marriage, both Hari Bansha and Ramila have set an example in society.
Hari Bansha Acharya, one of the most noted comedians, is no new name in Nepali household. He, along with his comedy partner Madan Krishna Shrestha has been entertaining all of us along with his comedy duo for many decades now.
He got married to Meera Acharya who was an anchor at Radio Nepal. But their marital relation came to an end after Meera passed away while undergoing treatment in 2011. The separation greatly affected his life and his two sons and sisters were worried for him. That was when they asked him to marry for the second time. He got married to Ramila Pathak one and a half year after Meera's demise. Here, they have shared with us their life after the wedding.
The way she has handled me and my family is the best thing that she has done for me and nothing can compare to that.
Most difficult step of life
There is no building up of the family without the building up of marriage. The husband and wife relationship is the primary relationship in the family. Hari Bansha Acharya too believes in the institution of marriage. According to him, the wife is a pillar of the family. Without the existence of wife, no family can stand strong and I too agree to that. He says Ramila's presence in his life has come has a bliss and finds himself very fortunate to have such life partner. He further adds,
"The wife is a back support for any husband. But after Meera's demise I lost my back support. Everyone close to me asked me to marry again. I too was not being able to live alone. But I wanted someone who had gone through similar situation, so that we could understand each other well. During one of our shoots Basundhara (Bhusal) didi talked to me about Ramila and introduced me to her. We decided to get married, but the day when I had to step out of my house to marry for the second time, was the most difficult step of my life. But after marrying Ramila, it has been good in every way."
Destined marriage
Hari Bansha Acharya and Ramila Pathak's marriage has always been very intriguing. Except for this couple, nobody knows exactly how it happened, but we surely know that these two love each other to infinity and beyond.
Hari Bansha and Ramila's marriage was destined. As they say marriages are made in heaven, maybe their marriage too was made in heaven, although it was there second marriage. These two persona make a beautiful couple, believe me. They both complement each other magnificently. The stomach tickling comedy of Hari Bansha and the glorifying beauty of Ramila blend so well that noone can say that it is their second marriage. Regarding this I asked her, how difficult it was to adjust in the new family. Here is what she has to say,
"It was not that difficult. I was brought up in a joint family so for me family matters a lot, and he is an absolute family person. He supported me in each and every step so it was quite easy to adjust."
To which Hari Bansha added,
"Since being a family person, I knew how the wife is to be treated. I was aware about her psychology. It is also the person's culture and upbringing. She lived with her parents, brothers, sisters–in–laws, and she too knew how the family has to be run. So it was easy for me to accept her and it was easy for her to adjust with us."
Not a bit of partiality from her
When you marry someone with children, everyone talks about the built–in family. What they do not mention is the fact that it comes with an array of challenges. Chances are that the road to having good relationship with your step children will be paved with a few minefields. Let us see what he has to say about it:
"Our relationship is very sensitive. Before getting married to her, I was worried for my sons as I had this doubt in my mind: what if she does not look after my sons? What if she is the reason behind the conflict between me and my sons? But there is not even a pinch of partiality from her side. We both understand each other very well as we both had a distinct family prior to getting married to each other. I have two sons, she too has her son, and our children too have understood our relation so well that there is no room for complaint or any issues as such."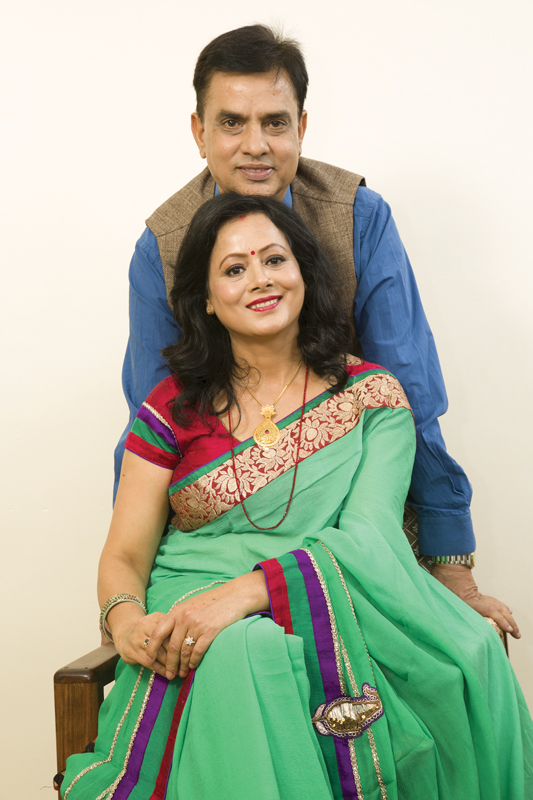 We decided to get married, but the day when I had to step out of my house to marry for the second time, was the most difficult step of my life.
Amidst a lovely couple moment: a quick Q & A
Who is more romantic and why?
Hari Bansha: In any relationship both the husband and the wife are romantic but what I feel is that guys are more expressive whereas ladies are quite reluctant to showcase their romance. So in that case, I am more romantic.
Does he help you with your household chores?
Ramila Pathak: He helps me wholeheartedly in my household chores. I quite often keep fasting, during such times he himself goes to kitchen and prepares food for me. Not just that, if there is any functions or guests at our place, he supports and helps me completely.
What is the best thing that your spouse has ever done for you?
Hari Bansha: The way she has handled me and my family is the best thing that she has done for me and nothing can compare to that.
Ramila Pathak: I too would say the same. The way he understands me, the way he loves my son as his own son is the best thing that he has done for me. He has given me more than what I had expected.
What it is like to be a wife of a veteran actor and comedian?
Ramila Pathak: I consider myself very privileged to be a wife of such a huge name. I am fortunate enough to be a wife of such family oriented man who is very loving and responsible. I try my level best to not hamper his image in any way. The way people treat me and respect me for being his wife make me feel that I too have achieved something.
Share us with your happiest moment so far as a couple.
Ramila Pathak: Our younger son Mohit is getting married real soon, so we both -- including everyone else -- are very happy and excited about that. We have started shopping and arranging things for his big day.
Hari Bansha: It also is the happiest moment because this was something that was handed over to me by Mohit's mother, and we are doing our best to fulfill her dream and hope this makes her divine soul happy.
Tell us the secret for happy and successful marriage.
Hari Bansha: I think the secret to happy and successful marriage is discipline.
Fun filled Rapid fire with the inspiring couple
Favourite love story
Hari Bansha: Muna Madan
Ramila Pathak: Mine too, Muna Madan
Favourite romantic movie
Hari Bansha: Ghas Katne Khurkera, oh you asked for a romantic movie right? (He was joking as he did throughout the interview) Ek Duuje Ke Liye is my favorite.
Ramila Pathak: Hum Dil De Chuke Sanam, it really is a heart touching movie.
Favourite romantic line from movie
Hari Bansha: "I love you," as you have that line in all movies (making all of us laugh).
Ramila Pathak: (while she was thinking for the answer, Mr Acharya suggested; "Main tumse pyar karti hu." So yes, eventually that was also her answer.)
Song that best describes your relationship
Hari Bansha: "Yeti chokho yeti mitho diula timilai maya," by late Narayan Gopal (Gruruwacharya) dai
Ramila Pathak: "Timro haat samai," by Sashi Rawal
Favourite holiday destination
Hari Bansha: Bedroom is a place where you sleep and dream and in your dream you can travel anywhere you like, so my favourite holiday destination is my bedroom.
Ramila Pathak: I would say Pokhara.
Favourite Celebrity couple
Hari Bansha: Rajesh Hamal and Madhu Bhattarai.
Ramila Pathak: I would second that.
Hari Bansha and Ramila have seen friction from their near ones, but their love and unbending dedication to each other have surpassed all barriers. We wish them all the luck and happiness forever and after.