---
In tête - à - tête with the heartthrob of thousands of girls, Rohit John Chettri and his ever supporting mother, Reema Shrestha Chettri. This beautiful duo speaks about their relationship with each other.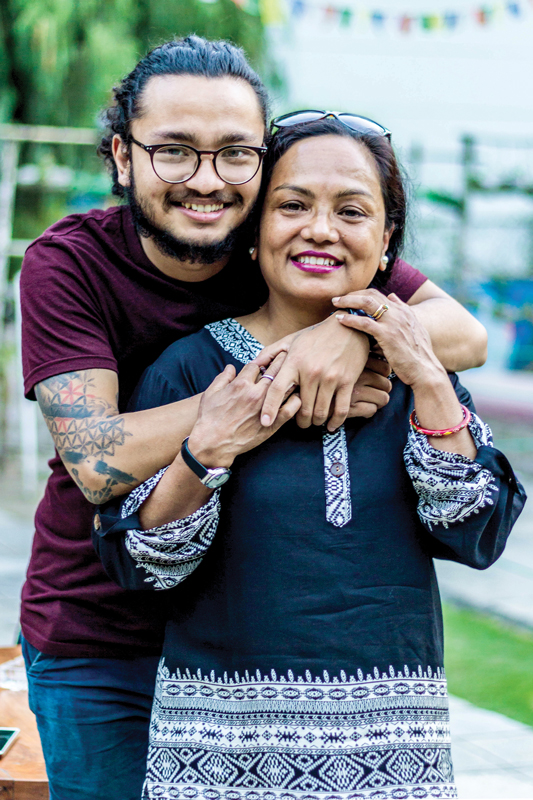 The mother son relationship can be complex and extremely rewarding at the same time. It is no doubt a vigorous bond. There is perhaps nothing more attractive to a woman than a boy who adores his mother and treats her with respect. But there is a huge misconception that a mother being close to her son causes him to be a mama's boy. They say that a mother who develops a deep emotional bond with her son will prevent him from growing up to be a strong and independent man, but the closeness between mother and son is absolutely important because it teaches boys in general how to treat a woman and how to respect her as well.
A mother should grow a strong relationship with her son by getting to know him well. We are brought up with the mistaken notion that men and women live in entirely different worlds. To be honest, mothers may never truly understand what their sons go through as they grow from little boys to grown men. But what can be said with a fair degree of certainty is that boys who do not have close relationship with their mothers have a higher chance of having problems interacting with women later in life, and boys who are near to their mothers are less likely to be involved in risky behavior.
There are many men out there who do not know what kind of relationship to have with their mothers, but Mrs. Reena Shrestha Chettri knows it all. The latest addition to the well renowned band 1974 AD, Rohit actually needs no introduction. He has been able to grab the hearts of millions of viewers over You Tube and is a singing sensation.
A music aficionado fanatic from his very childhood, Rohit John debuted with his single 'Bistarai Bistarai' in Nepali music industry. This song gave him a wider audience. It is all because of his dedication towards his music that today he stands as the front man for the legendary band 1974 AD. We got hold of this talented singer and his mother Mrs. Reena Shrestha Chettri, and had a chitchat on the beautiful relation that they share with each other.
I too wanted to get into singing but due to my family obligated I could not do that but I am more than happy that my son is living
my dream.
Did you always want Rohit to become a singer?
Rohit's mother: I am very much inclined towards music. When I was pregnant I used to listen to music a lot, be it while doing my household chores or during leisure. Music is more of like a friend to me. When Rohit was quite young, I used to play some cassettes for him so that he would not disturb me in my work, and he used to peacefully enjoy that. He never went outside to play I can say that he literally grew up with musical instruments around him. He enjoyed playing them. I never planned to make him a singer or anything as such. Maybe it was destiny that he became a singer and is where he is today and I am very happy for him. I too wanted to get into singing but due to my family obligated I could not do that but I am more than happy that my son is living my dream.
Sons are said to be in general closer with their mothers rather than their father. What do you have to say about this, how close is Rohit with you?
Rohit's mother: I agree. He is definitely is closer to me than his father. We are very much like friends to each other. Whatever it might be, he comes to me to share things. He shares each and everything with me. We have a very transparent relationship.
Rohit: I wake up little late in the morning because I have gigs almost every night so I do not get to meet my father as much as I get to meet her. So yes, it is easier to talk to her and share things with her (smiles).
How protective are you of her as a son?
Rohit: I am the only child so I definitely have to be protective. I do not get much time, but whenever I have spare time, I make sure that I use that time for her. I recently took her for a checkup too. We are a family of just three people, so I am very much attached to her.
Which childhood memory of his is closest to your heart?
Rohit's mother: I was a primary school grade teacher and hence I would take him to the school since he was 10 months old. I still remember that he never disturbed me in my work. He was that understanding. And after the school hours were over, he would bring me a small chair for me to sit and would ask me to sit there. He would not allow anyone to come near me after that. This childhood memory of his is still fresh, and very close to my heart.
What is your fondest memory with your mother?
Rohit: There are many memories with her. The one I remember instantly are the times we would often ride in tempo together.
One trait of your mom you wish you had and why?
Rohit: Whenever someone comes to our place, whoever they might be, she treats them like family. I like that very much and I wish I had that same quality.
When together, what do you two enjoy doing?
Rohit: I guess cooking (laughs). So yes, we enjoy cooking, watching television and listening to music when together.
Your mom to you means?
Rohit: Be it my upbringing, my culture, my music – they are all because of my parents. Whatever I am today is all because of my mother and father. So she means everything to me. Since I am the only child, I have observed and known them very closely, and because of which I have more love and respect for them.
Three things you want to do for your mother?
Rohit: First and foremost, I want to make her more proud of me. Secondly, I want to fulfill everything that she wishes for, and lastly I want to give her a home and car.
What is the best thing about one another?
Rohit's mother: The best thing about him is his patience. Today he has reached this position because of his own hard work and endurance.
Rohit: She is my mother, so I like everything about her. If I have to say one thing, that would be: she makes very good tea (laughs).
Is there anything that you do not like about each other?
Rohit's mother: What should I say? He is sometimes a bit stubborn and short tempered, but those qualities have now been lessened. But I wish that they would go away. That is one thing I dislike the most.
Rohit: She keeps on complaining about everything. As she is a teacher, she keeps questioning very obvious things like you know, 'aasman hai neela kyun, pani geela geela kyun' (laugh out loud). So, yes that is one thing that I do not like much.
What life lessons have you learned from her?
Rohit: Hard work is the key to success and the success gained without any hard work does not last long. This is something that I have learned from my mother.
What differences have you found in Rohit between before and after he became a popular face?
Rohit's mother: The major difference is that we do not get much time to spend together. Earlier we used to eat together but now we hardly share that moment although I keep food for him and wait till he comes back home. In simple words he has become very busy. And he has gained control over his anger.
Why is the mother-son relationship so important?
Rohit: In a family all sort of relationships are important. It is because of these relations that a family becomes stronger. Now, regarding a mother–son relationship, I think it is important first and foremost because she is the one who has created us, gave life to us. A mother–son relationship is important because you get to learn the core meaning of life from your mother, which most probably would not be possible to learn only from your father.
A mother–son relationship is important because you get to learn the core meaning of life from your mother.