---
Haven't we all heard of power couples? Antee Gurung and Ajay Gurung, however, are a different type of power couple a couple of siblings.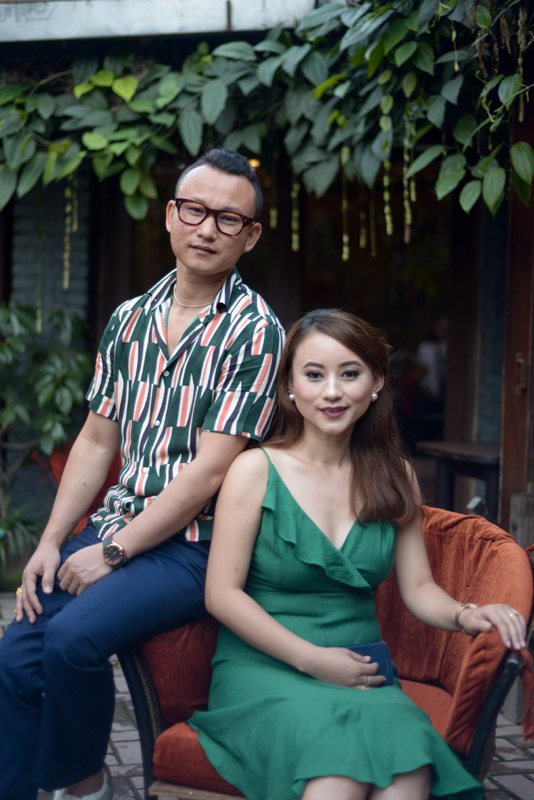 Nothing is better than having a support system of siblings. On our Relationship Menu this month are the subtly powerful fashion designer duo - Antee Gurung and her brother Ajay Gurung. Antee Gurung, along with her elder brother Ajay Gurung, has been taking over the fashion industry by storm. They have been working together over the years to push only the best customized clothes and service for their customers in the Nepalese fashion industry.
How would you define your relationship with each other? And has the fact that you are both in the same industry changed the relationship?
Antee: The relationship I share with my brother is more like that of best friends than that of siblings. We have a fun filled relationship. I may be more strict than him at times (giggles), but my brother is a very chilled person.

Ajay: Antee is the youngest among my three sisters and our relationship cannot be defined by a single word. I would say it is a mixture of fun, serious and supportive. We especially have a lot of fun. We are quite serious when we work and cheer each other on in our work endeavors. We look up to each other. We do not interfere in each other's work unless one asks another for advice.

How do you manage to take time out for yourselves from your work schedule?

Antee: We are always together since we work together, so we automatically know everything about each other.

Ajay: We are generally very busy during the peak seasons. We get a lot of orders and we hardly have enough time to spend with each other. However, during off-seasons we sit and talk about things in general. We also share and brainstorm regarding the ideas that crop up.

Do you have any shared travel stories?

Antee: Travelling to places, however, is one hard feat for us. Since one of us has to be in town to look after work we do not have many opportunities to travel together.

Ajay: The last time we took a trip together was to our sister's wedding in New York.
Since you are both in the fashion industry, how similar or different are your fashion styles?

Antee: I would say we are similar because we both go for clothes that the other approves of. Having said that, we are also different at most times because I like to stay in trend, and Dai is very particular about his clothes and is a perfectionist.

Ajay: If you are talking about style, I would say that Antee and I are quite different. I look after the men's wear and Antee after the women's wear in our brand. I think Antee has a more young, vibrant and modern vibe to her style while I lean towards classic designs that have a modern twist. We, however, are very similar in our business point of view and we want to give nothing short of the best for our customers. We strive to give a personalized and the best in terms of design, fabric, fit, cut and customized service.

Are your working styles and rhythm different?

Ajay: Yes, the rhythm and the style that we work in are different. Not just in the individual sense, but also from a designer's perspective. I would say that I am more of a perfectionist as a designer and hence end up taking more time before I deliver a product that satisfies me and the customer. Antee, however, is more of a quick designer and since her style is more modern she can deliver quicker than I can.

Antee: I agree. My brother is more of a perfectionist and only delivers something when he is satisfied with what he has created, I mostly am able to finish it quicker. Sometimes when the work requires me to, even I take my time working on the design before I roll it out to the customer.
Its the festive season and what is your go to festive attire?

Antee: I go for traditional look during the festive season. We wear modern wears all the time and traditional wears are held back for occasions like these so I prefer traditional look during the festive season.

Ajay: For the festive season, my go-to styles are kurta with half Nehru jacket -‑ the comfortable traditional look.

Some people prefer to dress up for others, and some for themselves. I, however, prefer the free and laid-back clothing in general. Of course, there are occasions when I dress up but I prefer the style which is comfortable.

What do you think is the best Bhai Tika gift for each other?

Ajay: I would say I am very lucky in this matter. All of my sisters, not just Antee, are not finicky when it comes to gifts. Of course they all love branded gifts but they are very happy when I give them money as a Bhai tika gift. They at least are not bound to my choices when I gift them cash.

Antee: He asked me what would I like but I couldn't really pinpoint something right at the moment, so he now plans to give us money. I can buy whatever I like with the money later on.

I have given him gifts, but since he doesn't like surprises I ask him what he wants and get him those. One time there was this Italian shoes he had been eyeing for a long time, so I gifted him that.