Transforming Friendship Into A Successful Partnership
---
What would it be like to work with friends and start a successful business? Well, hitting that curve ball straight at the mark for a home run, the four friends have brought Custom Are Us, custom made merchandise to the market.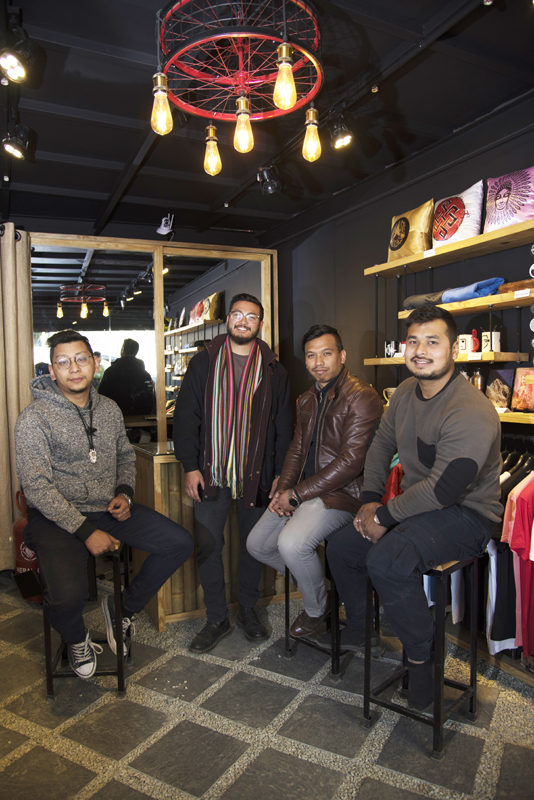 How did the idea for 'Custom Are Us' come to be? With the perspective of the friendship that you share.
Rojeet: We're all childhood friends!
Romin: The three of us are childhood friends, and he and I have been friends since our +2 days.
Robin: We're cousins though!(Yujen!)
The idea for 'Custom Are Us', was it an idea that began when you were kids or did it develop later on?
Rojeet: The thought of working didn't even exist! We used to meet in the evenings usually anyway, so we decided to indulge in something that would involve all of us, and carry a future for us rather than idly spending our time.
Romin: I'd say about 2 years after our +2
Robin: We thought about at least doing something together.
Yujen: Instead of staying idle, we thought about indulging in something.
Is Custom Are Us the first idea that came to be or had you experimented with other ideas as well?
Together: It is the first!
Romin: Two of them brought the idea to me after they came up with something. Then we all sat down and talked about it, and it began naturally. We didn't have to spend a lot of time contemplating about what to do and how to do it! We decided on things confidently, we were starting a business so we had to be sure of ourselves but we didn't have to spend so much time on thinking about it.
How would you summarize the journey of Custom Are Us to what it is now?
Rojeet: I think it's fair to say that it was a slow journey. I used to handle the designing part of things but I didn't know how to use all the programs properly yet was able to design the basics, so we would take things slow. When we started, we'd basically targeted summer clothing products so we were up and running for a few months but became dormant during the winter. We had to do things more seriously from back in 2017 when we started focusing on winter products as well. Romin: Yeah, it was quite slow in the beginning! The main difficulty for us was during the earthquake in 2015. Our shop was under construction let's say but the earthquake delayed the progress for about 3-4 months, and then we faced difficulties during the nakabandi! That was very hard!
There's an age old saying that you shouldn't do business with your friend; what would you comment on that?
Robin: The main thing about that is trust--trusting the friend(s) that you are working with!
Romin: Trust is the main thing but there's no issue with that with the four of us! Everything is okay!
Rojeet: It would be scary if we were working with other people or strangers but we've been friends since our school days, so we're used to each other. We know each other's' strengths and weakness, and we'd already learned how to cover up for one another and balance each other's personalities as well.
Since you guys are quite new on the basis of entrepreneurship, how are you faring against the competition in the market? How does Custom Are Us stand out from the crowd?
Romin: Other business don't promote their products as custom made. There are a few other "custom" businesses that might make custom products but generally promote and work with readymade products. When it comes to our designs, if you want an alternative to a design that we already have on some of our products, then you can place the order and we make the design that you prefer. What that means is that once the customer gives us a design, it'll be unique and synonymous to that customer alone, and the same design won't be found elsewhere.
Yujen: That's basically what sets us apart! You can easily print custom designs as well as personal messages, and that's how we are promoting it.
Apart from the business side of things, could you say some things about your friendship with each other?
Rojeet: Well all of us technically live in the same area and pretty close by. We met "him" at the hostel, I think in 5th grade, and even though the rest of us knew each other, we became close in 8th grade I think! We met when the class sections were switched and he came to our class.
Robin: The two of us talked since we were friends from our +2 days, but we got close sa we both were football fans!
Yujen: Fan haina! You guys are rivals! *everyone laugh* Robin: So we used to talk about football any chance we got and he used to tell us off for that. Then he suggested we all work together with one of his friends and his cousin and build a startup! So after talking it over at home, and the when the four of us met, the whole journey began and we took off.