---
Packing for your new travel destination can sometimes be tricky and overwhelming. On one hand you are excited, and on the other you need to pack wisely. We've compiled a list of our top travel essentials to ensure you don't take unnecessary baggage with y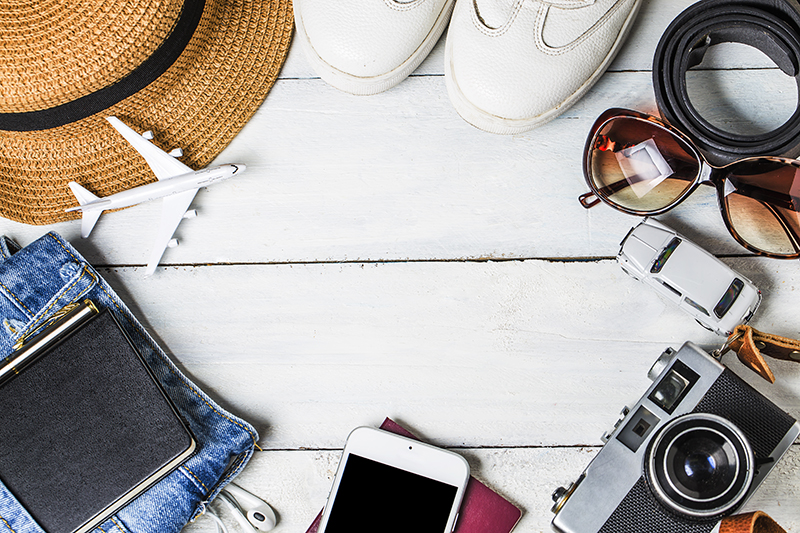 Packing too much or packing too less can spoil your entire trip. You can leave your extra pair of sunglasses but you can't forget an extra pair of comfy undergarments! Go through some essentials for trekking, sightseeing and cycling activities you don't want to be unmindful about.

Trekking Essentials
Trekking along the Nepalese land terrain, breathing the nature's fresh air, exploring small villages, and talking to helpful villagers, gradually seeing the mountains get bigger in size and closer in distance is indeed a beautiful experience and we can't say enough. You've seen the pictures on social media, heard the experiences, from your friends and must've even experienced it yourself too, but what are the hardships that come with this experience? Let's not get into other small details but discuss the situations where you didn't have an important item you needed at the moment but the huge backpack on your back, packed with a lot of things, is constantly putting pressure on your shoulders, making you feel like an old bone, tells a different story.

Trekking is no doubt a beautiful and a life changing experience, but let's also stress on the difficulties faced along the way because of little knowledge on packing essentials. While some of the listed items may seem obvious, others may be handy add-ons that you'd never even thought of packing!

Bag
The type of bag and its size depends on the trekking route and destination. The ideal size is 60l but it may go up or down according to the destination. So this is the bag you may use to fit all the items, clothes etc. and carry. A smart decision when trekking to certain places is to carry an extra bag -- a daypack bag -- with you if you are to return back to the place you are staying after going to that certain destination. For example, if you are going to Tilicho Lake, you can leave your heavy load in the hotel at the base camp and carry only essentials in you daypack bag.

Experts' advice: Carry a proper, comfortable Fanny pack (waist bag) to keep your important things like cash, phone, medicines, earphones etc.

Clothing and Apparel/ Accessories
While trekking through the Himalayas, you will experience a wide variation in altitude and temperature. A smart way to dress is to dress in layers because that way you are able to add or remove certain layers of clothing depending upon altitudes and temperature. Keep your regular t-shirts, also long sleeve shirts, to prevent your skin from sunburn as sun rays have a stronger effect in higher altitudes. Body warmers, wind and water stopper jacket, down jacket and pants, a cap and head warmer, gloves, shorts, underwear, sports bra, socks and towels are basic clothing you would need.

A pair of well fitted, comfortable hiking shoes, preferably waterproof, is the best asset for a comfortable journey. A pair of light slippers should serve the purpose of easing your feet while resting in the lodge. Here are the essentials depending on the trek, altitude etc. in a list:
Regular T-shirt, Long sleeved tee (1 or 2)
Light fleece jacket or top. (optional)
Body warmers (1 pair)
Wind/water stopper jacket or down jacket
Wind/water stopper pant,
Cargo pants
Comfortable Undergarments (carry extra pairs, don't carry hook bras or anything uncomfortable.)
Cap or woolen cap
Gloves (warm, preferably wind proof and with grip)
Shorts
Socks
Face Towel
Toiletries
Carry essential toiletries like toothpaste, toothbrush, skin care, sunblock, soap, shampoo, hair brush and necessary beauty products. If you're trekking in a group, get a single toothpaste tube for all individuals or carry only travel sized ones. Similarly, for cleansing soap bar, shampoo, carry them in liquid form in travel sized pump bottles. Again, for makeup and skin care too, it is a smart choice to carry only travel sized ones. You can find travel-size bottles and mini storage containers at MINISO or other low-cost model and variety store chain like MINISO. Here is the list of must-carry products besides all the ones mentioned:
Petroleum Jelly
Sanitizers
Wet tissues
Toilet paper tissues
High SPF Sunscreen/ sunblock
Food/Snacks
Snickers or energy bars and dry fruits are perfect in-between snacks. They're delicious and energizing. Food at the higher land may not be so appetizing to most of us. Carry some can food like can fish, or tightly contained fermented home-made achaar and pickles to boost that low appetite so you can get going the next morning.

Others
Some of the other essentials are:
Swiss Knife
Water bottle
Torch/Head Torch
Power bank, charger, other electronics
Walking Stick
Personal Medical Kit (Pain killers, shoulder balms or spray, and others)
Sightseeing essentials
How exciting is the thought of sightseeing, a day out for exploring, experiencing beautiful sights in a new destination! Depending on what you are doing, there are different requirements and essentials. Typically, trips are a mixture of activities, and you do not want to bring a separate bag for each and look like an unprofessional traveler. Choose a day bag that is suitable for the activity you plan on doing the most, and possibly one other small bag as an alternate.

For instance, if you are visiting a city and then traveling to do some day hikes and outdoor activities in the countryside, pack a technical backpack for the hikes. For instance, if you are back from your hike or trek to Pokhara, a small cross body purse could be fun and appropriate.

Here is a list of essentials for your sightseeing, some being optional of course but again, it all depends on the kind of sightseeing.
Scarf
Water bottle (always stay hydrated no matter what season)
Notebook and a pen (if you need to jot down things)
Sunglasses!
A fancy hat or a cap
Earphones
Camera (obviously!)
Umbrella (just to be prepared)
Lip balm
Sunscreen and a hand cream
Snacks (chocolates, dates, dry fruits or candies)

---
Cycling Essentials
A cycling trip is a fun and exciting until you think of so many things you could need and get all confused. A few items listed below are to help make your next cycling adventure a positive experience:
Cycling friendly clothing
Preferably bright colored along with a mask, gloves, and comfortable pair of footwear.
Rain Gear
An essential in monsoon, it helps you weather the relentless rain to pedal ahead.
Proper bag and a fanny pack
To carry important belongings such as phones, wallets, water bottle, tools and first aid kit.

Energy bars
Easy and portable energy bars are great for get-go nutrition.
U-Lock
Invest in a good lock to protect your precious bicycle from theft when you have to park in an unsafe area.