Kaku Kaku Shika Jika #K2SJ - The Most Anticipated Japanese Fun Dining Restaurant in Kathmandu
---
It's time to say "Konnichiwa" to Kaku Kaku Shika Jika, the newest addition to the vibrant nightlife scene of Thamel, Kathmandu. The Japanese fun dining restaurant, set to launch on May 5th, 2023, at Fairfield by Marriott, promises to be a feast for the se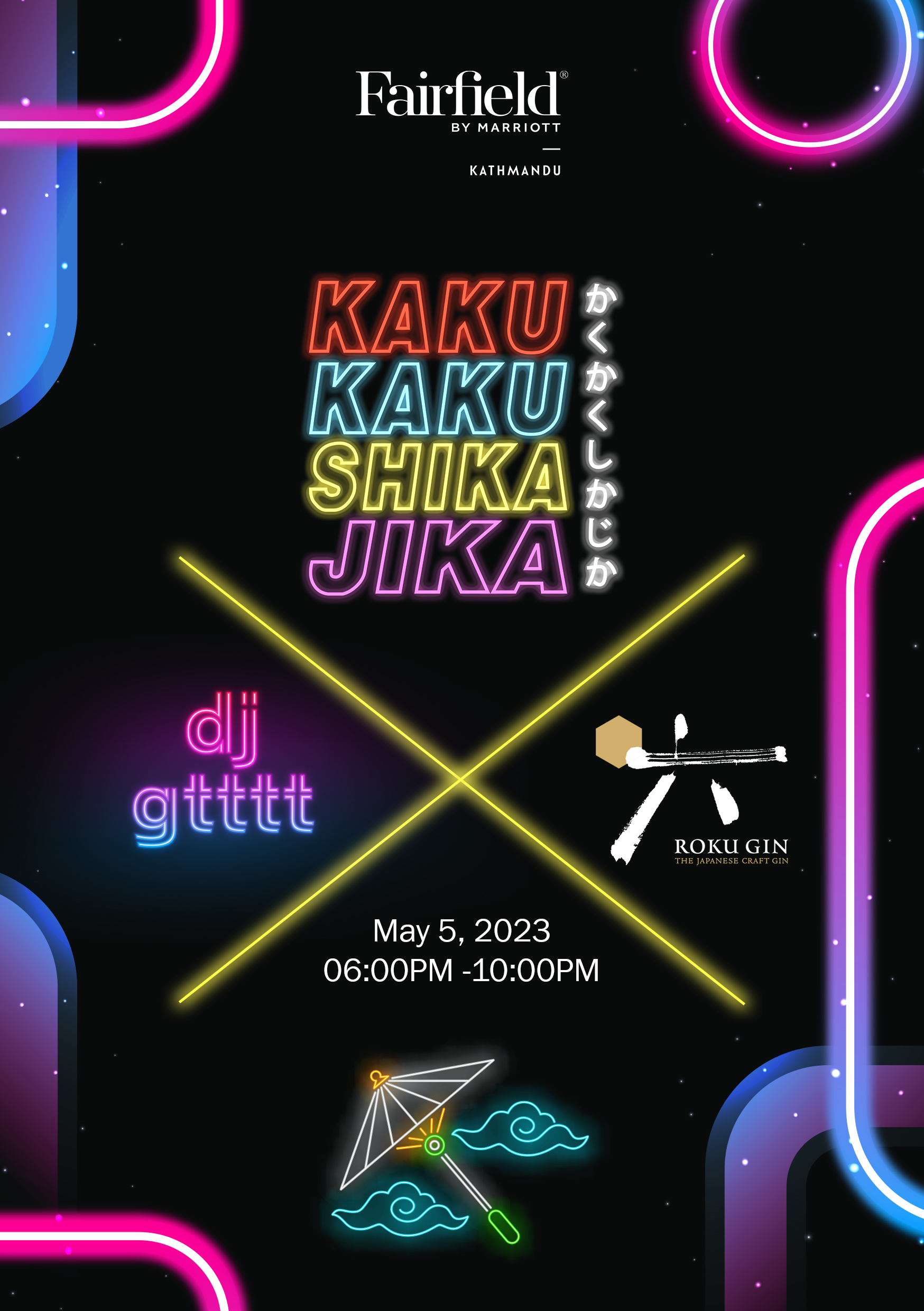 With Chef Kyohei at the helm, Kaku Kaku Shika Jika offers a fusion of traditional Japanese dishes and modern flair. Think sushi rolls, tempura, yakitori, gyoza and yakisoba. To keep things exciting, the restaurant will feature smoothie cocktails made with fresh berries and other seasonal fruits, making it the perfect spot for date night, a night out with friends, or even a solo dining experience.
Gaurav Agarwal, Managing Director, Everest Hospitality and Hotel Private Limited (Owning company of Kathmandu Marriott and Fairfield Kathmandu) adds, "Our team has put their hearts and souls into Kaku Kaku Shika Jika, and we can't wait to share it with the people of Kathmandu. Our neon décor and fun ambiance are sure to transport our diners to the streets of Tokyo, and we're excited to see their reactions to our mouth-watering dishes. We always strive to bring unique and international experiences to Nepal and K2SJ will be another milestone in this direction"
General Manager Vishal Mehra is excited to see the buzz around Kaku Kaku Shika Sika, saying, "Our restaurant is all about delivering an authentic Japanese experience with a twist. We want to bring a new energy and vibe to the already bustling district of Thamel, and we're confident that our diners will leave with a smile on their faces and a heart full of memories."
But wait, there's more! To celebrate the restaurant's launch, Kaku Kaku Shika Jika is hosting an invite-only opening party on May 5th, 2023, with DJ Gtttt on the turntables. Guests can expect a night of dancing, laughter, and delicious food and drinks.
Don't miss out on the chance to experience Kaku Kaku Shika Jika, the most anticipated Japanese fun dining restaurant in Kathmandu.